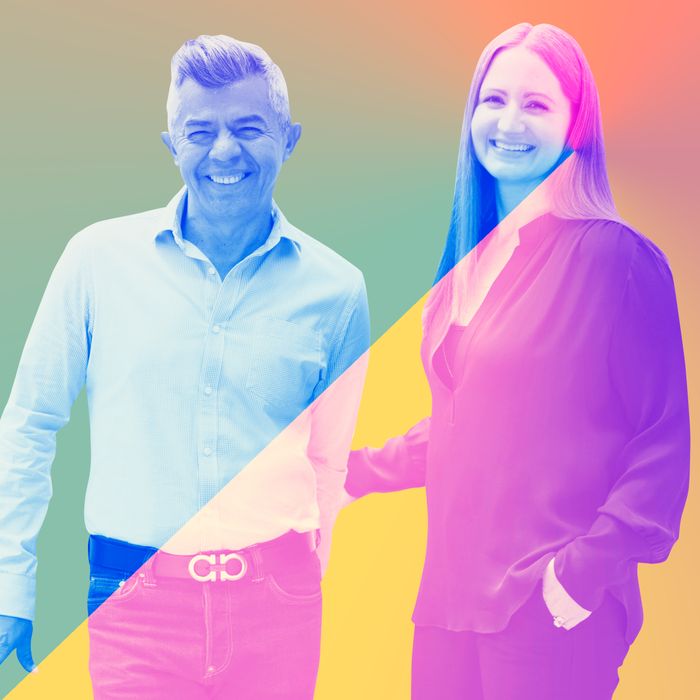 Palo Santo — the South American "holy wood," which was persecuted by the Catholic Church in the late 15th century when the king of Spain learned of its medicinal powers and commanded the pope to cut it from the program — has been having a moment. The scent, with its notes of green wood, mint, and, well, church, has popped up in everything from fragrance bottles to yoga studios. And it's an important element of clean hair and body line Rahua.
"Making a natural hair-care product was really hard when we were launching 12 years ago, but palo santo proved to be an amazing natural preservative," explains Fabian Lliguin, one of the founders, who'd grown up with it in his native Ecuador. "And when our clients smelled it, they were like, 'What is this cool scent?'"
His partner and wife, Anna Ayers, adds, "Having it in our products creates a transformative experience that connects them to nature, but what's most important is that it is a sacred wood that we really have to take care of."
And they have. Actually, four years before the launch of Rahua, Lliguin formed an NGO dedicated to helping protect the Amazon rainforest after returning to his hometown and finding a local pond had been filled with cement. With the U.N.'s approval, he created a plan that has helped indigenous people purchase and legally own their own land. To date, he has helped protect more than 37,000 acres of pristine jungle, where their eponymous rahua oil is also harvested. Lliguin discovered it on a trip in the early aughts, upon noticing the healthy, lustrous hair of the local Quechua Achuar women. They gave him a vial, which he used on clients in his Manhattan salon, and knew he'd found the basis for a brand. But further education was needed first.
"We waited a few years to learn how rahua oil is produced," explains Ayers, a Georgia native who met her husband when a friend recommended him as a hairstylist. "The tree grows wild (not farmed), thrives in virgin, primary forests, and is then hand harvested and prepared in a special ceremonial process, which eventually produces the oil. It was important to us to make a product that didn't take from the forest in a non-sustainable way."
The brand debuted in 2008 with four hair products. Twelve years later, there are 26, including body and fragrance (palo santo, of course), but this year is mostly dedicated to preservation.
"The protection of these ancient forests is vital," says Lliguin. "Its veteran trees are producing oxygen and, most importantly, sequestering CO2 output for approximately 100,000 people each year."
"We created Rahua to save the rain forest," adds Ayers. "That's our strength, and that's our longevity."
The two spoke with the Cut about sharing razors, wearing leather, and their housing plans for that garbage patch in the Pacific Ocean.
What's your definition of beauty? 
Fabian: It's in the eye of the beholder. I see my own beauty in my own mirror, which gives me confidence that I can achieve anything that day. Beauty is power!
Anna: Uniqueness. I find beauty in individualism.
What do you think when you hear the term "clean beauty"?
Fabian: Clean beauty is going in a good direction. Plants instead of petroleum!
Anna: Something that shouldn't harm you or the environment.
Where, if anywhere, in your beauty routine (or life) are you not quite that "clean," "green," or "sustainable"?
Fabian: I wear elegant leather shoes. Leather goods, whether real leather or faux leather, will always affect living things on the planet.
Anna: Clothing and fashion are a bit tricky; I find myself wanting fresh new pieces since fashion is always evolving. But I find it an exciting challenge seeking out clothing that will be timeless and seasonless.
Please fill in the blank as it pertains to something connected to your beauty or wellness routine: I think about _______ a lot. 
Fabian: The health of the environment.
Anna: Simplifying, in both my work and in my personal life. Using less, buying less, and having less stuff around in general makes life more peaceful.
What is the opposite of "beautiful"?
Fabian: A huge potential for super beautiful! (Don't forget, I'm a hairdresser.)
Anna: Doubt.
What is your morning skin-care and grooming routine?
Fabian: Rahua Shower Gel, then Rahua Control Cream applied to towel-dried hair, a quick comb and I'm out the door.
Anna: Doing my hair and makeup in the morning is my creative-thinking time. After a quick shower and good application of hydration (skin and body), I prep my hair with Rahua Leave-in Treatment before I use a blow-dryer or curling tools. I finish with a little Rahua Cream Wax, Enchanted Island Salt Spray, Voluminous Dry Shampoo, or Elixir, depending on the day and my mood. My approach to makeup application is very natural. I like lightweight concealers, like RMS Un Cover Up, and adding moisturizer (Susanne Kaufmann's Day Cream Line A) to my foundation. I love RMS Living Luminizer and Ilia Multi Stick.
What's the last beauty product you use every night? 
Fabian: Gua sha on my face to stimulate blood circulation and keep skin refreshed.
Anna: Rahua Palo Santo Oil Perfume over my heart for relaxation and meditation.
Who makes the best eye cream? 
Anna: Odacite Ba+S Eye Contour.
Who makes the best retinol product?
Fabian: I use natural equivalents to retinol such as vitamin A.
Anna: Tata Harper Retinoic Nutrient Face Oil.
What aspect of your beauty routine tends to be neglected?
Fabian: Pedicures.
Anna: Regular facials.
What, if anything, is usually on your lips? 
Fabian: Rahua Smoothing Hair Balm. It's created for the hair, but it's a wonderful emollient for your lips and cuticle, too.
Anna: Rahua Body Oil. It's a super hydrator and gives a nice glow.
What makeup item would you never skip?
Anna: Concealer and mascara.
Facial cleanser of choice: 
Both: Pai Camellia & Rose Hydrating Cleanser.
Razor of choice: 
Fabian: Oui Shave, the Rose Gold Single Shave Razor.
Anna: Fabian, are you using my razor?
Bath or shower?
Fabian: Definitely shower, with Rahua Shower Gel.
Anna: Very rarely, but when I have the opportunity, a bath is super indulgent, with Rahua Shower Gel and Palo Santo Incense Sticks.
What beauty product still needs to be invented?
Anna: Natural, plant-based hair color that is beneficial to the hair and covers gray.
What was your first beauty-product obsession? 
Fabian: Liquid Brilliantine. I was 14 years old. My dad had a salon and he made his own formula, which I used to carry in my pocket (in a glass bottle with a dropper) and give it to my friends.
Anna: My mom always used hot rollers, and that got me excited about hair. My sister and I did ballet for many years and I remember my mom using Dippity-Do gel to keep our buns in place.
Daily carryall of choice: 
Fabian: Tumi backpack.
Anna: Senreve Maestra Bag in gray. It's my work bag, diaper bag, and travel bag.
How do you like your living room?
Fabian: Big, with a view.
Anna: Spacious, open, warm, and happy.
What do you splurge on? 
Fabian: Scuba-diving equipment for environmental work in the Galápagos.
Anna: Travel experiences.
What do you scrimp on? 
Fabian: Everything that contributes to the CO2 pollution. I'm very opposed to things such as better, bigger cars.
Anna: Anything that seems unnecessary.
What is your classic uniform?
Fabian: Cotton jeans or slacks, pullover sweater over a basic shirt. I try to wear only natural fabrics, no synthetics. Some of the brands I gravitate to include Levi's and Kenneth Cole.
Anna: Cos shirtdress, or Cos black pants with white blouse from Theory or the Row.
What shoe are you usually wearing? 
Fabian: Kenneth Cole boot.
Anna: Vince black leather block heel ankle boot.
Current favorite fashion item in your closet: 
Fabian: Ferragamo belt and my new Ray-Ban aviator sunglasses.
Anna: Sandro button-down V-neck short dress.
If you were a makeup shade, what shade would that be? 
Fabian: I'd be a red lipstick.
Anna: Universal glow.
Any hidden or secret talent or skill you possess? 
Fabian: I have taken over the cockpit of a Cessna plane flying above trees in the Amazon.
Anna: I am learning to play the banjo.
What would the name of your autobiography be?
Fabian: We Are Dust and Pride.
Anna: The Answer Is Right in Front of You.
Who would star as you in the film adaptation? 
Fabian: Harrison Ford.
Anna: Cate Blanchett.
Least favorite smell? 
Fabian: Wet dog.
Anna: Sour milk.
What do you think Pantone's color of 2020 should have been, and why? 
Fabian: Pantone 19-0323, Chive. It creates more connection between man and nature.
Anna: Angel Blue 14-4814. It's the color of the sky and water, brings calm and a connection to nature.
What do you most often disagree with others about?
Fabian: Overconsumption, overpackaging.
Anna: There is always a way to make it happen.
What must you adjust or fix when you see it done incorrectly?
Fabian: Crooked pictures on the wall.
Anna: Lipstick on someone's teeth.
What calms you down? 
Fabian: Rahua Palo Santo Oil Perfume.
Anna: Breathing and meditation.
Comfort food: 
Fabian: Shakshouka.
Anna: Shrimp and grits.
Most impressive dish you make: 
Fabian: Shrimp sautéed with olive oil and salt.
Anna: French-style macaroni and cheese with Gruyère.
What food would you never eat? 
Fabian: Chicken liver.
Anna: Slimy worms.
What do you foresee as the top beauty trends for 2020?
Fabian: Customized beauty. Beauty routines that will take care of the actual need and be complimentary to your outer and inner self. Today's beauty consumer is savvy and can no longer be convinced that a product will work for them without understanding what the ingredients do; they seek products that are very specific to their physical and mental needs.
Anna: High quality, minimalism, multifunction. Buying habits are changing and customers are buying less, yet demand higher quality and expect excellence from product experiences and results. When you spend more, you expect a product to do more.
What product in your domain is misunderstood and should be a best seller? 
Fabian: Rahua Cream Wax is often misunderstood as a men's product, but it's really for anybody that is looking for definition and hold to the hair for longevity of the style. There's also a misconception that because it's a "wax," it will be hard to rinse out, but because it's made from carnauba wax, it rinses out easily.
Anna: Voluminous Dry Shampoo is a rock star. The biggest misconception with dry shampoo is that you are using it to clean the hair, whereas actually this lightweight powder magically gives the appearance of thicker and fuller hair, and a very small amount can absorb oil. Also, instead of applying it directly to the top of the crown, create sections and apply it at the scalp, then work into hair with fingertips.
What product is currently your favorite (understanding that this could change all the time) 
Fabian: Rahua Classic Conditioner for its multiuse purposes. It's a great conditioner, it keeps my scalp follicles strong and healthy, and it's also great for styling as it has a playful hold to it.
Anna: I love our Leave-in Treatment, it was the second product we created, and it takes care of the health of the hair like nothing else. You only need a dab and it's a perfect daily moisturizer and heat protectant.
If you won the Powerball tomorrow, what are the first five things you would do (after, of course, donating the majority of it to your top
charities)?
Fabian: I would get a houseboat so I can live on the ocean and the rivers; take my family around the world; create my own island out of the Great Pacific Garbage Patch and invite everyone to live with me; buy a submarine to explore the beauty under the sea; and build a floating lab on the Amazon River to discover medicinal ingredients and tribal potions to cure modern diseases.
Anna: Take a family vacation around the world; take a personal vacation; get my garden going on a big scale; build a greenhouse; and set up an art studio and create an artist community.