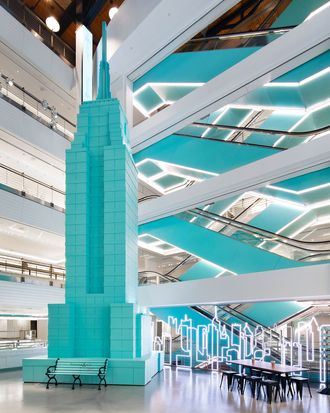 Photo: Courtesy of Tiffany & Co.
The Tiffany flagship you all know and love is being renovated for two years. Tiffany's Fifth Avenue store has never gone through a renovation like this before, since 1940. If you were worried that in the interim you would have to buy diamonds only over the internet, fear not. Tiffany's has built a new, bright, shiny flagship right next door to keep customers happy. It's called, fittingly, the Tiffany Flagship Next Door.
Based on the four floors, the Empire State Building made out of Tiffany boxes, and the VIP rooms for looking at jewelry in private, nothing about the Tiffany Flagship Next Door reads "replacement." It leans further into the brand's own turquoise Pantone color. For the next two years, Tiffany will also use the space as a place to experiment with different retail experiences. "This store is meant as a lab for our retail network, not just the flagship," Tiffany chief artistic officer Reed Krakoff said. "We will try things that might not have been done in an existing store because of the space and flexibility that we have here. It's only here for two years, we have a lot of trial-and-error to experience what works well and doesn't work."
The first floor showcases all the Tiffany classics, including a mix of high-end fine jewelry and the "Return to Tiffany" charms. On the other floors, you can browse homewares, actual silver spoons for children, and engagement rings. If you're tired, there's a Tiffany-blue bench in the center of the lobby — a prime people-watching location.
The original flagship reopens in 2021, but until then you can follow the Tiffany-blue footsteps to the store next door — really, there are sets of blue footprints leading from the original flagship to the new store. No chance of getting lost.