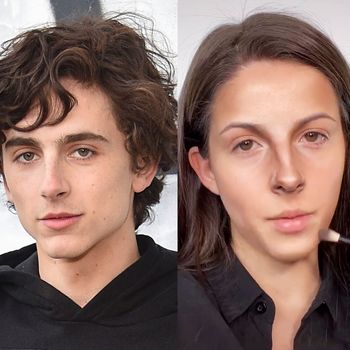 Timothée Chalamet and Charlotte Roberts, a future Timothée Chalamet.
Photo: Getty Images, @charlottelooks/TikTok
We've wondered what it'd be like to touch Timothée Chalamet's hair. We've wondered what it'd be like to wear Timothée Chalamet's hair. It's time to take it a step further. What would it be like to wear Timothée Chalamet's entire face on your own? Leave it to talented teens on TikTok, specifically 16-year-old makeup artist Charlotte Roberts (@charlottelooks), to make your wildest dreams that later morph in nightmares come true.
It starts out innocently enough — Roberts is simply scrolling through pic after pic of Li'l Timmy Tim, as we're all wont to do on any day ending with a "y." "Who is he?," Roberts mouths, already knowing the answer. She is him.
It's all very impressive, frightening, and sudden. Thankfully Roberts followed up with a second video showing more process shots of how one becomes a Beautiful Boy with naught but makeup, staggering talent, and a catchy soundtrack.
Still can't look away? Excellent! Roberts also highlighted the key products she used over on Instagram, should you want to transform into Timo-tay; an arguably better use of your free time than partaking in other teen TikTok activities like sucking the air out of shot glasses or gluing your lips.
The key is to contour (you've seen those cheekbones, jawline, chin, et al.) and emphasize those boy brows. And don't forget to gradually paint on the beginnings of Timmy's new little friend either, lest you want to feel embarrassingly behind in very important Chalamet life updates.