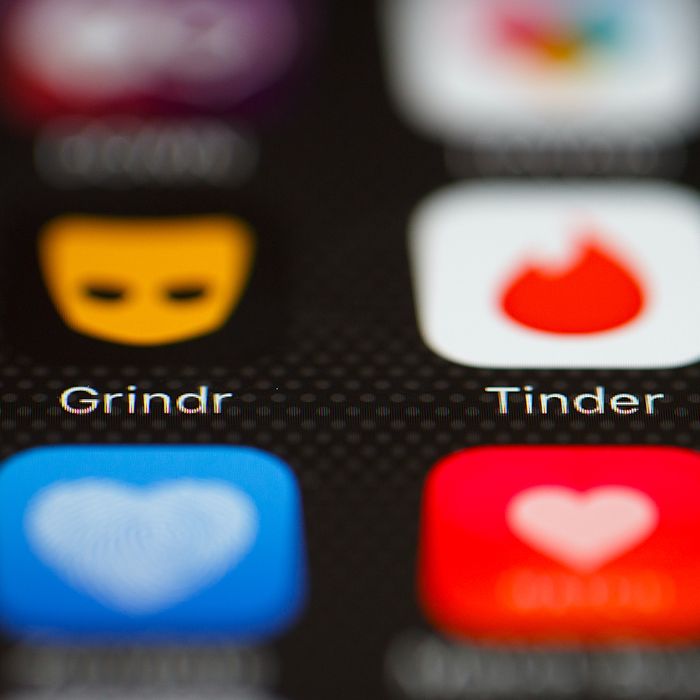 These two are apparently sponging up a bunch of your data.
Photo: Leon Neal/Getty Images
Dating apps live on your phone, an infamous agent of relentless pocket surveillance: It makes intuitive sense that they might not be the safest repository for all the sensitive information entrusted to them. With that in mind, the findings from a new report by the Norwegian Consumer Council may not surprise you, but I bet they will unsettle you: A number of popular dating apps have apparently been quietly sponging up your data and sharing it with third-party advertisers. Which apps, you ask? Allegedly, Grindr, Tinder, and OKCupid. Maybe you have heard of them.
The report, entitled "Out of Control: How Consumers Are Exploited by the Online Advertising Industry," looked at various apps downloaded by Android users, although these apps are also available for iOS. Researchers found that Grindr might be sharing user's longitude and latitude with dozens of other companies, mainly advertisers. Tinder, meanwhile, allegedly tells third parties about users' genders and the genders they're looking to date. And OKCupid might spill the answers to all those profile questions you have to answer — questions about your drug use and your ethnicity, for example — to its purported 300-plus partners, per the New York Times.
The terms of service for both Tinder and OKCupid, which are owned by Match Group, reportedly admit to sharing "some users' information with service providers and partners," as well as with other Match brands (like Match.com, PlentyOfFish), and, potentially, legal authorities. However, they do not specify what information might be considered shareable, nor under what circumstances.
Similarly, Grindr lets users know that some of their information — things like sexual preferences and HIV status, which the service got in trouble for sharing in 2018 — will be kept out of third-party hands, while things like "distance information" reportedly remain fair game. Its partners include companies like MoPub, Twitter's ad service, which, according to the Times, shares user data with over 180 of its own partners, which in turn may share that info with their partners.
In statements to the Times, Grindr said it had not yet seen the report, while Match said it only shared specific user data with outside companies as necessary, to improve services. Both emphasized their commitment to user privacy and to privacy law, although researchers do not seem convinced on that last score, having filed "formal complaints" under the European Union's General Data Protection Regulation.
Again, given the fact that you just thought about that vagina candle, and then an ad for that vagina candle popped up on your screen, none of this feels terribly shocking. But maybe, if you resolved to start meeting people in real life, or giving marketers the finger by covering up your digital footprints, 2020 is the year you delete your apps.