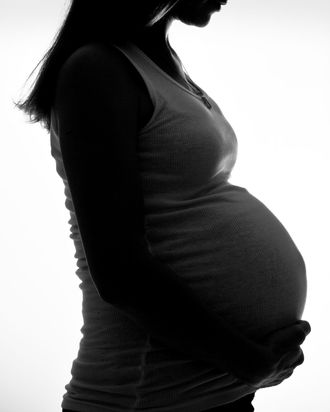 Photo: Sharon Dominick/Getty Images
The Trump administration just took a drastic step toward further enacting its virulent anti-immigration platform. According to diplomatic cables obtained by Vox, the State Department is instructing American embassies to start denying visas to people they suspect may be traveling to the U.S. to give birth for citizenship reasons.
On Wednesday afternoon, the State Department sent out a "sensitive but unclassified" directive to U.S. embassies across the world, essentially instructing them to assume that pregnant women applying for a B visa to enter the U.S. are doing so because they want to obtain citizenship for the child. (B visas are typically offered to short-term visitors, including tourists and people seeking medical assistance.)
The guidance, which goes into effect on January 24, prohibits officers from asking visa applicants if they are pregnant or intend to become pregnant. However, it also states: "If you have reason to believe the applicant will give birth during their stay in the United States, you are required to presume that giving birth for the purpose of obtaining U.S. citizenship is the applicant's primary purpose of travel." If the visa applicant disputes this presumption regarding citizenship — for example, if they're traveling to the U.S. to give birth for medical reasons — then the onus is on them to convince the U.S. consular officer otherwise.
According to the New York Times, the new guidance is intended to target immigrants who are suspected to be participating in "birth tourism," the practice of traveling to another country to have a child. Despite being a subject of concern among many conservatives, the Times notes that it's unclear to what extent "birth tourism" is a significant phenomenon. The new policy is also part of the Trump administration's larger effort to eliminate birthright citizenship, which guarantees U.S. citizenship to all children born on U.S. soil.
Additionally, the new order will require all visa applicants who are seeking medical treatment in the U.S. to prove to officers, who aren't medical experts, that they have both "the means and the intent to pay for all treatment-related costs." If they cannot do so, their application could be denied. One State Department official who requested anonymity told Vox, chillingly, "People will die because of this."
In a statement to the Cut, Kelly Kirkpatrick, a family medicine physician in New York and a fellow with Physicians for Reproductive Health, condemned the policy as cruel, and predicted how we may see it enforced.
"We know this rule and the many other anti-immigrant rules finalized by the Trump administration over the last few years intentionally target women, people with low incomes, people of color, and people who may be traveling to the U.S. to seek asylum," she said. "As a doctor in the United States, I know the rates of intimate partner violence and abuse increase for pregnant patients; this makes me even more concerned for those who may be seeking asylum."
Advocates for Youth was also critical of the new policy, telling the Cut in a statement, "It is the purest violation of basic human rights for people to have their bodies scrutinized by officials, their motives for visiting impugned, and their personal testimony that they are not pregnant ignored."