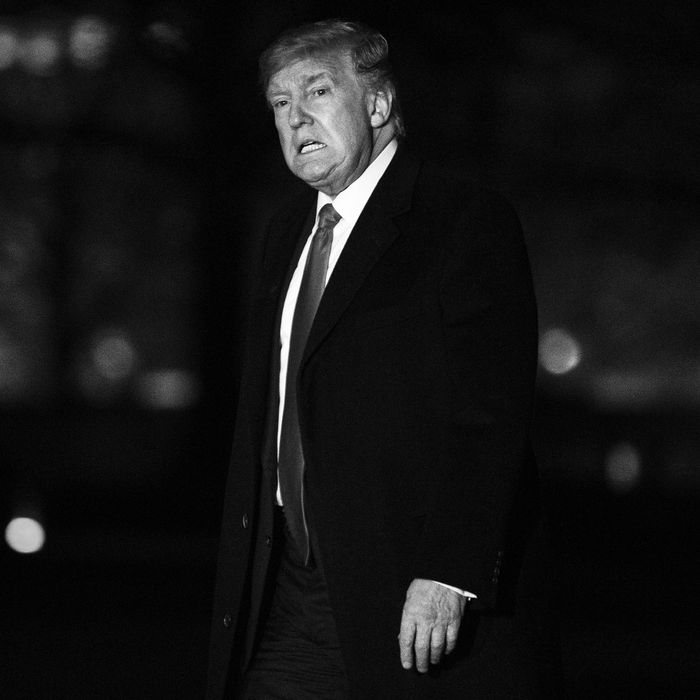 Photo: Kevin Dietsch/Bloomberg via Getty Images
Yesterday, on the anniversary of Roe v. Wade, Donald Trump announced he would be attending Friday's "March for Life," a massive anti-choice rally that's been held in Washington, D.C. every year since Roe was decided. He will be the first American president to do so in the event's 47-year history.
Although Vice President Mike Pence attended the march in 2017, and Trump has addressed the crowds via video in previous marches, his move to appear in person is being regarded by reproductive-rights activists as one of his most direct appeals to his rabidly loyal evangelical base. It makes sense: Despite the fact that the president previously called himself "very pro-choice," and built a brand on distinctly non-Christian values for decades before he ran for office, he has spent much of his time in the White House advancing a harshly anti-abortion agenda.
In concert with the GOP, Trump has used his presidency to pack the courts with anti-choice judges and thrown his weight behind anti-choice policy reforms. In turn, Trump has received fervent evangelical support, as well as massive donations from the far right — including one from the anti-abortion group Susan B. Anthony List to the tune of $52 million, announced just a few days ago.
Trump's decision to attend March for Life signals an obvious but worrying desperation, likely brought on by the upcoming 2020 election and the Senate's ongoing impeachment trial. Far more religious Republican presidents in the past have refrained from appearing in person (Ronald Reagan and George W. Bush both also addressed attendees via video). That Trump is the first to break rank confirms he is willing to possibly lose more moderate Republican voters who support abortion in favor of locking down anti-choice hard-liners, who make up the core of his base.
March for Life organizers and right-wing, anti-choice pundits immediately seized upon the publicity and legitimacy Trump's marquee visit creates. Meanwhile, the right to choose has never been so precarious. What other heretofore extreme positions is Trump willing to take, as abortion access hangs in the balance, in order to secure more funding and backing for a second term?