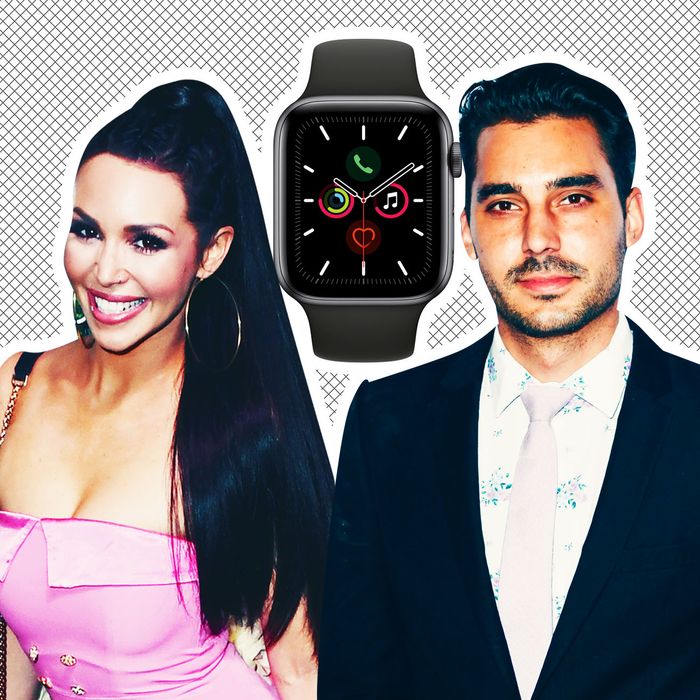 Left to right: Scheana, an Apple Watch, Max.
Photo: Getty Images
Season eight of Vanderpump Rules premiered this month. Whether or not the reality show — which was once about a gaggle of emotionally volatile restaurant employees living in rental apartments, and is now about a gaggle of emotionally volatile former restaurant employees who own matching homes — should still be on the air is a question for another time. Right now, we are here to talk about the new star of the show. No, not any of the new cast members. I'm talking about the Apple Watch Scheana gave to a guy she was casually seeing on Thanksgiving, before getting ghosted by him.
So far, this season has been trundling along on the fumes of tired arguments about Kristen's bewildering relationship with her ex-boyfriend/current boyfriend/delinquent tenant, Carter — who will be in the wedding party at Jax and Brittany's upcoming nuptials — and something about the event-planning process at TomTom. It's all pretty boring, no offense. How can any of these petty dramas compare to finding out Jax and Kristen once cheated on their significant others with each other while watching the 2011 Ryan Gosling thriller Drive?
What has kept me tuning in week after week, though, are the little tidbits sprinkled throughout every episode about this watch.
We first learn about the troubling timepiece in episode one. In a confessional, Scheana says, "I did briefly date Max, the GM at TomTom, but then he just ghosted me. I literally bought him an Apple Watch to show him how much I cared about him, and he couldn't even use it to text me."
Excuse me, what?
Later that episode, Scheana confronts Max (who is wearing an Apple Watch, presumably the one she got him) at Tom Schwartz and Katie's housewarming party because Max called her "boy crazy." I watched raptly, waiting for them to address the Cycle Tracking elephant in the room, but neither of them mentioned it. Scheana didn't say, like, "Hey, give me that Apple Watch back if we're not together anymore," and Max didn't say, like, "I've already put in all my personal stats so it would be a hassle to reset it, and besides, Thanksgiving isn't traditionally a gift giving holiday."
Well, that's that, I thought. I guess Scheana's doomed Apple Watch will just be another confusing piece of information that keeps me awake at night. But then Scheana brings up the Apple Watch again in episode two, telling Ariana and some woman named Danica, who was suspended from SUR for punching her bartender boyfriend after he proposed a threesome, "I know I'm really stupid with, like, buying boys who don't deserve things presents. But like, I got him a fucking Apple Watch for Thanksgiving. Like, who does that?"
Scheana does, apparently, and she talks about it a ton in episode three. To prove she's not boy crazy, she crashes the guys' drinks at some place called the Shelby, and reads Max all the romantic texts he sent her while they were together. Whether they were sent from the Apple Watch she doesn't say. "This was not the person I hung out with at Thanksgiving last year," she tells him. "Like, I'm not crazy. I bought you an Apple Watch. I don't just buy an Apple Watch for a guy I like, banged one time."
Later, she tells some new co-workers whose names I don't know, "If I wanna hang out with Max, I'm gonna hang out with Max. I bought him a fucking Apple Watch, and I knew he couldn't afford it, and I knew he really wanted one."
To summarize, here is what we know about the Apple Watch:
• Scheana bought it for Max at Thanksgiving, after they had casually been seeing each other for a month, because he wanted one but couldn't afford it himself, and then, after she got him the Apple Watch, he ghosted her.
• Scheana can't stop bringing it up.
• Max hasn't mentioned it once.
Here is what we don't know about the Apple Watch:
• What model is it?
• How much did it cost?
• What apps does Max have on it?
• Thanksgiving?
• What?
• Why?
Personally, if I had ever purchased an Apple Watch (purchase price: $199 for a Series 3, up to $499 for a Series 5 with GPS and cellular), on Thanksgiving, for a person I had been casually hooking up with for a month and then they ghosted me, I would never tell a soul. If anyone ever confronted me about it, I would deny it. And if they brought it up again, I would legally change my name, get extensive plastic surgery to change my appearance, and start a new life in another state. I would certainly not bring it up, voluntarily and repeatedly, in front of a TV crew.
But that's why I'm not a reality star, and Scheana is. She's living her truth, living out loud, and that's commendable. It's all happening, as her forearm might say. And, to her credit, she is the reason I will be watching the rest of this otherwise boring season, in the hopes of learning more about this expensive and ill-fated romantic gesture.