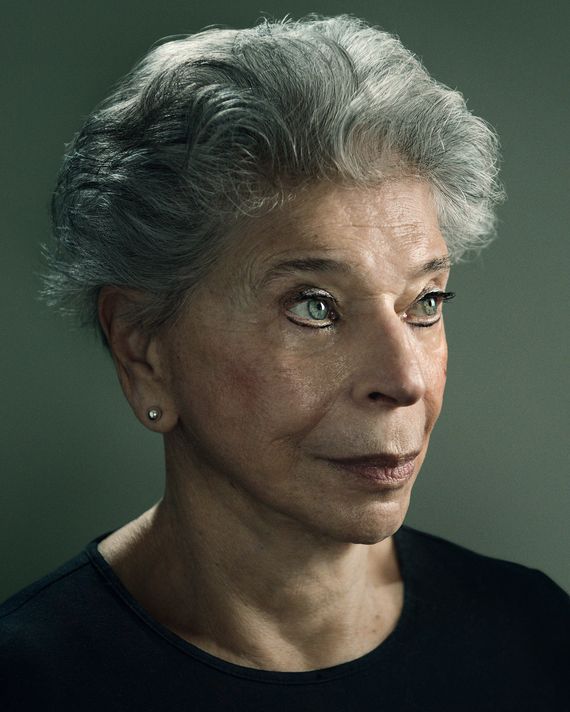 This article was featured in One Great Story, New York's reading recommendation newsletter. Sign up here to get it nightly.
Every now and then, a younger writer will approach the critic and memoirist Vivian Gornick and profess love for a book she routinely disparages: The Romance of American Communism, the oral history of the American left that she published in 1977. If, as often happens, her admirer is too young to remember the Cold War, Gornick tries to clarify a point that she fears has been missed. "I say, 'This is about the Communist Party, not social democracy,'" she says, sitting in her West Village apartment one afternoon in November. "It was the most authoritarian …" she trails off into incredulous laughter. "I don't know why they want to read it."
When I arrive at the apartment where Gornick has lived for more than 35 years, she's dressed all in black, her blue-gray eyes emphasized by bold black liner and silver shadow. Her home is unshowy, with comfortable furniture that bears the evidence of cat claws and with books stacked on the dining-room table and crammed onto white-painted floor-to-ceiling shelves. In conversation, as in her writing, Gornick is sometimes lyrical ("It was like iron in my mouth," she says of reading Me Too testimony that echoed the humiliations she experienced in her own 20s), sometimes wryly provocative ("Is that good for us or bad for us?," she asks when I explain that the Cut is a "women's vertical"). She has written about living alone as a feminist project — about the emotional assaults of loneliness and the vital self-possession that rewards those who withstand it. (Several years ago, she softened her solitude by adopting two cats. She informs me that the one that hops onto the side table during our interview is less attractive than the one that hides from company.)
Gornick, likewise, does not seek the spotlight. Though she deserves as much credit as any writer alive for codifying the current form of the personal essay — The Paris Review has credited her with pioneering the genre of "personal criticism" now associated with essayists such as Leslie Jamison, Maggie Nelson, and Jia Tolentino — her influence as a writer has always outstripped her exposure. Other authors have long valued her writing about writing — its unyielding frustrations and the battle for selfhood it encompasses. Perhaps most beloved among her 12 books are a pair of memoirs: Fierce Attachments, from 1987, and The Odd Woman and the City, from 2015, both of which consider her struggle to forge an unconventional life. A 13th book, Unfinished Business, a reflection on rereading done in her signature hybrid of memoir and criticism, comes out in February. Over the years, a certain romance has accrued to the person of Gornick herself, a born-and-bred New Yorker, radical second-wave feminist, and archetypal staffer for the late, great downtown alt-weekly The Village Voice. Though she says she has always felt like an outsider in literary circles, her work sits at the heart of an alternative canon in which art grows from the politics of being oneself.
Until recently, Gornick was not as well known as the writers whose work owes a debt to hers, but in the past few years, that seems to be changing. "She's started to sell around the world," says her editor at FSG, Ileene Smith. Fierce Attachments has been translated into 13 languages in the past four years. "It must be a zeitgeist thing — something she's connecting with in some profound literary, almost spiritual way," Smith says. At the age of 84, Gornick has become "quite a literary figure, well beyond her own very — I would say unreasonably — modest expectations for herself."
Of all the books she has in the offing, the one receiving the most buzz in literary circles is a reissue of Romance by the leftist publisher Verso this spring. In an interview with New York last year, political theorist Corey Robin called it possibly "the best book ever written about [the] inner life" of socialists. It received mixed reviews in its own day, including an evisceration by the literary critic and prominent socialist Irving Howe that "sent me to bed for a week," Gornick says. Her aim had been to capture the emotional allure — the "romance" — that drew so many ordinary Americans to become communists, but critics accused her of falling in love with her subjects and skating past the problem of their fealty to the Soviet Union. Today, Gornick dismisses the prose as "disfigured" by rhetoric, and the book itself as "apprentice work." She is baffled by its sudden popularity among a new generation of leftists.
It's hard to say why Gornick didn't gain her current following earlier. Maybe she was just ahead of her time, writing memoir before the genre's boom in the late 1990s, or maybe — by writing about feminism and politics with the sensibility of a literary critic, and vice versa — she slipped through the cracks between easily marketable categories. Five years ago, Gornick said in an interview with The Paris Review that accepting her limited recognition "has sometimes felt like a bitter pill to swallow." Does she still feel that way, I ask? "Oh, sure," she says. "But I was sorry I said that." She doesn't want to be petty, even though she acknowledges that "in a way it's not petty — the hunger for glory is something no human being is free of." But if she could change one thing about her life, she says, it would be her tortured relationship with her writing, not the number of people who read it. "In the end, I can always say that whatever else I yearn for in life, the thing that was absolute and unconditional was my hunger to write," she says. "Nothing else approached that for me." The attention of younger fans makes her feel "good that the work I've done feels useful to other people," but "that's all. No more than that."
In her writing, Gornick presents herself as an "Odd Woman," a figure fundamentally out of step with the values and norms of the society in which she lives. She's a product of radical politics: a feminist who eschews marriage and motherhood, and a misfit whose indifference to money and mainstream ideas of success carries an anti-capitalist undertone. But it's the power and pain of the Odd Woman to be singular, forever apart. She has the clarity of an impartial observer even when she feels the zeal of a convert. Perhaps this paradox is what makes her work feel immediate (and, as she says, "useful") to a younger generation of leftists and feminists still figuring out what it means to be defined by one's politics. Even in Romance, her most political book, Gornick doesn't write about politics — she writes about how it feels to live through a political time and what it takes to join in without losing one's sense of self.
As she writes in Romance, Gornick was what she calls a "red-diaper baby" born into a world of working-class, Yiddish-speaking party members and fellow travelers in 1935. She was served Marxism at the kitchen table of her childhood home in the Bronx, where she would sit and listen to her parents and their friends. She renounced communism in that same kitchen at the age of 20 in 1956, after reading Nikita Khrushchev's speech acknowledging the extent of Stalinist terror. After graduating from City College, she moved to California to pursue graduate studies at Berkeley but dropped out, married and quickly divorced twice, and found herself back in New York working in publishing and freelancing with the occasional piece for the Voice. Her lasting political awakening came with her introduction to feminism in 1970, when she was assigned to cover a meeting of what her editor termed "women's libbers" on Bleecker Street for the Voice, which had by then hired her as a staff writer. "Overnight, my inner life was galvanized," she later wrote. "It was as though the kaleidoscope of experience had been shaken and when the pieces settled into place an entirely new design had been formed." She got to know prominent radicals such as Ti-Grace Atkinson, Kate Millett, and Shulamith Firestone, and she wrote searing feminist criticism of contemporary novels by the likes of Joan Didion and Anne Roiphe.
By the mid-1970s, her relationship with the movement had started to sour. Gornick perceived an emerging party line that seemed to mirror the one that had silenced her parents' doubts about the Soviet Union: When she disagreed with a speaker at a feminist meeting in Boston, the woman accused her of being "an intellectual and a revisionist." "I realized that feminism wasn't enough to understand my place in society or in history," she tells me. "It was not going to give me inner peace. I really didn't like myself; I felt I was always alienating people." Gornick writes that her break with feminist activism taught her to sympathize with her parents and their communist friends. She resolved to interview as many members of the old left as possible and weave their voices into a book about the party's emotional hold, from which so many had been unable to escape.
"There are, it seems to me, a number of stable hungers in the human psyche," Gornick writes in Romance. "One of these hungers, beyond question, is the need to live a life of meaning." Gornick's subjects describe the transformative power of working for a revolution they believed was "around the corner." "Every time I wrote a leaflet or marched on a picket line or went to a meeting I was remaking the world," says one person she interviewed, describing how that sense of purpose "gave me a home inside myself." Many other communists described similar changes to their innermost lives as a result of their activism. "I didn't feel lonely," says one. For another, Marxism "healed" a "wound in the soul." "Everything in my life became one," says a third. "Everywhere I was the same person."
The communists of Romance speak directly to a problem Gornick seeks to pinpoint in all of her work: how to create a self you can live with, one strong enough to make its place in the world. Gornick has invented her own idiom for this struggle, which she sometimes calls the search for a sense of "all-in-allness of world and self" and other times refers to as a quest for "expressiveness" — a word that, in her work, connotes both inner clarity and the ability to translate that insight outward. Politics opens up one conduit to this feeling. Through Marxism, "the people at my father's kitchen table could place themselves," Gornick writes in Romance, "and if they could place themselves — compelling insight! — they could become themselves … The men and women at the kitchen table were involved in nothing less than an act of self-creation."
At the Voice, Gornick was, by her own account, a polemicist "on the barricades for radical feminism." After she left the paper, the year Romance was published, her work moved toward memoir and literary criticism and away from orthodoxy of any kind. "If anyone picks up a book of mine, it's eminently clear that a feminist is writing," she says, "no matter what I'm writing about." But writing itself, living a life defined by work and intellect rather than love or marriage, became her primary feminist commitment.
She narrates the slow dawning of this realization in Fierce Attachments, a memoir framed by her battles with her mother and her mother's idea of womanhood, which revolved around romantic love. Her new book, Unfinished Business, surveys similar territory by tracing her changing relationship with the novels that have meant the most to her. She tells of how, as a young woman, she read romantically, to be swept away by stories of love. After discovering feminism, she read the same novels politically, seeing "for the first time that most of the female characters in them were stick figures devoid of flesh and blood." More recently, she tells me, "I began to see, in every great work I read, that all great writers struggle, essentially, with cohering. And even though we can't cohere, and we don't, and everyone knows it practically from birth, it's still a yearning, and that yearning dominates literature."
A writer whose gaze has turned increasingly inward is an odd patron saint for the resurgent, millennial left — a disjunction that became clear in December when Gornick provoked a minor backlash on Twitter by telling Jewish Currents that she doesn't find Bernie Sanders inspiring or believe he can win the presidency. (She's not much of an Elizabeth Warren fan, either: "Neither one of them has a chance, but even if they did, it feels as if they would sink into the way things are rather than be the forerunners of change," she tells me.) In the abstract, she says, she still views political activism as one path toward a coherent self, though it takes vigilance not to lose that self in the task: "The most important thing is not to submit to an authority that makes you deny the evidence of your own senses or your own mind, ever." But she has a hard time imagining how anyone could find meaning in our current political moment. For the communists she wrote about in Romance, who believed the world would be remade in their lifetimes, "there was the sense of actually living a real and exciting life just by doing the homeliest of political tasks. You know, selling The Daily Worker on the corner," she says. Today, in contrast, "it doesn't feel like a political time. In other words, people aren't fired by the hope of it." Even Me Too, though she acknowledges it has been "useful," strikes her as having "no real politics — it's just anger."
But doesn't she feel the earliest vibrations of something shifting, I ask? Even if she is unmoved by the progressive candidates running for president, what about the regroupings of the labor movement, the mainstreaming of Medicare for All discourse, or, yes, the thousands of young socialists expected to provide an audience for her decades-old book? "It doesn't feel like right before the '60s, even though things are worse than they were right before the '60s," she says. "It doesn't feel like a gathering storm." By now, it's dark in her apartment, though it's still late afternoon, and Gornick fumbles with a lamp whose light isn't strong enough to burn off the sense of gloom. "I don't want you to get depressed," she says kindly. For herself: "I can live with it."
Whether you agree with Gornick's prognosis, the sense of impossible odds she describes may help explain the revival of interest in Romance. Lana Povitz, a 33-year-old activist and historian of social movements who is one of the book's proselytizers, acknowledges that young leftists are less likely than the ones Gornick wrote about to think the end of capitalism might actually be imminent. If that goal seems out of reach, she says, then what remains is "the day-to-day process, the social and emotional world" of activism. Romance was criticized in its own era for celebrating some of the emotions that attended Communist Party membership while eliding many of the actions done in the party's name. But in hindsight, it's clear that Romance provided something rarer than an evenhanded account of history: a look into the affective life of the American left. "In some ways, I think political emotion is the best thing we've got going right now," says Povitz. "It's who people feel they are when they're doing activism that keeps them turning up."
In a new introduction to the Verso edition of Romance, Gornick celebrates the ordinary leftists she wrote about as exemplars of "a certain kind of cultural hero … who is often characterized as one who lives for 'the work.'" That their work never reached any kind of culmination — they did not, in fact, overthrow global capitalism — doesn't erase the impression that they succeeded in living "lives of meaning." Meaningful work, Gornick writes, "makes flare into bright life a sense of inner expressiveness that is incomparable. To feel not simply alive but expressive is to feel as though one has reached center." In the case of the communists, "this centeredness glowed in the dark."
As always, when Gornick writes about the communists of Romance, she is also writing about herself. "I'm happy if what I've learned in life is of use, but it's not a motivation," she tells me. "All I ever really wanted was to experience myself to the fullest."