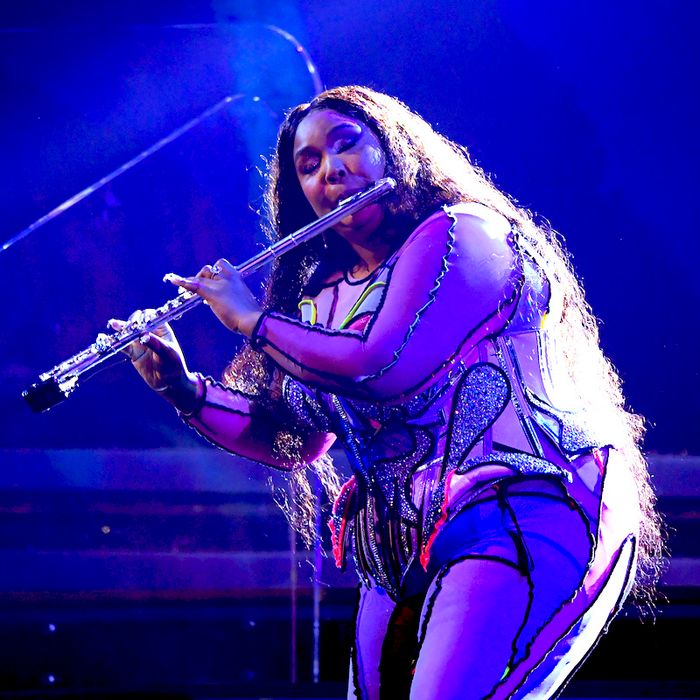 Lizzo, a flautist queen.
Photo: KEVORK DJANSEZIAN/Getty Images
And the Grammy for best pop flute in a solo performance goes to, I mean really who else could it be, Lizzo. Of course.
Opening the show in her first-ever Grammys performance, Lizzo presented a mash-up of "Cuz I Love You" and "Truth Hurts." There was a lot to love in this display — ballet dancers in glow-in-the-dark tutus that made them look like circling jellyfish; a seamless quick change from sequined ballgown to sexy space unitard — but by far, the best detail was Lizzo's flute. Per usual.
Said flute descended from the goddamn ceiling on a plexiglass platter, as seen below around the 4:16 mark, and Lizzo let fly with a rousing 19 seconds of pure, unadulterated flute action, punctuated only by her shouting, "Period!" I cannot say what the rest of the evening will hold, but Lizzo playing the flute is likely the best thing I'll watch tonight. What other pop star is out there, crushing it on an actual wind instrument in the middle of a dance routine? To my knowledge, none of them. Not a single one. Zero flautist peers. No one flutes like Lizzo. No one!
The flute is famous in her own right: Her name is Sasha Flute, she has approximately 321,000 Instagram followers (at least at time of writing; due to her Grammy appearance, she will doubtless have more soon), and her "body is dipped in silver [she] came out the womb shining." Sasha Flute may be the first flute ever to have appeared in Rolling Stone. She has been known to join Lizzo onstage at concerts, and has performed on Ellen. Lizzo's flute deserves a tiny Grammy of its own. Hell, give Lizzo's flute a lifetime achievement award. She's already earned it.