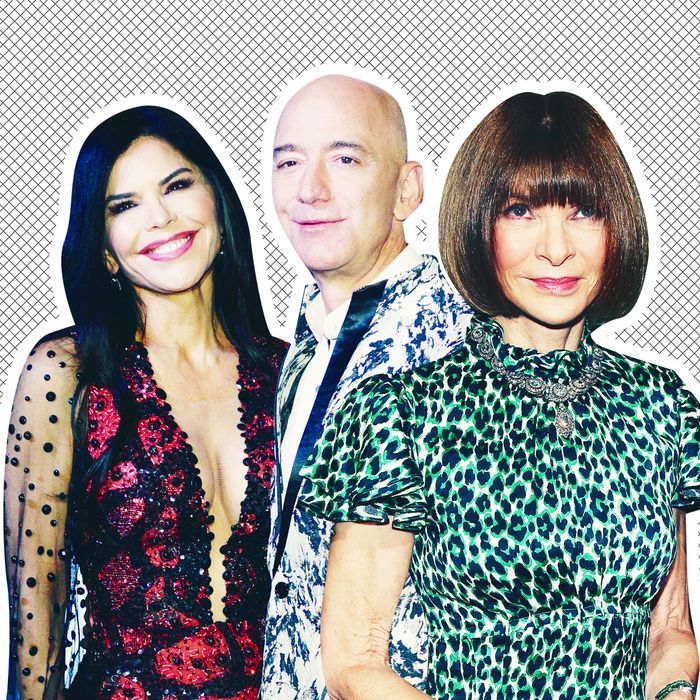 Jeff Bezos and his paramour Lauren Sanchez were recently spotted leaving a two-hour lunch at Sant Ambroeus, an Italian restaurant in the West Village. And today, "Page Six" reported that the happy couple was third-wheeled by none other than Anna Wintour, Vogue's editor-in-chief.
Paparazzi shots show Sanchez and the Amazon CEO exiting the restaurant looking exceptionally satisfied. Wintour, meanwhile, looks flustered. Of course, my question is, what did the world's most famous fashion editor, the world's richest man, and the world's richest man's girlfriend talk about during their sit down?
The possibilities are truly endless. Perhaps it was just a lunch between friends, and the trio simply discussed being rich. Maybe it was fashion related; they could have talked about what Jeff should wear to his space conference, or how he can upend Jack Dorsey as the fashion-daddy of the tech world.
Or: could it be that the e-commerce mogul and Sanchez — who has been wearing a ginormous diamond for a month now — plan to tie the knot, and want Vogue to have the exclusive? Mon dieu! This one might explain Wintour's expression.