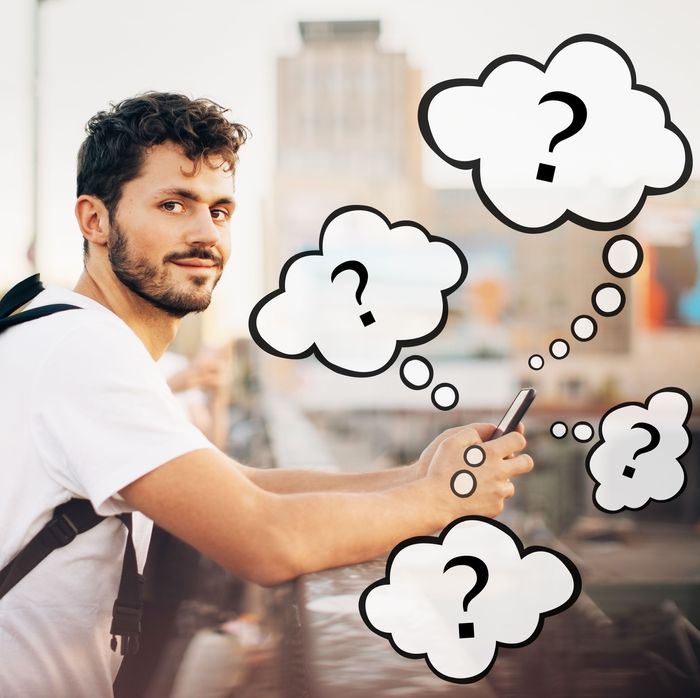 A mystery.
Photo: Getty Images
The topic of Instagram ads recently came up in a discussion with my mostly female-identifying co-workers. We all get basically the same ones. Bras that are supposed to be cute and comfortable. Blankets and shower curtains that are outrageously expensive. Shoes that are supposed to be cute and comfortable. A device that resembles a beetle and attaches to your back to allegedly help your posture. And then there's a lot of voluminous clothing items that would probably make you look like you're dressing on purpose as a baby, but which look nice on the model and actually maybe you should try them?
This is how I imagine Instagram as an experience: You log on and see posts from friends mixed with ads for Fenty beauty, True Botanicals (featuring celebrity spokesperson Olivia Wilde), and pills that are supposed to make you beautiful. Until this discussion with co-workers, I'd never really thought much about how for other people — in this case the most bewildering among us: straight men — Instagram is different. Less soft. Less Moon Juicy. More … something else. It can be difficult to imagine other people's lives; this is why we are in many of our current situations nationally and internationally.
Still, we have to try.
"Scrolling through now I see: Star Wars, Disney+, Cacique Queso Dip, Nexium Heartburn Relief," a straight man told me, regarding the ads he sees on Instagram.
Oh my. What world is this?
In the spring of 2019, journalist Eric Ginsburg crafted a popular tweet. It explained how to access the list of targeted ad terms Instagram had distilled from your activity on Instagram, Facebook, and whichever third-party apps Facebook had given your data to, and it invited Twitter users to post their own. The fun in this game was that the terms were sometimes exactly you, and sometimes not you at all, but still they were ostensibly about you, and you got to share them. (This is the fun in most social media–related games, like the data-gathering, face-stealing ones, and most recently the Instagram filters that tell you which character you are from various movie and TV franchises, which I guess are likely just as face-stealing as anything else.)
The targeted ad-related surveillance leads to creepy shit, obviously. Like, looking at a couch on the Ikea website and immediately getting ads on Instagram, and everywhere else, for that exact couch. Or considering dog adoption and then immediately being shown ads for $400 dog beds. Or seemingly only mentioning something out loud and then having that exact item pop up on your device. "Did I search for this?," you wonder. I don't know. Did you?
Regardless, it is with these creepily gathered targeted ad terms that our individual Instagram universes are built. Our friends are our planets, the ads are our stars — and we are made of star stuff. But what is influencing the thoughts and wallets of our straight brethren? It's a secret, kept hidden away in their little hands, viewable only by the prying eyes of the over-the-shoulder subway rider or someone next to them on the couch.
Until now.
I created a Google form called "What Ads Do Straight Guys See on Instagram?" and tweeted it to my followers, requesting they share the kinds of ads they see, and asking them to send me screenshots of the ads if they felt like it. Some did, though a slightly larger percentage did not feel like it.
What follows is a curated selection of the ads of straight men. I hope you are prepared.
"I just checked my six most recent: Home Depot, Chase Bank, Fortnite, PetSmart, Tylenol, Red Robin."
"Xbox Game Pass, Tiffany & Co., National Geographic Channel, CapitalOne, American Express, Disney Plus, 'Off the Eaten Pack' Snacks."
"Just gave it a scroll, here is a list of brands I saw: Tylenol, Wristwatch, Bernie Sanders, Oculus VR, Staples (???), Printplus, CapitalOne."
"I saw an ad for a machine that measures how much dust is in your worksite if you are a builder, and I think the machine beeps and goes 'excuse me builder, there is too much dust, put on a mask.'"
"Just now as a straight white guy: speakers (Sonos), cars (Volvo), and ugly geek sweaters."
"Burrito blankets, slip on shoes, dumb seal pillows."
"Bombas socks. Brooks Brothers. Drakes. J. Crew. Wall Street Journal. Pretty Patrick Bateman-y, really."
"Waterproof socks, Tostitos chips and salsa, A&W Canada, granola, packable backpack, fancy bike lights, cheap contact lenses, Presidents' Choice assorted chocolates, Scene points card, patterned socks, 'sustainable' cariuma shoes."
"Rugs, furniture, banks, Norway socks."
"Luxury swimsuits, interior design products, hotels from countries I'm planning to visit."
"Signature Theatre for their new play (I used to be a subscription-holder, maybe they know somehow); Bernie Sanders 2020 (I follow AOC); Lunya (seems like a snoring mask?); Afravov (gadget to prop your phone for taking photos); Pup Socks (I recently followed my sister's dog account); Molekule air purifier (I have an apartment); Devocion USA (coffee-beans vendor; I do love coffee); Remarkable (some kind of gadget for an e-ink tablet? I think I've heard of this); Sombera (some kind of gadget for home improvement??); Floyd Detroit (fast furniture — I've bought a few of their things); thuma.co (bed frame); The Citizenry (pillows, plates); Earthsider (eco-friendly q-tip??)."
"My Instagram ad experience is a never-ending barrage of personal handheld deep-tissue massage/recovery guns. The ads usually consist of impossibly muscled men and women massaging them selves in slow motion as their oiled and tanned muscles ripple while the expensive massage gun thumps away."
There you have it. Banks. Video-game systems. Sweaters. An insane number of massage guns for that last guy (he sent screenshots of six separate ads). Periodicals. That other guy bragging about the countries he's planning to visit. Grills. Trucks. Tools. And a bunch of companies where it's like, what … even … is this? Chain restaurants. Whatever "dumb seal pillows" are. Bernie Sanders.
Pretty much what you'd imagine, I guess, if you ever thought to imagine it. An entirely separate world, tailored, in a sort of generalized way, to its viewer. It's a bit horrifying to think about. Advertising isn't a nice thing, even when we all get to experience it together, but it can at least sometimes remind you that other people exist. The excessively personalized worlds we gaze into unthinkingly teach us to be comfortable feeling at once never alone and never together in a way we might not even actively realize. It's creepy.
Like, women could at least also get ads for banks.