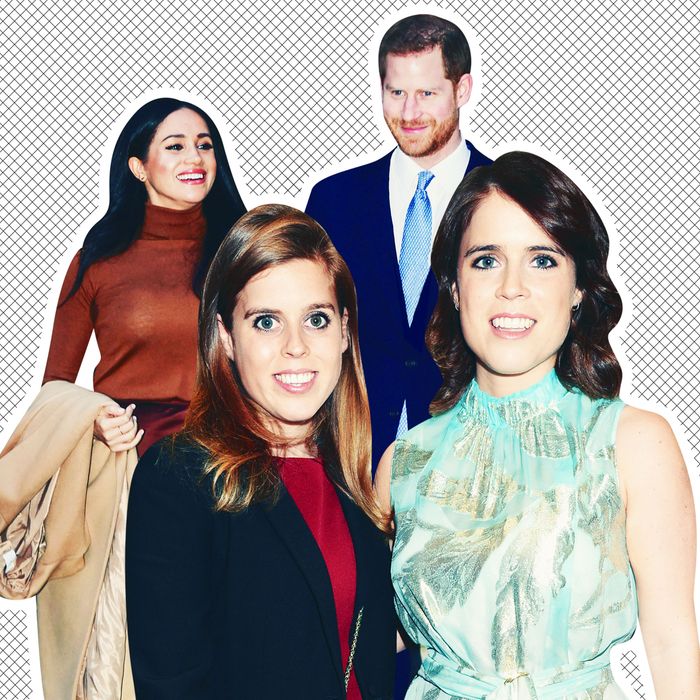 Earlier this month, Meghan Markle and Prince Harry rocked the British monarchy with the announcement that they would be stepping back from their duties as "senior" members of the royal family, work to become financially independent, and balance their time between the U.K. and North America. In their statement, the couple noted that they hoped to "carve out a progressive new role" while continuing to honor their "duty to The Queen, the Commonwealth, and our patronages."
After first being met with an extremely terse response from the queen's office, a follow-up statement noted that while the royal family would have preferred the Sussexes "to remain full-time working members" of the monarchy, they respected and understood their decision.
Now, in spite of Prince Charles's desire to slim down the royal family to its "core" members, rumor has it that princesses Beatrice and Eugenie (the daughters of Prince Andrew) as well as Sophie, Countess of Wessex, are being considered as Meghan and Harry's "replacements" and could start taking on the former-royal couple's duties. But we have to ask, what exactly are these "royal duties"?
According Royal.uk: "Members of the Royal Family support The Queen in her many State and national duties, as well as carrying out important work in the areas of public and charitable service, and helping to strengthen national unity and stability … Every year the Royal Family as a whole carries out over 2,000 official engagements throughout the U.K. and worldwide."
Essentially, this means showing up to and/or acting as a host to various events, including banquets, receptions, and garden parties. The events may be diplomatic in nature (a funeral, investiture, or military affair), something related to a charity, or to a national holiday. Beyond showing up and representing the monarchy, royals might take a more active role, presenting an award, giving a speech, or simply shaking hands with the public, meet-and-greet style. They receive and respond to letters, and set up their own philanthropic organization to do more of the same. Full-time royals traditionally receive money for these things through the Sovereign Grant, the monarchy's funding mechanism, which is directly funded by taxpayers.
As they start their new life, Meghan and Harry have said that they'll still be supporting their existing patronages, and will likely continue working with various charities. That said, the number of babies they are expected  to kiss and fascinators Meghan is forced to wear will most likely decrease. Best of luck to whoever steps up to replace them.