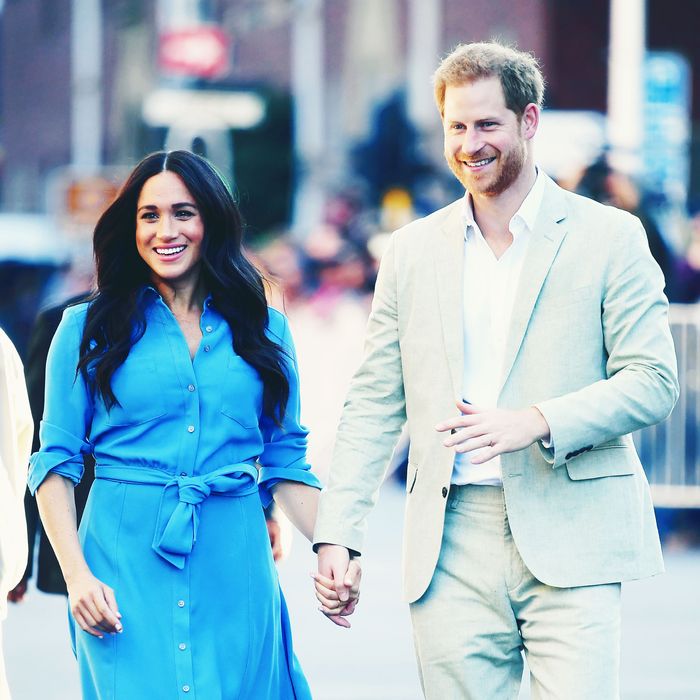 Photo: Karwai Tang/WireImage
ABC released a new documentary last night analyzing the lead-up and fallout from Meghan and Harry's decision to step back as senior royals. Royal Divide: Harry, Meghan, and the Crown calls on various royal experts and correspondents, many of whom traveled with the Sussexes during their first year as royals.
The documentary mainly involves informed speculation about what led up to the decision, and what might happen next. The consensus is that Harry has long-desired to live a less royal life, but needed a push, which Meghan gave him. The experts point to the way the media maligned Meghan, and draws on footage from last year's ITV documentary, in which the Duchess discussed the difficulty of her life as a royal.
Most of this is familiar, but there was some helpful new analysis. There's also an interview with a close friend of Harry's that provided more insight into the Prince's personal motivations for stepping down. See the highlights below:
Prince Harry had his own reasons to step down.
Much of the press around the Sussexes' decision has focused on Meghan, but the documentary emphasizes Harry's role in the exit. Notably, it includes footage from Harry's friend and charity ambassador, polo player Nacho Figuras: "I spoke to Harry a few days ago," he says in the special. "He has suffered a lot from all of the things that have happened to him. He suffers a lot from people judging him. He's being a father … a guy who is trying to protect his cub and his lioness from whatever it takes." Figuras's testimony is bolstered by the film's look back at Harry's past statements about life as a royal, and his reputation as a "reluctant royal." Over the years, he's frequently referenced the way his mother was attacked by paparazzi during her life; for instance last year, in the ITV documentary, he said: "I will not be bullied into playing a game that killed my mum."
Meghan and Kate have been treated differently by the press.
The documentary explores the differences between how Meghan and Kate were covered by the British tabloid press. Before they were married, both women were both maligned by the press (although the scrutiny Meghan faced was marked by racist headlines and remarks). But after her marriage, the press was generally positive about Kate. Meanwhile, after Meghan was married, the tabloids continued to attack her with even more vitriol and racism than before. The media also continuously pitted the two women against each other, often at the expense of Meghan. (For instance: If Kate wore a strapless dress she was hailed as a fashion icon, and Meghan would be described as "vulgar".)
Meghan and Harry remain as popular as ever.
Marvet Britto, a brand strategist, says in the documentary that "Meghan and Harry's decision to step away from the royal family only enhanced their brand potency." Reporter Van Lathan agreed, noting that the couple is now so "famous and culturally symbolic in a way that no other royals have ever really been." The consensus is that post-exit, Meghan and Harry's brand will be much stronger and more profitable than if they had remained in the family.
However, they probably won't be able to escape the press.
One of the motivations for the Sussexes' departure is to live more privately, but the documentary speculates that press interest will be even more intense now that Meghan and Harry are no longer living inside the protection of the royal bubble. There's now heightened interest in the couple, and they're more vulnerable. Experts pointed to Diana, who faced even more intense scrutiny after she'd stated publicly that she would be living more privately. So far, this has proven true; photographers have been camping out on Vancouver Island, where the Sussexes are staying, for weeks, with paparazzi photos of Meghan being released on an almost daily-basis.