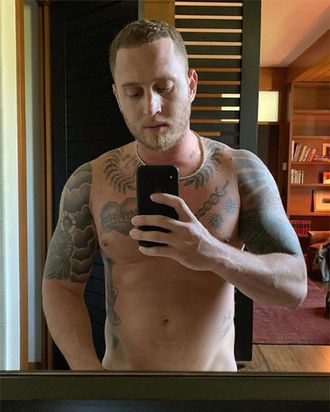 Among the handful of viral moments from last night's Golden Globes, one loomed uncomfortably large: a video of a young white man speaking in patois on the red carpet. The clip, which was shared by the young man in question on his personal Instagram, was captioned: "BIG UP FIMI WHOL FAMILY SOON COM AT DI AWARDS NA SEEN 🔥 🔥 🔥 CHUNE IN"
The video introduced (or reintroduced) many of us to 29-year-old Chet Hanks, formerly known as Chet Haze. But who is this person, and why are we talking about him? Let's review.
Who is Chet Haze?
Chester Marlon Hanks is the son of actor Tom Hanks and Rita Wilson. Chet Hanks is his real name, and Chet Haze is his erstwhile rapper name.
Wait, he's Tom Hank's son? 
Yes. Interestingly, Daniel Day-Lewis also has a rapper son, named Gabe.
What does he look like?
This:
Why are we talking about him?
Because Tom Hanks brought his family to the Globes, where he accepted the Cecil B. DeMille Award. It was here that Chet took the opportunity to share the now-viral video of himself.
What is Chet famous for?
He isn't really, but if he were, it might be for his remake of Wiz Khalifa's "Black and Yellow," which he renamed "White and Purple" in reference to Northwestern University's colors:
While he's been sober since 2016, Chet was briefly in the tabloid spotlight while he battled drug addiction. In 2015, he was wanted by British police after trashing a hotel room, and entered rehab shortly after. Chet has also been under fire for using — and aggressively defending his use of — the N-word; in 2018 he apologized for these comments, saying that he was on drugs at the time and was "trolling" for attention.
Hold on, he went to Northwestern?
Oh yes. Some of the university's alumni took to Twitter last night after the video surfaced to share memories of their former classmate:
What does Chet get up to when he's not speaking patois on red carpets?
He acts a bit. Most recently he's starred in Empire and Shameless as a supporting cast member. He also pivoted to pop-rock, and now performs with his two-man band, Something Out West.
According to his Instagram, Chet's other interests include dirt bikes, America, exercise, and spending time with his young daughter, Michaiah. He lives in L.A.