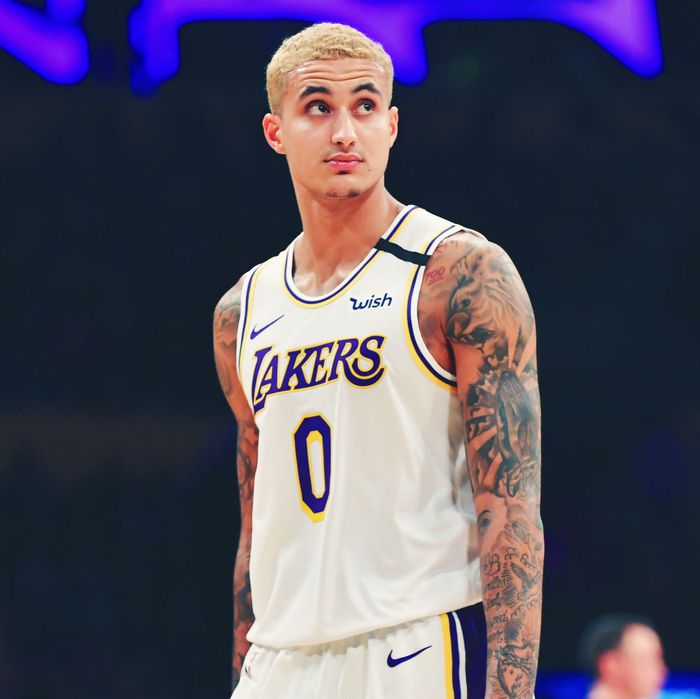 Photo: Allen Berezovsky/Getty Images
Vanessa Hudgens is back in the news cycle following her split last week with Austin Butler, her boyfriend of nearly a decade. So far, she has given a master class in post-breakup contentment, appearing on various red carpets and talk shows looking incredibly good and happy. And this weekend, she was spotted "smiling and laughing over a bottle of red wine" at a romantic Italian dinner with noted sportsman Kyle Kuzma. There's no word on how official they are, but here's what we know about her potential new basketball beau:
He may have met Hudgens at Lakers game.
Kyle Kuzma has played for the Los Angeles Lakers since 2017. According to an area sports fan I spoke to for this article, Kuzma is "good." And Hudgens recently attended a Lakers game, sharing clips and tagging Kuzma and a few other players on her Instagram. There's no evidence that they actually spoke, but Hudgens seemed pretty close to courtside, so maybe they said hi or sorted their date out in the DMs after the fact.
He's tall. 
Kuzma is a whopping six-foot-eight to Hudgens's five-foot-one.
He does spon for Panera.
Kuzma did an ad for Panera Bread while he was injured in 2019, as evidenced by a commercial for the restaurant posted to his Instagram. It's unclear if he's an official representative for Panera or if the ad was just a one-off.
He's a Bernie Sanders fan.
Last year, Kuzma retweeted a Bernie tweet that read, "Amazon should pay more than $0 in federal income taxes." Kuzma added, "Facts."
He has been seen with Kendall Jenner.
He was spotted on a yacht with the model in 2019, but TMZ concluded that they simply share the same friend group.
They are both interested in athleisure.
Kuzma has a $20 million Puma deal, while Hudgens has an athleisure collection with an activewear company called Avia. It's possible that she and Kuzma bonded over this mutual interest at dinner.
They are astrologically compatible.
Kuzma is heavily tattooed with various references to his hometown (Flint, Michigan), his family, and his astrological sign (Leo) inked on his body. According to Astrology.com, that means he and Hudgens, a Sagittarius, are both "extremely dynamic and enjoy life to the fullest." As a love match, "the result is often fireworks."
He makes bold fashion choices.
Between photos of him doing basketball, Kuzma's Instagram feed is littered with paparazzi shots of him wearing great clothes: Bright suits, satin separates, animal prints, and designer bags abound. He has attended New York Fashion Week and seems to be very into experimenting with style.
He gives back to the community.
He makes frequent visits back home to Flint, Michigan, to spend time with students, and he runs a basketball camp for kids.