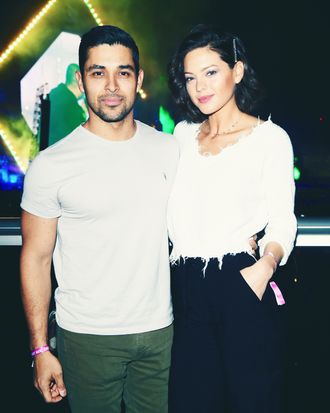 Wilmer Valderrama and Amanda Pacheco.
Photo: Daniele Venturelli/Getty Images
More than 24 hours after the ball dropped, I had yet to learn of any New Year's Day celebrity engagements, leaving me wondering if 2020 was going to be the year that people finally realized that making grand romantic gestures on major holidays is a bit trite. But it turns out this is not that year.
On Wednesday evening, a man posted to Instagram a dramatic photo of himself down on one knee, on the rocks on the beach in San Diego, proposing to a woman at sunset. That man was former That '70s Show actor Wilmer Valderrama, and the woman, his girlfriend of eight months, model Amanda Pacheco. "'It's just us now' 01-01-2020," reads the caption, which Pacheco wrote alongside the same photo on her own Instagram page. Pacheco also posted a closeup of her ring, featuring a massive pear-shaped diamond the size of her knuckle.
In general, I'm happy for the couple. They definitely seem to enjoy each other's presence! And, seeing as Pacheco's Instagram handle is @seaweenie, and her bio reads, "I belongs deep in the sea or high in the trees where things are wild&free," I'm certain that she found the seaside engagement quite romantic.
Meanwhile, some — or I should say, a lot of people — seem to disprove of the engagement. In the hours since Valderrama announced the news on Instagram, fans of Demi Lovato — whom the actor dated for six years — have been slamming Valderrama for never popping the question to the singer. But Lovato, who has gone dark on social media while she focuses on her music career, reportedly isn't shaken. Per a source who spoke to E! News, Lovato is "happy for Wilmer," and "glad he has found love."
"[She] realized he wasn't going to be her life partner and she's known that for a while," the source continued, adding that Lovato has fully moved on. Cheers for maturity!
This post has been updated.