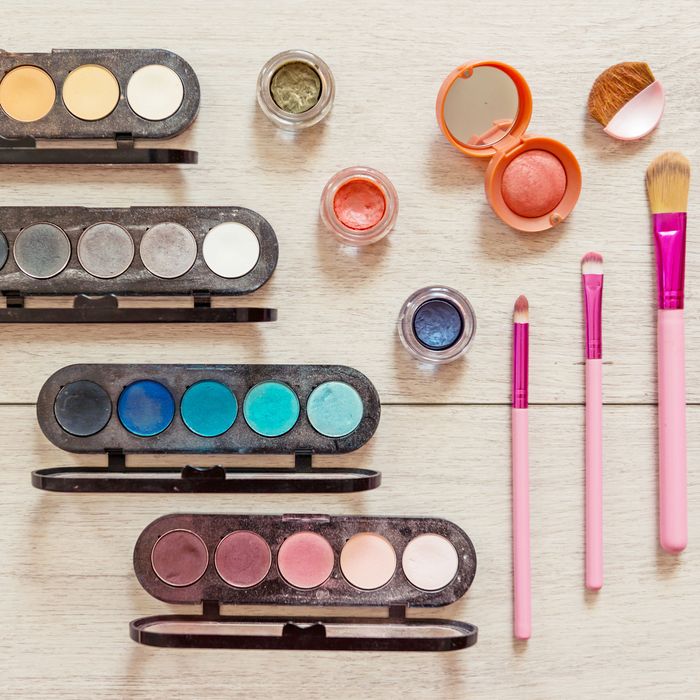 Photo: Stefan Cioata/Getty Images
How would you feel about buying a used lipstick? What about an eye-shadow pallet, or tub of face cream? My gut response is absolutely not — my concern being mostly around hygiene and expiration dates. But what if the product was "professionally sanitized" and cost $20 less than the usual $100 price tag?
Beauty resale — of products like lipstick, skin makeup, and perfumes — is now a legitimate market, and it's beginning to grow on platforms like Glambot, Poshmark, and Ebay. The second-hand clothing and shoe resale market has exploded in recent years on sites like The Real Real thanks to consumers' penchant for sustainability and affordability. As Vogue Business explained in a new report, these same customer priorities seem to have paved the way for this new, beauty-focused aftermarket.
The platforms for used beauty and fashion have a lot of overlap. Vogue names Ebay as a mainstay for refurbished beauty tools (hair dryers and the like). And Poshmark, the peer-to-peer resale site, officially launched a makeup-buying platform last year.
Like fashion, the market is fueled by product "drops," like a limited-edition bundle or palette. And influencer-led brands that are known for drops (like a Jeffree Star or Kylie Jenner) have much higher price tags (double or triple the original price) on the resale sites after selling out on the original website.
Separate from these platforms is Glambot. Poshmark and Ebay claim they don't sell used products, but that's difficult to regulate — Poshmark, for example, relies on the seller's "credibility and history in reselling and authenticating upscale brands." Glambot, meanwhile, actually cleans the products: for instance, the top layer is removed from a powder or lipstick with a sanitized blade.
The expiration dates on these sites are also "largely self-regulated," Vogue writes, which brings me back to my original concern: most of us are unaware of how quickly our makeup and skin care actually expire, and the resale turnaround for this stuff would have to be pretty quick.
So, will the future hold a Real Real for lipstick? It doesn't seem out of the question, and I don't think I'd be alone if I said might consider an unexpired tub of La Mer, if it was 50 percent off.