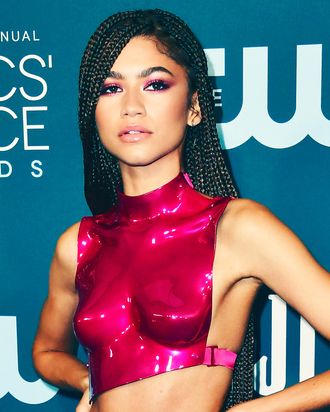 Zendaya
Photo: Frazer Harrison/Getty Images
Asymmetrical hot-pink boob armor fastened to the torso, also known as the "chrome breastplate": very in right now.
At least, that's the sense I'm getting now that Tom Ford's fashion breastplates have officially traveled from the runway to the magazines to the red carpet. Zendaya paired hers with a floor-sweeping rose-colored skirt at the Critics' Choice Awards over the weekend, signaling to us all the coronation of a new, inflexible trend. Earlier this month Gwyneth Paltrow went straight from basing her Golden Globes look around underwire to encasing herself in a cyborgian turt on the cover of Harper's Bazaar. The statement metal shard was also worn by Zoë Kravitz in the pages of Elle, this time in bralette form.
The item is amassing a kind of cult celebrity attachment around it, a gang of influencer-warriors who don't sweat the $15,000 price tag. Gwyneth even acknowledged her newfound sartorial kinship with Zendaya, commenting on a Man Repeller Instagram post about the star's awards-show look, "Thank God I can say I have something in common with Zendaya." And truly I can imagine Gwyneth explaining over vagina-candlelit dinner with her consciously coupled and uncoupled friends and family that she and Zendaya are boob-plate sisters.
I expect this won't be the last we hear from anatomically accurate breastplate fashion, a great sleeveless alternative to breathable clothing. It's all very "Han Solo frozen in carbonite" — by which I mean weird, but still hot.