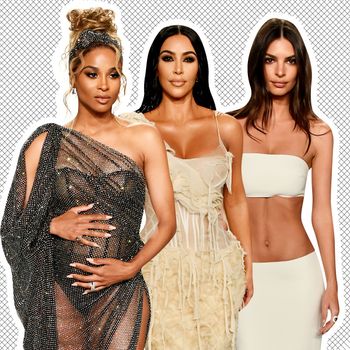 From left, Ciara, Kim Kardashian, Emily Ratajkowski.
Photo: Getty Images
Surely, one of the best parts of being a celebrity is being able to wear gorgeous gowns and jewelry semi-regularly. And the Academy Awards presents the opportunity to wear two black-tie outfits in one night: one for the ceremony, and one for the legendary Vanity Fair Oscars party.
Celebrities who double dipped on Sunday night include Billy Porter, who changed out of a dramatic gold outfit into one that included a purple train and hat, Billie Eilish, who swapped out her white Chanel gloves for black Gucci gloves, and Laura Dern, who went from a dress that looked a bit like a lamp at the Academy Awards to one of her favorite black dresses she's worn since the '90s. She also added an Oscar to her outfit.
And then there were those who didn't attend the awards, but who got dressed and went out nonetheless. The most notable Kardashians (Kim and Kylie) showed up. Kim Kardashian West looked fabulous in a vintage Alexander McQueen dress. Emily Ratajkowski made the case for a low-rise skirt (never forget her low-rise dress pants). Props to the cast of Riverdale (namely, Camila Mendes and Lili Reinhart) for their blessedly not-boring outfits. Mendes's dress came from Moschino's collection inspired by Picasso. Those giant gold chains aren't real, they're printed into the dress. Meanwhile, Reinhart's billowing Marc Jacobs was pure, frothy fun — the kind of big dress you always like to see on the red carpet, but not a cliché. See those looks and more below.