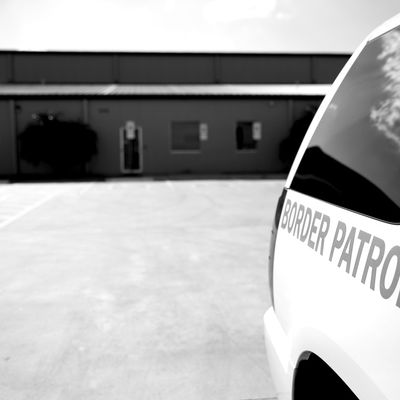 A detention facility in McAllen, Texas.
Photo: John Moore/Getty Images
In January, U.S. Immigration and Customs Enforcement reportedly detained a 5-year-old Guatemalan boy, along with his parents and baby brother, during what the family believed was a standard check-in. The boy had fallen out of a shopping cart and hit his head in December, fracturing the bone near his ear and causing bleeding between his brain and skull. He had been scheduled to see a neurologist when ICE agents took the family into custody. Now, according to the Associated Press, his condition continues to deteriorate due to allegedly neglectful care at the South Texas Family Residential Center in Dilley, where the family is being held.
According to the AP, ICE maintains that the child presented without any medical problems, although they conducted neurological tests and performed an MRI, which allegedly showed no evidence of internal bleeding. Still, Dr. Amy Cohen — an advocate for the family — told the AP, testing the child now "doesn't mean that he isn't having complications from the bleed that he did have." He has reportedly been wetting the bed at night and complaining of headaches. The AP reports that he also becomes distressed even at normal sound levels.
ICE, which did not immediately reply to the Cut's request for comment, reportedly believes that all of this is happening too far after the fact to be related to the child's fall. Nonetheless, they allegedly hospitalized him after the AP started asking questions. The boy's aunt told the outlet that agents have been ignoring his mother: "They don't let her explain to them that my nephew's case is bad because of the accident that he had. They don't give her the chance."
And although ICE maintains that it did perform the requisite exams and found nothing wrong, the agency has repeatedly come under fire for allegations of medical neglect within its facilities. In 2018, for example, a 1-year-old girl died shortly after leaving the Dilley detention center: According to her mother, the child became gravely ill in custody and remained gravely ill when they were released, thanks to subpar treatment from medical staff. At least three children have died from the flu — and still more from other infections and maladies — in ICE custody, amid allegations of extreme overcrowding and deplorable conditions at detention centers nationwide.