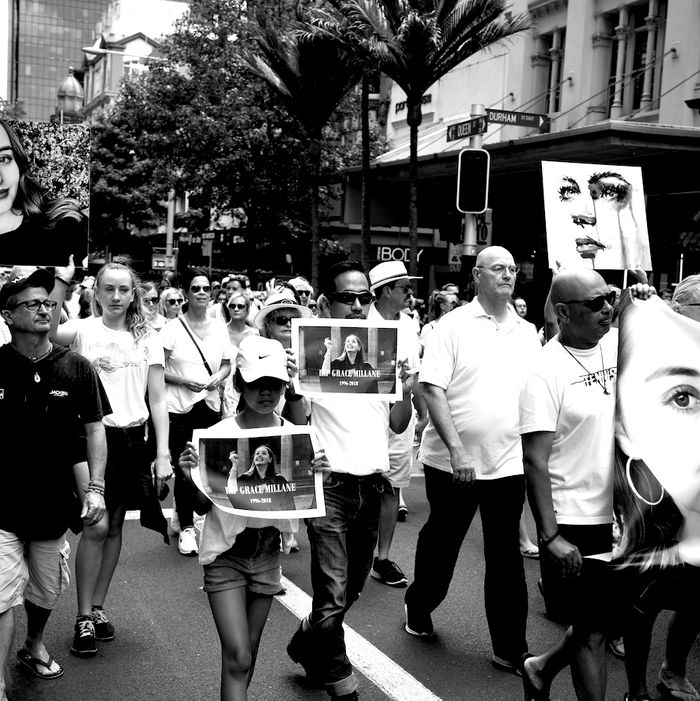 A peace walk in Auckland, New Zealand, in memory of murdered British backpacker Grace Millane.
Photo: Phil Walter/Getty Images
Last week, a 28-year-old New Zealand man received a life-imprisonment sentence for the murder of Grace Millane, a 21-year-old backpacker from the U.K. whom he fatally strangled during sex. He claimed that the killing was an accident; that Millane initiated "rough," "50 Shades of Grey"–style sex, and because he was "new to all that stuff," he didn't realize it had gone too far until the next morning.
This, CNN reports, is an increasingly common trend in fatal cases of sexual violence: A defendant argues that he was simply attempting consensual BDSM with his partner when their "sex game" went wrong. Eliminating intention from the equation, the defendant may bring the charge down from murder to manslaughter — while also shifting responsibility onto the victim, whose sexual history gets dragged into the courtroom and picked apart in public.
In Millane's case, the man who killed her — whom she met on Tinder and whose name has not been disclosed — told authorities that she requested they "get into bondage," and when he demurred, told him to "just go with it"; to "hold her arms tighter and … to hold her throat." He allegedly passed out in the shower after they had sex, and only discovered her body lying on the floor of his hotel room the next day. Instead of calling the police, he bought cleaning products and a suitcase, packing her inside and dumping it in a forest. But according to prosecutors, he also took "trophy" pictures of her corpse, "eroticiz[ing]" her death.
And as it turned out, dangerously rough sex may have been more familiar to him than he initially let on. At trial, another woman testified to an eerily similar experience with the man: "He had grabbed my forearms and put all the pressure on my arms so I couldn't breathe and I couldn't move my arms," she stated, according to the Guardian. "I started kicking, trying to indicate I couldn't breathe. I was kicking violently. He would have felt me fighting." This woman only managed to get the defendant off of her by playing dead, and said she feared he would kill her. He allegedly told her that he liked rough sex "because it made him feel more superior, and in control."
The Courts of New Zealand gave the man a sentence of life imprisonment with a minimum 17-year non-parole period. But often, the 50 Shades of Grey defense works as intended. In the U.K., where some members of Parliament now want this particular line of defense banned in murder trials, at least 60 women have reportedly been killed during "consensual" sexual violence since 1972. Of those deaths, 18 occurred within the past five years, and in 45 percent of all these incidents, the accidental death defense won acquittal, a reduced sentence, or a dropped investigation.
"Women are blamed for their behavior," Toni Van Pelt, president of the National Organization for Women (NOW), told CNN. "Their sex lives are always questioned — whether or not they are sexually active, and what kind of sexual activity do they participate in, and were they drinking — these things that have nothing to do with what's happened to them."
"There's no emphasis on the men, and the male behavior," Van Pelt added. "Where is their sexual history, where is their history of violence against women; were they drinking, were they stalking, have they been in jail for this before? The emphasis is that she deserved it, because she enjoyed or had pleasure from sex."