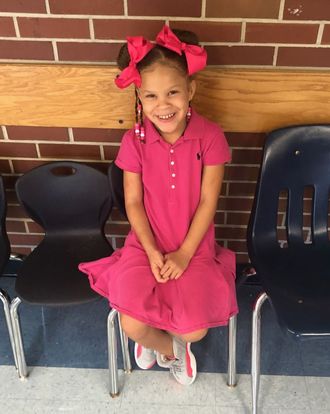 Earlier this month, a 6-year-old girl was involuntarily committed to a mental health center for 48 hours without her mother's consent after throwing a tantrum at her elementary school. The girl's mother says she was informed upon arriving at the facility that she'd have to wait several hours to see her daughter, whom she later found sedated and alone.
The New York Times reports that early on the morning of February 4, Martina Falk received a call from the mental health counselor at her daughter's school. The counselor told Falk that her daughter, Nadia King, a kindergarten student at Love Grove Elementary in Jacksonville Florida, "was out of control and throwing a tantrum." By that time, Falk says, the school had already decided to invoke the Baker Act — a state law that empowers law enforcement, mental health professionals, or Circuit Court judges to involuntary commit people deemed an imminent danger to themselves or others — to confine King to River Point Behavior Health, an 84-bed center that treats patients of all ages for a range of issues, including emotional health and substance abuse. According to a report from the state's Department of Children and Families, more than 36,000 involuntary examinations of Floridians under the age of 18 were initiated under the Baker Act between July 2017 and June 2018.
Falk told the Times that after hours of waiting to see her daughter (she arrived at River Point around 11:30 a.m., shortly after King was taken to the facility and Falk was notified of the incident, but wasn't allowed to see King until 6:30 that evening), she was beside herself with worry. "I was crying," said Falk. "I was hysterical, I was angry." According to the Times' report, King was "sedated in a secluded room," when her mother found her.
Falk's lawyer Reganel Reeves told CNN that King is prone to outbursts, has been diagnosed with attention deficit hyperactivity disorder, and is undergoing testing for autism. In fact, Falk told the Times that she enrolled King in at Love Grove because she believed it had good resources for students with special needs.
Tracy Pierce, a spokesperson for Duval County Public Schools, told the Times that the decision to place King in the mental health facility was made by a crisis-response firm called Child Guidance. "When a student's behavior presents a risk of self-harm or harm to others, the school district's procedure is to call Child Guidance, our crisis-response provider," said Pierce, adding that the 6-year-old girl "calmly walked to the police car."
Police body-camera footage affirms Pierce's account. Inside the cop car, King can be seen asking a sheriff's deputy if there are any snacks and whether she is going on a field trip. The video also shows King being walked to the police car, and asking whether she's going to jail, to which one officer replies "no."
CNN reports that King's family is asking for an investigation into why King was confined without their consent. In the meantime, Falk has enrolled her daughter at another school.