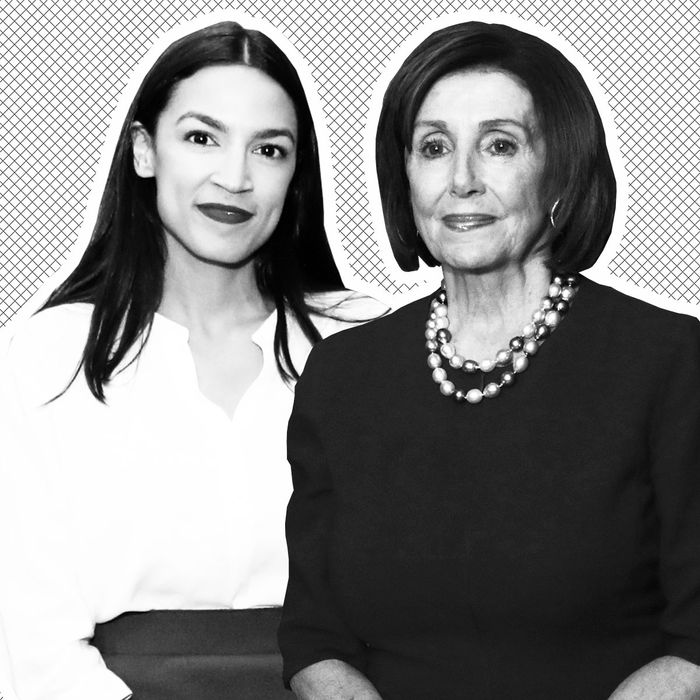 Alexandria Ocasio-Cortez sent Twitter into a frenzy last night when the 29-year-old congresswoman teased that there would be a "big announcement" coming from her today. Would she be introducing legislation, people wondered? Announcing a campaign event? Someone even suggested she might be running for mayor.
When the news broke in the New York Times this morning, it was not really about Ocasio-Cortez at all. It was a list of seven progressive women running for seats in Congress this year, all of whom she'll be endorsing and supporting through her new political action committee, Courage to Change. Since the representative from the Bronx has ability to fundraise multiple thousands of dollars with just a few tweets, "the AOC bump" is a big deal — especially because the women receiving it have ruffled more than a few feathers among AOC's most senior colleagues.
The PAC's name, as well as how Ocasio-Cortez described its mission — "to reward members of Congress that are exhibiting very large amounts of political courage" — invokes the fact that many of the women she's chosen to endorse are taking on considerable risk. They're running as progressive outsiders unsupported by the Democratic Party Establishment, and they face being outspent and unsupported in their races. Two of them in particular, Marie Newman, running against Dan Lipinski in Illinois, and Jessica Cisneros, running against Henry Cuellar in Texas, are primary-ing sitting Democrats, in defiance of the norms of Democratic leadership, who regard such attempts as declarations of war against the party.
Ocasio-Cortez understands that war better than most. When she ran for office in 2018, against 14-year incumbent Joe Crowley, she was mounting her own outsider campaign. She had zero support from the powerful fundraising organizations of her party or from senior figures like Kirsten Gillibrand, Chuck Schumer, and Andrew Cuomo, who endorsed her opponent. Her own endorsements two years later signal that she hasn't forgotten those obstacles; now that she has her own clout, and her own campaign money to spend, she plans to build her own alternative apparatus for bringing other women like her into the halls of power. In a remarkable admission, she even told the Times she was not sure how long she would stay in politics, or what her "next move" would be, but that she was concerned with creating "an ecosystem that makes people more comfortable into making the leap" that she did. Her focus is clearly on the future of the party as a whole, and fundamentally changing the system through which its leaders are chosen.
This contrasts starkly starkly with ranking House Democrat Nancy Pelosi's decision to endorse Cisneros's opponent, Cuellar, by far the most conservative Democrat to be challenged by one of the candidates AOC has endorsed. Cuellar, a 15-year incumbent, votes more with Donald Trump than almost any single member of the House; he is anti-abortion and has an A rating from the NRA. On the same day that Cisneros received endorsements from key labor unions, Cuellar announced support from Libre Initiative, a donor network funded by the Koch brothers. Pelosi will arrive in Laredo, Texas, on Saturday to campaign for him. (Pelosi has also backed Lipinski, Marie Newman's opponent in Illinois, who is also a conservative Democrat with anti-choice views.)
As the speaker of the House, Pelosi has a very different job than Ocasio-Cortez, and you could argue persuasively that she only holds the position she does because she has positive relationships with both moderate and liberal Democrats, and newcomers and incumbents alike. AOC herself is staying out of other races in which party elders are being primaried. But the Cuellar–Cisneros matchup seems like the ultimate bellwether for the future of the party, especially because Cisneros's district voted against Trump by 20 points in 2016. If Pelosi thinks that Texans simply won't go for someone like Cisneros over a pro-gun, anti-choice man, that reticence seems out of step.Young women and people of color carried the 2018 midterms for the Democrats. A record number of the candidates that won represented those constituencies and championed their interests while campaigning, running on platforms like ending family separation and abolishing ICE, refusing corporate donations, and reproductive rights. It's telling that Pelosi would choose to remain in Cuellar's corner, despite overwhelming evidence that young people, who've turned out in droves for the Democrats since 2016, simply will not abide his views.
During the State of the Union earlier this month, when Pelosi pointedly ripped up her copy of Trump's speech, she yet again demonstrated an affinity for symbolism. Perhaps she doesn't recognize that her presence in Laredo —championing the Koch-backed male incumbent over the 26-year-old immigration attorney — will be a symbol, too.