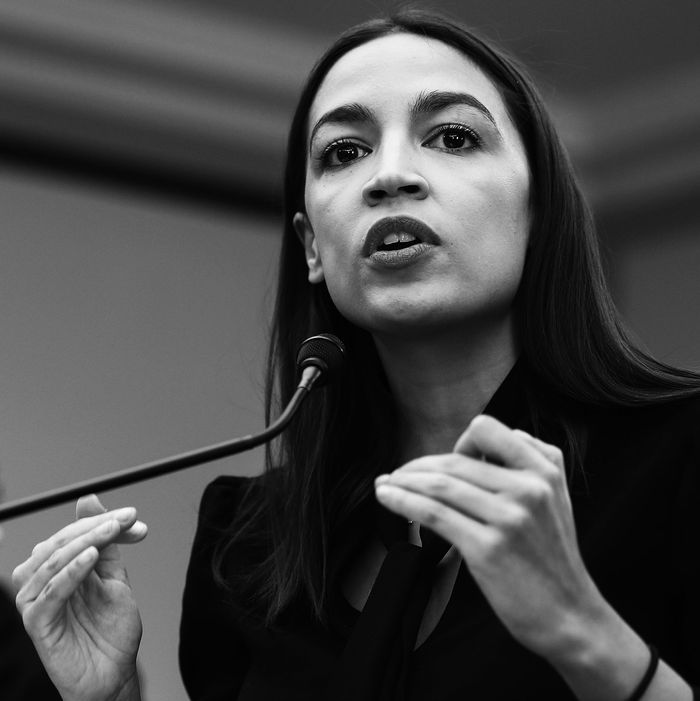 Alexandria Ocasio-Cortez.
Photo: Mario Tama/Getty Images
Amid the relentless forward march of big-name events occurring this week — the Super Bowl, the (completely bungled) Iowa caucuses, the ongoing impeachment hearings, the Oscars — you may have forgotten that our commander-in-chief is scheduled to give a little speech tonight. Yes, it is time once again for the annual State of the Union address, and despite the state of our union being consistently, obviously chaotic, the show will go on! Albeit without some of Congress's more recognizable members in attendance. So far, eight Democrats have decided to skip the State of the Union in protest of Trump.
New York Rep. Alexandria Ocasio-Cortez: On Tuesday, Ocasio-Cortez announced that she would not be attending Donald Trump's speech, not wanting to "legitimize" the president's actions.
"After much deliberation, I have decided that I will not use my presence at a state ceremony to normalize Trump's lawless conduct & subversion of the Constitution," Ocasio-Cortez explained on Twitter. "None of this is normal, and I will not legitimize it."
"This is a deeply personal decision for each member to make, and a choice I did not take lightly," she continued, adding that she will address her constituents' questions about the SOTU on Instagram live later tonight.
Massachusetts Rep. Ayanna Pressley: Pressley issued a statement on Tuesday announcing that she, too, would boycott the address. "The occupant of the White House incessantly stokes fear in people of color, women, healthcare providers, LGBTQ+ communities, low-income families, and many more," Pressley said. "He does not embody the principles, the responsibility, the grace, nor the integrity that is required of the President of the United States."
"The state of the union is hurting because of the occupant of the White House, who consistently demonstrates contempt for the American people, contempt for Congress, and contempt for our constitution," Pressley continued. "This presidency is not legitimate … I cannot in good conscience attend a sham State of the Union, when I have seen firsthand the damage Donald J. Trump's rhetoric and policies have inflicted on those I love and those I represent."
Texas Rep. Al Green: Green tweeted on Tuesday that he, too, will pass on the ceremony — "because of an impeached, reckless, ruthless, lawless, shameless, corrupt, & unapologetically bigoted president" dividing the country, and "still engaging in a coverup."
Tennessee Rep. Steve Cohen: On Monday, Cohen tweeted, "I will not attend the State of the Union tomorrow. While I will always respect the office of the President, Trump demonstrates daily that he does not. I don't believe he is worthy of the dignity and respect accorded to his predecessors." On Tuesday, he followed that up with a reminder that he and his absentee colleagues "will not be witnesses to more Trump lies."
Oregon Rep. Earl Blumenauer: Perhaps this one is unsurprising, as Blumenauer has never attended a Trump SOTU, but still: Blumenauer has "chosen not to dignify Trump's parade of lies about health care, his persistent exaggeration, and his personal attacks with my attendance at this year's State of the Union address," he explained in a statement. "His appalling performances each day continue to justify that decision, and I have no doubt [Tuesday] night will be more of the same — even possibly worse."
Florida Rep. Frederica Wilson: According to the Hill, Wilson — who has also skipped every Trump SOTU address so far — believes the president is "too disrespectful toward women, immigrant children, Gold Star families, and poor people," and will not attend.
Georgia Rep. Hank Johnson: Johnson tweeted on Monday, "During normal times, I would consider it my duty to attend and hear the President's agenda for the upcoming year. Unfortunately, these are not normal times."
California Rep. Maxine Waters: On Tuesday, Waters — a noted Trump adversary — tweeted a SOTU rebuke in classic Waters style: "To think that I would attend the State of the Union to hear the message of an IMPEACHED president is a thought that in no way would be consistent w/ my fight and struggle against this dishonorable president. I will certainly NOT be there!"