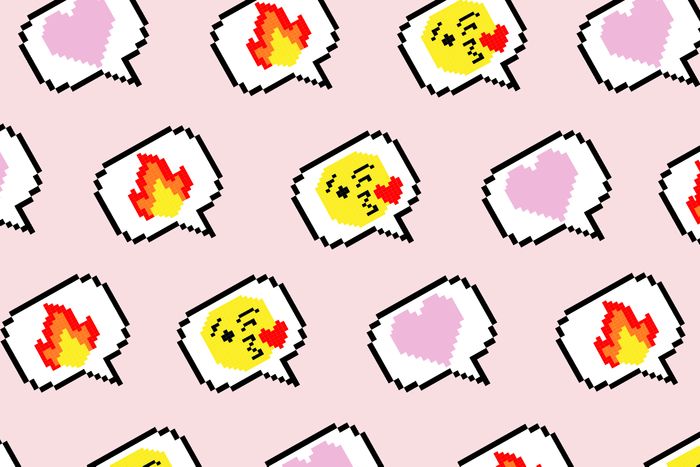 It's 2020 and the age of digital dating is really just beginning — but lucky for us hopeful romantics, it's only getting better. Bumble, the dating and networking app where women make the first move, is on a mission to make dating easier, safer, and more genuinely enjoyable. As part of our series on relationships worth swiping for, we asked Cut readers to submit their burning modern dating questions — from ghosting to second dates to full-on exclusivity. You asked, and we answered. Read on for our honest thoughts on dating in this decade.
Match with intention.
I've never dated on an app before. What do I…do?
Great question. Obviously per their universal popularity, dating apps are not one-size-fits-all. Any and everyone can make connections on Bumble, but it's totally fair to question what's "right" and "wrong" regarding profiles, swiping, and conversation topics. Our advice: keep it authentic. From including your favorite movie quote in your bio to experimenting with filters and specifying your non-negotiables with badges (like whether you smoke, or your political stance), make sure your app experience is what you want it to be. That starts with being unapologetic and ends with (hopefully) finding someone good enough for your stunning self.
What red flags should I be aware of when I'm talking to a Bumble match?
No matter if you're used to dating on the apps or not, safety is huge. Feeling safe comes from two things: comfort and consent. When you're swiping, use Bumble's photo verification tool to show your matches that you are the person behind your photos, and don't be afraid to request that your matches do the same before initiating conversation. You should also feel empowered to block, report, and/or un-match with anyone who makes you uncomfortable.
Is sexting on Bumble weird or normal?
Dating should be whatever you want it to be — and a large part of that is figuring out what feels comfortable for you (per our last email). If it feels right to get intimate with one of your matches and there's mutual consent, go for it. If you receive photos without giving consent, speak up and shut it down. Bumble has a suite of features that help make for a more comfortable dating app experience, like Private Detector which automatically blurs explicit images and allows you to choose whether or not you want to view them. It's important to be open about what you're comfortable with — if it doesn't feel good to you, it's your prerogative to say something or un-match with that person.
Is ghosting ever acceptable?
Let's take a moment and think about how it feels to be ghosted — not great! Reconsider radio silence and opt for open communication, no matter how long you've been talking with a match. There's nothing wrong with being honest and upfront about your feelings, even if it seems awkward.
Sometimes, dating apps can make you feel like you're stuck in a revolving door with new people popping in and out on their own terms. While you should feel free to bow out of a match immediately if you're not feeling it, transparency is better for all parties. The bottom line is, ghosting hurts in any situation — short-term connections don't excuse you from being kind.
How do I know when it's time to take things offline?
Every match is different. If you feel like things are going well on Bumble and you'd like to meet up IRL, make a move! If you meet someone you're excited about but you aren't ready to take things to the next level, try voice or video calling on Bumble first. The app gives you several options to connect without exchanging any personal information, so you can feel comfortable about making a move when the time comes.
Date with determination.
I don't drink. Where should I take my Bumble dates?
First of all, if finding someone with a similar lifestyle as yours is important to you, you can add that badge to your Bumble profile. As for sober dates, the opportunities are endless. Go bowling, find a skating rink, have a park picnic, see a show, take a walk, go to a museum, or just get pizza and see a movie — our personal favorite.
How do I decide whether to go on a second date?
Don't put too much pressure on the first few dates — they're just opportunities to better get to know one another. Remember, connections take time to grow, and you might not know if you're into someone until you've seen them a few times. After the first date, ask yourself a few questions: Was your date polite? Did you feel safe? Do you want to know more about them? Did you have fun? If you're interested in learning more about the other person — no matter if it feels like true love or not — reach out!
When is "too soon" to have sex?
If it feels too soon to you, then it probably is. Listen to your body and decide when it feels right for you and your partner — it's going to be different for everyone. So long as the decision is mutual when the time comes, there isn't a science. Just remember, not every successful relationship has to end with a ring on it. You could have a great connection with someone or you could have a little fun and leave it at that. Our advice is to make sure you're clear about your intentions from the start, either in person or directly in your Bumble profile. (Tip: use the "Looking For" badge to keep things ultra-transparent.) If you're not sure what your intentions are just yet, be upfront about that, too. You can always let things evolve and see where you're at down the road.
Things are going really well. How do I know when to talk "exclusivity"?
Don't be afraid to communicate. Women making the first move can (and should) come to life in ways outside of Bumble, too. If you want to see someone exclusively and you aren't sure if they're on the same page, bring it up with them! If they aren't ready, hopefully they can be honest. Maybe it's a dealbreaker for you, or maybe you can revisit it in the future. Whatever the decision may be, feel free to make the initiative for clarity and peace of mind (This is supposed to be fun, remember?). Regardless of the outcome, you'll learn something new with each connection, and that feels like a win in itself.
Download Bumble and start swiping, here.
This is paid content produced for an advertiser by New York Stories. The editorial staff of The Cut did not play a role in its creation.