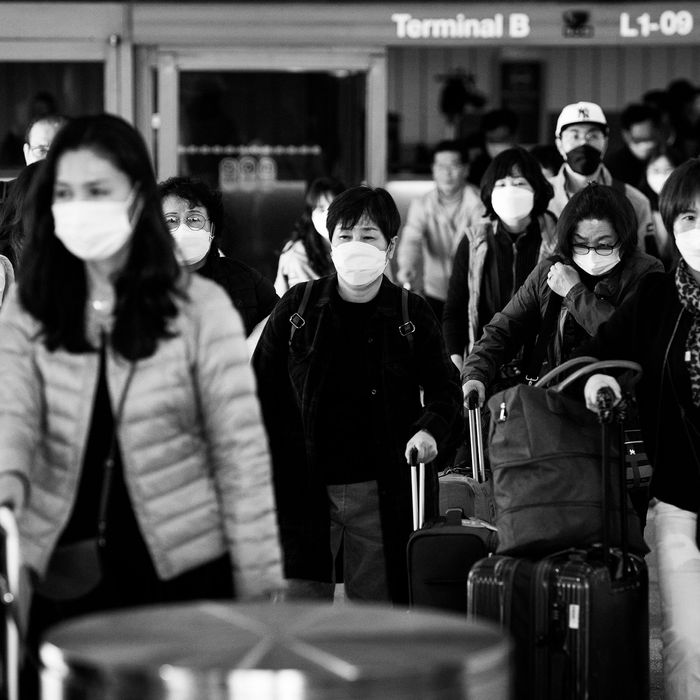 Photo: Mark Ralston/AFP via Getty Images
Please note the story you're reading was published more than a day ago. COVID-19 news and recommendations change fast: Read the latest here to stay up-to-date. We've lifted our paywall on all essential news and updates about the coronavirus.
While the vast majority of novel coronavirus cases are still in mainland China, countries around the world are experiencing alarming spikes in the virus, aggravating fears of a global pandemic. Italy, South Korea, and Iran are all taking drastic measures to contain the virus since a surge of cases have appeared within their borders.
On Tuesday, Dr. Nancy Messonnier, director of the CDC's National Center for Immunization and Respiratory Diseases, warned Americans to brace for the likelihood that coronavirus will spread within the United States. "It's not so much of a question of if this will happen in this country any more but a question of when this will happen," Messonnier said, adding, "We are asking the American public to prepare for the expectation that this might be bad."
As of Monday the global death toll has risen to 2,620 with 79,000 confirmed cases (77,150 of which are in China). Some experts warn that the virus' reach is approaching a tipping point, which, once reached, will make it even more difficult to contain. Paul Hunter, a professor at the University of East Anglia and an authority on this new strain of coronavirus, said on Saturday, "The tipping point after which our ability to prevent a global pandemic ends seems a lot closer after the past 24 hours." Hunter explained that while the number of cases in China has actually been declining in recent days, the rapid spread of the virus in South Korea and its reach into Italy are particularly alarming.
On Friday, World Health Organization director-general Tedros Adhanom Ghebreyesus told reporters at a press conference in Geneva, "The window of opportunity is narrowing to contain the outbreak." Ghebreyesus added, "We still have a chance to contain it. But while doing that, we have to prepare at the same time for any eventualities because this outbreak could go any direction. It could even be messy."
Here's what we know about countries experiencing recent eruptions of the deadly virus.
Italy
The New York Times reported on Monday that Italy is struggling to contain the first major coronavirus outbreak in Europe. Six people have died of the virus in Italy and there are 219 recorded cases of the infection, according to Angelo Borrelli, head of the country's Civil Protection Agency.
Nearly half of those cases are in the northern region of Lombardy — of which the capital is Milan — and the state has responded with imposing a lockdown on more than 50,000 people in ten towns in the area. This means people must be given special permission to leave or enter the area along its access points, which military forces have placed under guard. Officials also implemented a ban on public events in these towns, according to CNN.
Italy's Health Minister, Roberto Speranza, announced additional restrictions in the area, including school closures and surveillance of people who may have been exposed to the virus. "We are asking basically that everyone who has come from areas stricken by the epidemic to remain under a mandatory house stay," said Speranza at a press conference on Saturday.
On Tuesday, the virus spread farther still. One thousand people have reportedly been quarantined at a hotel on the island of Tenerife (a Spanish territory off the coast of West Africa known as the largest of the Canary Islands) after an Italian doctor staying there as a guest tested positive for the virus. A British traveler staying at the hotel told Reuters, "We can see from the window there are security officers outside the hotel and about 50 hotel employees." This is the third case of coronavirus in Spain.
Borrelli explained at a press conference on Monday that officials have yet to locate patient zero in Italy, making it "difficult to forecast possible new cases."
Two cases have also been reported in Venice.
South Korea
The Times reported that as of Monday there are 833 cases and seven coronavirus-related deaths in South Korea. On Sunday, President Moon Jae-in put the country on its highest possible alert, a designation that empowers the government to take aggressive measures to contain the outbreak, including putting cities on lockdown. "The central government, local governments, health officials, and medical personnel, and the entire people must wage an all-out, concerted response to the problem," said Moon.
The outbreak is largely manifesting in the southern city of Daegu, although it has by now spread throughout the country. The number of confirmed cases includes 11 members of South Korea's military personnel.
Iran
As of Monday, the Iranian Health ministry said that they are grappling with 12 coronavirus-related deaths — a huge increase since the country announced its first two deaths in the city of Qom on Wednesday. The rate of death compared to that of infection is higher in Iran than in any other country, the Guardian reports.
But some have disputed these figures, saying they could be far higher. On Monday, the Associated Press reported that a local lawmaker in Qom said that 50 people have died of coronavirus in the city this month, and that 250 people have been quarantined. In response, spokesman for the Health Ministry insisted that the reported number of deaths remains at 12, adding that 61 cases have been confirmed and 900 suspected cases are currently being looked into.
On Tuesday, the Times reported that Iraj Harichi, the country's health minister who has been heading the response to the outbreak, has contracted the virus.
Authorities have reportedly closed schools across most of the country for a second day; public soccer matches and movie screenings have been delayed. While the virus has largely presented in Qom, it has spread in the past few days. Iran has not announced the number of people currently in quarantine.
This post has been updated.