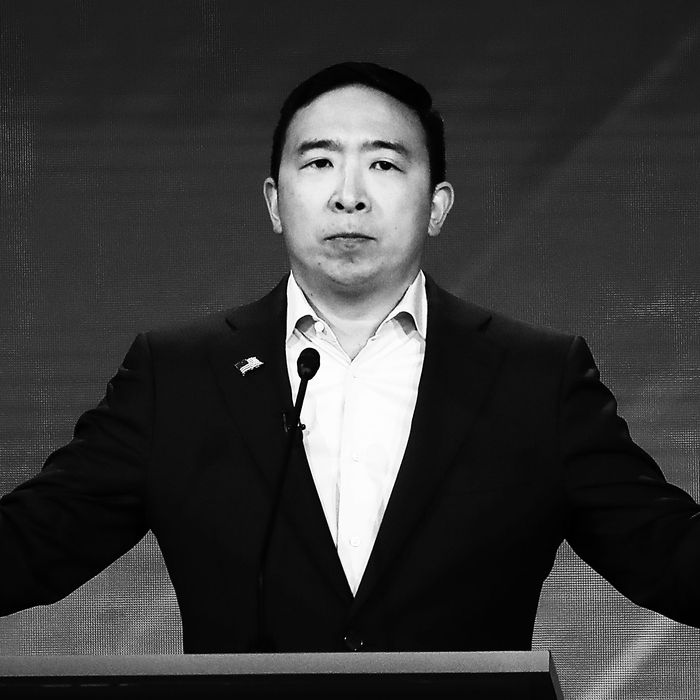 Andrew, Lex, and Rex.
Photo: Win McNamee/Getty Images
Following his dismal finish in the chaotic Iowa caucus this week, Democratic presidential candidate Andrew Yang fired dozens of his campaign's staff members, including its national political and policy directors. Two of his staffers, however, appear to remain secure in their positions close to the businessman: his pectoral muscles, Lex and Rex.
In a New York Times story published on Friday, several of Yang's former employees expressed concern about the candidate's often clumsy approach to issues of race and gender, claiming that the campaign had a "bro-culture problem" and that Yang sometimes conducted himself more like a frat member than a presidential candidate.
Among the examples of Yang's "boorish" behavior: his own writing. Per the Times:
In one of his books, Mr. Yang described nicknaming his pectorals "Lex" and "Rex" and in another he said he worked out "a little too much" in college. In an interview last fall, he specified that Rex is the right pectoral muscle and Lex is the left one. "Check it out, this is Rex still trying to talk," he said, flexing the muscle.
This anecdote is notable, not only because it's not often that adults discuss the names they have given their various body parts, but also because if I had to guess which low-polling Democratic primary candidate was going to be the one to have named their pecs, I would have assumed it was former Maryland representative and proud Buff Man John Delaney.
Despite his poor caucus finish, Yang did manage to qualify for Friday night's Democratic debate in New Hampshire. Will he let Lex and/or Rex speak onstage? I guess we'll see.