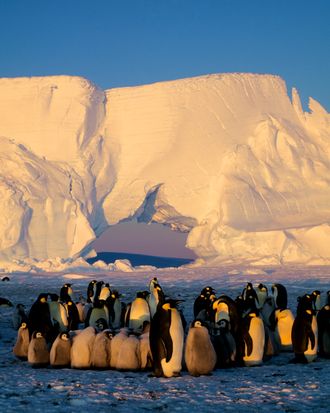 Photo: Wolfgang Kaehler/LightRocket via Getty Images
Every day brings dismal new evidence of climate change's detrimental effects on life as we know it. Last fall, some of Venice's oldest historical sites filled with dirty floodwater, causing irreparable damage. Over the past few months, at least one billion animals have died in Australia's climate-change–fueled bushfires. And this week, Antarctica, a continent known for its frigid temperatures and icy terrain — as well as melting ice caps and rising sea levels — was, at one point, as hot as San Diego.
On Thursday, Argentina's National Meteorological Service announced on Twitter that Antarctica had logged its hottest temperature ever: 65 degrees Fahrenheit (just over 18 degrees Celsius). According to the tweet, this temperature was recorded at the continent's northern tip, and beats Antarctica's previous record high of 63.5 degrees Fahrenheit, which was set in March 2015.
While CNN reports that the World Meteorological Organization has yet to verify the new temperature, in a 2017 press release the organization noted that Antarctica's peninsula — where the temperature was recorded — is "among the fastest-warming regions of the planet." The release went on to lay out some of the consequences of this warming: "Some 87 percent of glaciers along the west coast of the Antarctic Peninsula have retreated in the last 50 years, with most of these showing an accelerated retreat in the last 12 years." Nearly all the glaciers in the region are melting, and many are cracking.
Speaking of the recent temperature record, climate scientist James Renwick told the Guardian Australia, "The reading is impressive as it's only five years since the previous record was set and this is almost one-degree centigrade higher. It's a sign of the warming that has been happening there that's much faster than the global average."
According to Eric Steig, a glaciologist studying climate change at the University of Washington, we'll likely see the record broken again in the near future. "We can expect these sorts of records to be set again and again, even if they aren't set every single year," he told the Washington Post.