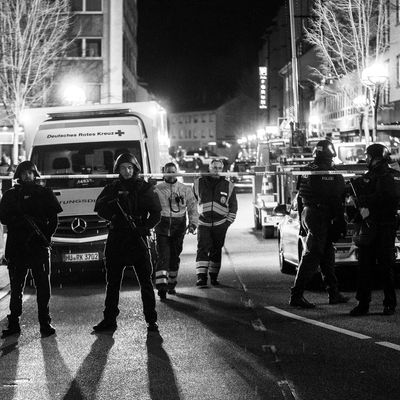 On February 19, a gunman opened fire at several locations in western Germany, killing 10.
Photo: Michael Probst/AP/Shutterstock
Late Wednesday night, a gunman opened fire at several locations in western Germany, killing at least nine people and wounding six others, the New York Times reports. The shooter, who was later found dead in his apartment, is suspected of harboring vehemently anti-immigrant views, leading local authorities to condemn the mass shooting as an act of far-right terrorism.
Around 10 p.m. local time, an unidentified shooter went on a rampage in Hanau, a city 15 miles east of Frankfurt. According to a spokesperson for the South Hesse state police, the gunman first opened fire at Midnight hookah lounge before driving to Arena Lounge & Café, a similar place a mile and a half away. The gunman killed nine people and injured at least six between the two locations, both of which were popular among young members of the local Kurdish and Turkish communities.
"There were bodies lying on the ground," Kemal Kocak, a cashier who worked at a convenience store near Arena, told the Times, adding that he knew nearly all the victims.
Once alerted to the shootings, police launched a manhunt for the suspect and found him dead in his apartment alongside his 72-year-old mother, who was also reported dead. Authorities have not yet identified the suspect, though some local outlets have identified him as Tobias Rathjen — the name of the man to whom the gun used in the crime was licensed. It's unclear if the suspect killed his mother, though police do not believe anyone else was involved in the shooting.
According to Peter Frank, Germany's federal prosecutor, investigators found video messages and a manifesto that "displayed deeply racist convictions" on the suspect's website. Additionally, per Frank's office, the nine victims were from immigrant backgrounds.
"Everything is being done to clarify the background of these horrible murders to the last detail," Chancellor Angela Merkel told reporters. "But at present there is much evidence that the perpetrator acted out of right-wing extremist, racist motives. Out of hatred against people of other origins, other beliefs, or other outward appearances."
Claus Kaminsky, the mayor of Hanau, expressed similar grief: "It is one of the most bitter hours in our peacetime history. We will do everything humanly possible to defend our shared solidarity. We will not allow it to be destroyed."
According to the Times, Germany has been suffering an "expanding number of far-right attacks" in recent years, which led the country to tighten its already-stringent gun laws last month.