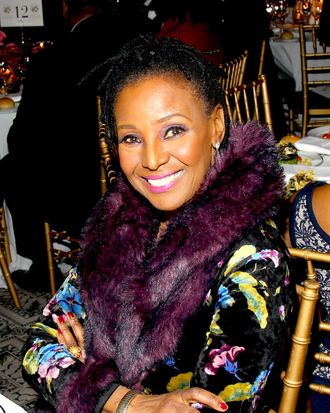 B. Smith.
Photo: Bennett Raglin/2016 Getty Images
Barbara Elaine Smith, the groundbreaking model, lifestyle entrepreneur, and restaurateur known as B. Smith, died Saturday in her Long Island home. She was 70 years old.
"Heaven is shining even brighter now that it is graced with B.'s dazzling and unforgettable smile," her husband — and co-author of her 2016 book, Before I Forget — Dan Gasby, wrote on Facebook, announcing her death. Gasby said she died from early-onset Alzheimer's, with which Smith was diagnosed in 2013.
Smith's long and varied career began in the 1960s, when she worked as a model: By 1976, she became one of the first black models ever to land a Mademoiselle magazine cover. By the 1980s, she had gotten into restaurants, opening B. Smith's in New York City's theater district in 1986. Its success — according to Essence, it was the place "where the who's who of black Manhattan meet, greet, and eat" — led to franchises in Washington, D.C., and Sag Harbor, New York, which Smith closed in the wake of her Alzheimer's diagnosis.
By the 1990s, Smith had expanded into books — B. Smith's Entertaining and Cooking for Friends; Rituals and Celebrations — television, and magazines. She hosted B. Smith With Style on NBC, and also introduced a home-goods line at Bed Bath & Beyond. Her career often drew comparisons to Martha Stewart's, which Smith reportedly found "a little tired" — not least because, as she once told this magazine, "Martha Stewart has presented herself doing the things domestics and African-Americans have done for years. We were always expected to redo the chairs and to use everything in the garden. This is the legacy that I was left. Martha just got there first."
On Twitter, celebrities shared memories of and praise for Smith, with Ava DuVernay writing, "The elegance. The grace. The style. May God rest and bless her soul. B. Smith was one-of-a-kind."
"RIP B. Smith," actor Viola Davis said. "You epitomized class, true beauty, and dignity. Rest well Queen."