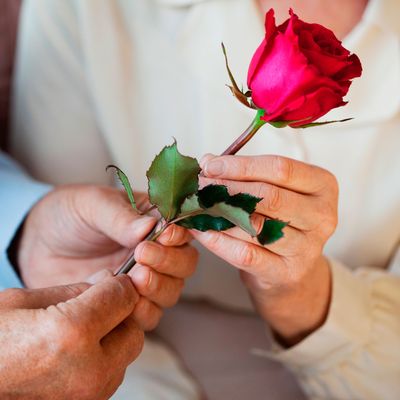 Photo: Image Source/Getty Images
If I were ever to decide again that going on a date is something I'd want to do, I would weakly reach for my phone, download whatever app people are using now, set the location radius to 0.3 miles and wait for the heavens to open. If I make it to 65, I'll be putting about the same amount of effort into dating, maybe a little less due to the wisdom that comes with age.
That's why whoever signs up for The Bachelor's new senior-citizen spinoff is automatically an inspiration to me. Not only will they be leaving their dwellings every day to find love, they will subject themselves to being filmed while doing it. During Monday night's episode of The Bachelor, ABC put out a casting call for the series, in which men and women (a.k.a. "Grumpiest Old Men" and "Goldenest Girls") 65 years of age or older will be featured on a dating show for the silent generation and boomers.
The show's premise was hinted at in a recent Entertainment Tonight interview with ABC's senior vice-president of alternative series, specials and late-night programming Rob Mills, when he said, "You see a lot of people talking about the age of contestants, I think that's something we'd probably look at and say, 'Does it need to be aged up? Are these girls ready?'"
One of the show's producers also posted a casting call on Instagram, writing, "Are you entering your golden years and looking for romance? The producers of The Bachelor are looking for active and outgoing single men and women age 65 and up for a new exciting dating show."
Seems chaotic and sweet! Another excellent reason to stay home.