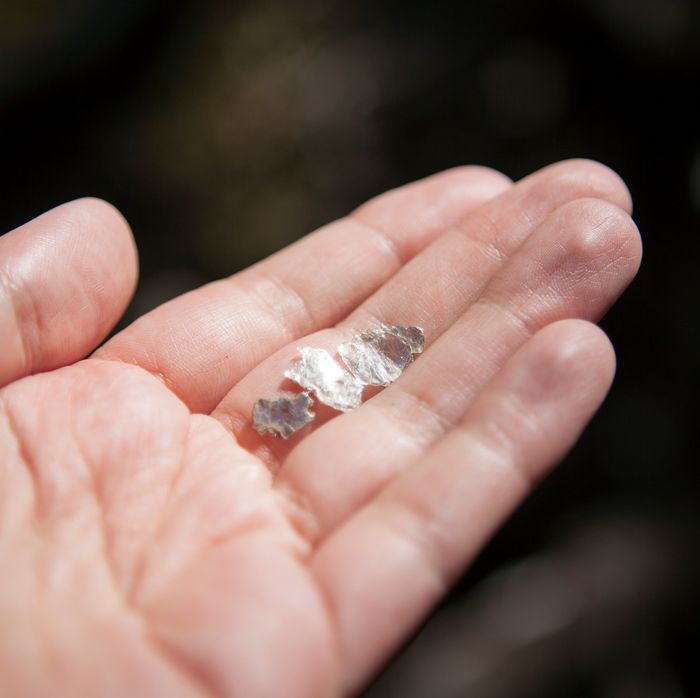 Photo: Robyn Jamieson/Getty Images/iStockphoto
Almost anything shiny in your life probably contains mica, a mineral that often appears in cars, house paints, and jewelry. It's also a main ingredient in any beauty products purported to give you "glow," like eye shadow, highlighter, lip gloss, and more. According to a 2018 Marie Claire article, 18 percent of the mica mined globally goes into beauty products — and much of it may be unethically sourced.
Previous reporting from NBC News and Refinery29 has shown that mica has been mined by children in places like Madagascar and India. In 2016, after the deaths of several child workers were covered up, Reuters coined the term "blood mica." Of course, many beauty companies obtain certificates from mica suppliers confirming that it wasn't mined via child labor. But according to Sourcemap, a technology that helps map and ensure that supply chains are traceable and transparent, the mica supply chain is "one of the toughest" to trace.
In "Transparency: The Truth About Mica," a new documentary from Beautycounter, the brand filmed an in-person audit of their mica supply chain, from beginning to end — the first company to do so. They visited mines worldwide to learn more about the conditions, and partnered with Sourcemap and Nobel Prize winner Kailash Satyarthi (of the Kailash Satyarthi Children's Foundation) to develop a program to support ethical mining. Click to watch the film below.