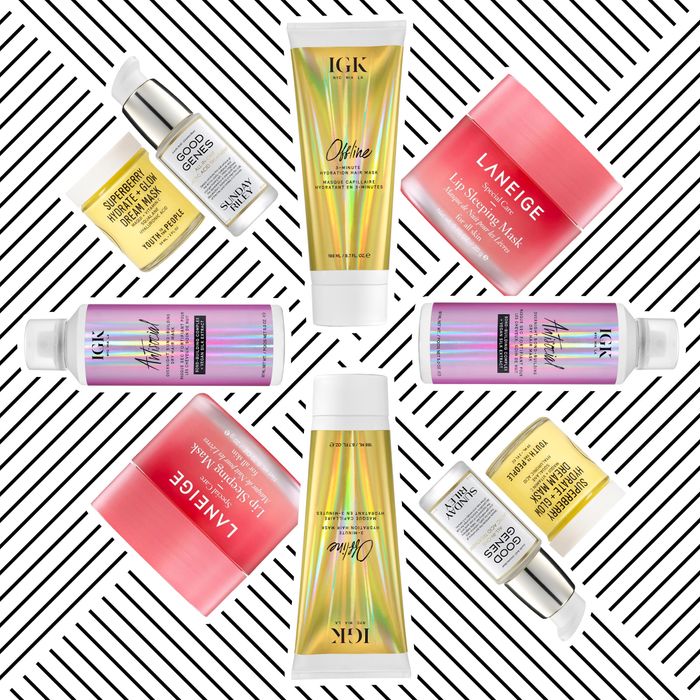 Photo: Courtesy of the Retailers
Weekday mornings are madness when you're racing out the door. Beyond getting out of bed when your alarm goes off — not a legitimate option, if you ask us — it can feel like the only way to arrive at work on time is to triage your way through your routine. Brush your teeth? Yes, of course. SPF? Hopefully. Apply all five face serums? Tomorrow. You'll be back on track tomorrow! Fortunately, there's another way to feel put-together and punctual every day: Use products that work harder for you, without all the fuss.
To get that process started, we hunted down five overachievers in the skin- and hair-care game. There's a one-step lactic acid treatment, an amped-up lip treatment, and perhaps most notably, a spray-in dry hair mask you don't even need to wash out. These are the products busy mornings need, and each one is a worthy contender for a spot in your beauty routine. Maybe now you can wake up even later?
For Treating Your Hair When You Just Don't Have Time
Frizzy or damaged hair will find new life with IGK's Antisocial: a dry, leave-in mask that's the first of its kind. Working magic while you sleep, it boasts a bond-building technology that sends hair a protein boost, helping strengthen your strands over time. And for a dose of instant gratification, it features vegan silk extract to help soften and detangle your mane. No rinsing required.
For Reviving Your Skin Without a 10-Step Routine
A threat to dull, dry skin everywhere, this overnight mask has three jobs: It helps moisturize, plump, and brighten. This Youth to the People find features three main standout ingredients. Squalane helps hydrate without clogging pores, maqui (an antioxidant-dense fruit) helps protect collagen by fighting free radicals, and a particularly potent form of vitamin C helps banish dull, uneven skin. Win, win, win.
For Making Quick Showers Feel Like Spa Sessions
Dry, brittle hair meets its match with this three-minute mask, made for the shortest of showers. With hydrating turmeric butter, shine-inducing green tea seed oil, and softening jojoba oil, IGK's Offline mask helps restore hair to its glory days and helps fend off future damage. Alternate using it with the Antisocial dry mask to give hair the right mix of two things it needs: protein and moisture.
For Glowy Skin Without a Facial Appointment
This cult-favorite lactic acid serum is a full alpha-hydroxy treatment in one little bottle, and it does everything you expect it to: visibly smooths, clarifies, and re-texturizes. But with the addition of lemongrass, licorice, and prickly pear, Good Genes also helps lighten dark spots, diminish redness, and even out skin tone. Use a drop or two as a daily skin treatment, or smooth it on once weekly for up to 10 minutes as a "flash facial."
For Giving Your Lips a Boost While You Sleep
Help plump up your lips while you catch some rest, with this mask that's full of antioxidants and vitamin C. A hyaluronic acid and mineral mix helps lock in moisture, while berry extracts lend an addicting scent — almost too good to wear to bed. Good thing you'll have super-soft lips to look forward to in the a.m.
This advertising content was produced in collaboration between Vox Creative and our sponsor, without involvement from Vox Media editorial staff.