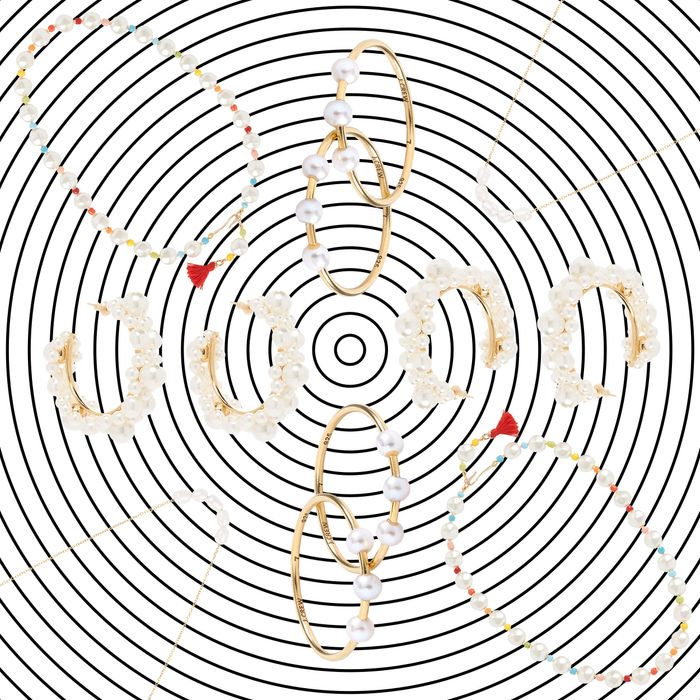 Photo: Courtesy of the vendors
Harry Styles did not invent pearl accessories, but he certainly fueled my desire for pearls in 2019 and 2020. The dangly, baroque pearl hanging from his ear at the 2019 Met Gala was a jewelry statement worthy of Johannes Vermeer — the pop star with the pearl earring. Styles has also been championing the chunky pearl necklace, previously only seen above 60th Street. He wore one to Spotify in December, and on the red carpet earlier this week with a doily-like collared shirt.
Even if you look beyond certain former One Direction members, pearls are having a moment — an extended moment. Most recently, up-and-coming New York label Khaite put models in pearl headdresses for its Spring 2020 show. Rodarte's Spring 2020 look book featured Sally and Betty Draper in pearl gloves and pearl barrettes. Simone Rocha introduced bags that look like one large baroque pearl. Maybe you have a pearl necklace your grandma gave you deep in the back of your closet — if so, it's time to fish that out and get creative. But if you don't, below are 13 of our favorite pearl pieces.
If You're Really Just Following Harry
Totally fair. Here's a pair of affordable earrings that would look just as good as single earrings.
If You Want Something Different
Generally we don't think of pearls as jewels that go in rings. But Emma Stone has a pearl engagement ring so maybe we should start. These rings are fun, unexpected twist on pearl jewelry.
If You Don't Want Too Many Pearls
Grandma-style pearl necklaces can get expensive, but you don't have to spend much if you want a more subtle look. This $26 necklace looks like a pendant.
If You Want Color
It's a pearl necklace, but it's playful.
If You Want Something Dainty
This would look great in a stack of other gold necklaces.
If You Want Pearls Around Your Waist
A pearl belt takes the elegance to a whole new level. You could probably get away with wearing it around your neck as a giant strand, too.
If You Want Something Versatile
This superlong chain can be worn wrapped around to create five strands or any other way you can imagine. The retailer shows it wrapped around like a body chain.
If You Want Something Bold
If the Pearls Are Just a Bonus
You buy these earrings if you want a pair of flowery earrings — the pearls in the center are just an added bonus.
If You Have a Blair Waldorf Streak
The Gossip Girl star would die for this headband.
If You Want a Buzzy Designer
Simone Rocha makes twee staples like pearls, headbands, and lace into weird, eccentric pieces. These earrings are a signature example.
If You Want the Real Thing
Real pearls are expensive, but if you're ready to get a pair of pearl studs that will never go out of style, why not get the ones that come in a turquoise box?
If You Want a Classic Pearl Necklace
It's no longer just the property of people named Muffy. Pair this with a sweater draped gracefully over your shoulder and feel like Phoebe Philo.
If you buy something through our links, New York may earn an affiliate commission.