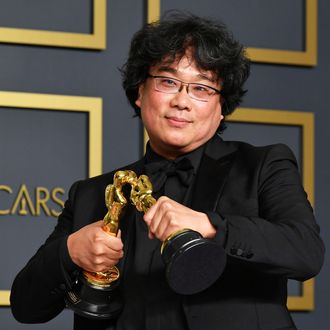 Bong Joon Ho
Photo: Amy Sussman/Getty Images
We've said this before, but this time we are deadly serious and mean it in the strictest terms possible: Good morning only, solely, and exclusively to Parasite director Bong Joon Ho, who had the most fun Oscars night and should probably be the only person allowed to attend the awards show every year. Just a thought!
Bong and the Parasite team took home four of the night's top prizes, for Best Original Screenplay, Best Director, Best International Feature Film, and, most triumphantly, Best Picture, becoming the first non-English film to ever do so. Yes, Parasite is a darkly comic and enraging portrait of a family's struggle under capitalism. But also I would watch a compilation of Bong's most endearing celebration moments, starting with when he made his Oscar statues sweetly kiss as if they were gilded boyfriends, until my bones wash into the sea.
Watch Bong chuckle to himself while marveling at his first Oscar:
He needed a minute.
Then he and the cast jollily bumped a woman from the bar area.
He was ready to party.
We support you, Bong's wife!
Bong was so nice to apologize for making the engravers work doubly hard on all his beautiful awards.
[Interlude: Home in South Korea, Parasite actor Jung Hyeon-jun says he was born to win an Oscar. He's right.]
Perhaps only slightly less cute than Bong's reactions were those of his beloved translator Sharon Choi.
Anyway, some other things happened at the Oscars but they don't matter.