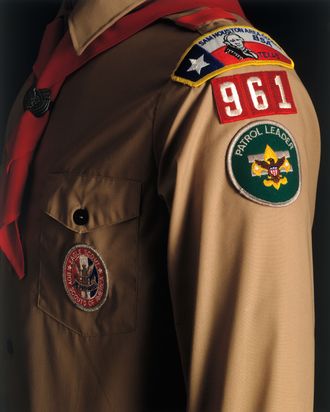 Boy Scouts of America.
Photo: Stewart Cohen/Getty Images
Following hundreds of recent sex-abuse lawsuits, the Boy Scouts of America is filing for bankruptcy. NBC News reports that by filing for Chapter 11 protection, the national youth organization seeks to establish a plan to compensate victims who allegedly suffered sex abuse at the hands of trusted leaders decades ago.
This historic filing, made in federal bankruptcy court in Delaware early Tuesday morning, could be one of the largest and most complicated bankruptcy cases of all time. According to NBC, thousands of men who say they were molested by scoutmasters or other organization leaders are currently seeking settlements, following recent changes in some states' statute-of-limitations laws. (For example, New York's Child Victims Act, which went into effect last August, temporarily eliminated the statute of limitations for child sex-abuse cases.) The scope of the abuse, which the organization has been accused of covering up, is extensive: Mike Pfau, a Seattle-based lawyer whose firm is representing around 300 men, told NBC that this bankruptcy filing "involves victims from all 50 states and several U.S. territories."
According to a statement from a Boy Scouts of America spokesman, the organization's bankruptcy filing has "two key objectives: equitably compensate victims who were harmed during their time in Scouting, and continue carrying out its mission for years to come." Per the statement, the organization plans to do this through the creation of a Victims Compensation Trust. (According to ABC News, the organization could be forced to sell off property holdings, such as campgrounds and outdoor trails, to raise money for this fund.)
"The BSA cares deeply about all victims of abuse and sincerely apologizes to anyone who was harmed during their time in Scouting," BSA president Roger Mosby said in a statement Tuesday. "While we know nothing can undo the tragic abuse that victims suffered, we believe the Chapter 11 process — with the proposed Trust structure — will provide equitable compensation to all victims while maintaining the BSA's important mission."
Meanwhile, local Boy Scouts councils will continue to function normally, as they "are not filing for bankruptcy because they are legally separate and distinct organizations," the organization said in a statement.
While the bankruptcy filing will likely be much faster than going through a trial and ensuring appeals, Pfau notes that this route denies victims an opportunity to testify about the abuse they allegedly suffered at the hands of leaders in the organization. "Each individual loses his opportunity for a jury trial in state court, which is really the most powerful weapon an abuse victim has," Pfau told NBC, adding that he believes that "one of the primary reasons the BSA filed for bankruptcy is to avoid jury trials."