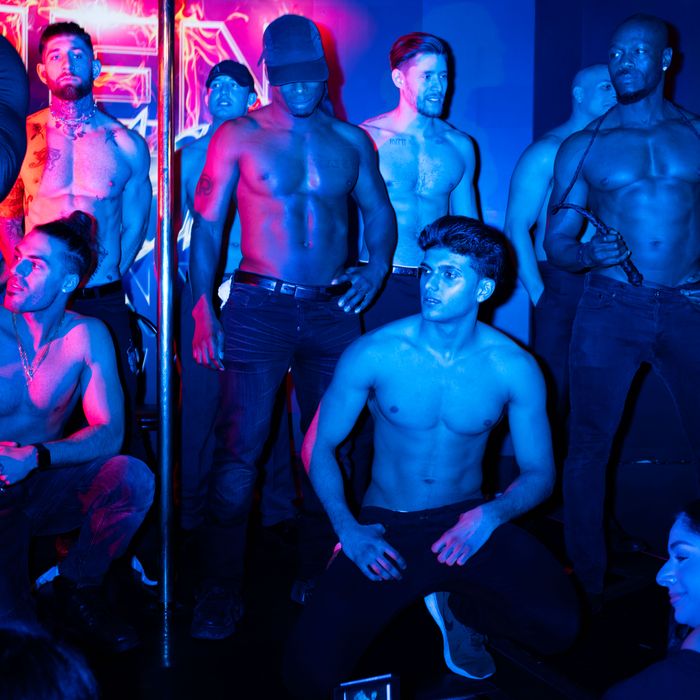 An hour before showtime, I found myself in the basement locker room of Sapphire strip club watching a group of dancers get ready. Some stood in front of a mirror, checking themselves out, oiling themselves, fluffing their dicks in their boxer briefs, gelling their hair; others were practicing their moves: body rolling and pantomiming cunnilingus with such ferocity they looked like anacondas trying to swallow whole gazelles in the wild. A few were wolfing down plates from a communal pan of congealed ziti.
I realized I'd entered a hotbed of testosterone, a room full of gleaming shirtless men whose job it is to "sell a woman a fantasy."
Six days a week, Sapphire operates as a standard "gentlemen's club" with female dancers and a late-night buffet. Recently, it's decided to dedicate Sundays to an event specifically for women, a brunch and male-stripper revue called "Men and Mimosas," featuring all-you-can-eat eggs and performances by the Men of Sapphire. (Sausage onstage, sausage in the buffet tray. The sausage jokes are ours to make.)
The brunch pairing might be new, explains Andrew Zarian, a club manager (in fact, it's the only male-stripper brunch in the world, he brags, then pauses to say, "Okay, definitely in New York"), but the actual revue started 14 years ago at the club's Vegas location, where, every night, male dancers cater to an audience of about 300 women who have come for all the predictable reasons large groups of women come to Vegas — Woo Girl trips and divorce parties, bachelorettes and birthdays. It offers a performance of horniness that hasn't been updated since 2012's Magic Mike put Channing Tatum in tearaway pants and caused an uptick in attendance to male revues all over the country.
It seems hard to innovate on the place a male strip show might hold in a woman's life, but this show is making a bet that a strip-club brunch could become part of the regular brunch circuit, instead of just a campfest reserved for special occasions and milestones. Maybe if the men were hot, and the atmosphere safe (but still dirty), women would actually get turned on and want to come back week after week, like 1980s Wall Street guys booking private rooms at Scores.
"Strip clubs have been in business for thousands of years, technically, and everything is always geared toward the guys," the GM says. To cater to women specifically, it seems like Sapphire's is trying to create a show that acknowledges that women are hornier than ever (both actually and performatively) and want to objectify men in more demented ways. This show promises to reach new heights of vulgarity for the ladies.
Back in the locker room, I attempt a conversation starter: "Did you guys choose this pasta?"
"Nah, that's what they just gave us," says a dancer named Mr. Valentino. He flexes his biceps at me. "Guess they knew we'd need the carbs."
Three other dancers, Gino (née Eugeno), Mr. Incredible (née Ryan), Leo (née Liam, a.k.a. Simba) join him in a discussion of the perks of the job: In addition to the fitness and financial benefits, the best part is the chance to please women, they tell me, and for a moment they are all looking at me like I am the pan of ziti about to be eaten as biceps fuel. I can't tell if that was just a line, or if these men are the fantasy I'd purchase, but I guess there are worse ways to spend a Sunday afternoon.
A stagehand interrupts my conversation with Mr. Valentino & Co. "You guys know Chris Brown right?," he asks the guys. "If you don't have a hat, just pretend you have the hat." The guys grab their fedoras. I go upstairs to join the audience and await the show.
The audience upstairs is small — just over two dozen — but mighty and eager. The dancers roam through the crowd, flirting with women of all ages — from "celebrating my 30th birthday with my mom," to "needs the big iPhone font to send a message that says 'COME AND GET IT' with a zoomed-in picture of a dancer's pecs to her group chat." One of the strippers, Billy the Kid, approaches my table and introduces himself, then painstakingly explains each one of his nine tattoos to us.
"These are actually the guns Billy the Kid carried," he says of the two large pistols forever inked onto his shoulder blades. "This one is because I like Muay Thai." Billy, who is 40, started dancing at 23 and, at one point, even owned an all-male strip revue in Buffalo, New York. If the name didn't give it away, he's a cowboy, complete with hat, low-rise jeans held up by big crystal-studded belt buckle, and no shirt. Originally, when his mentor asked him to choose a name, he wanted to be Snoop, because he loves Snoop Dogg, but he's white, so that was nixed quickly. He took to the cowboy persona thoroughly; his big solo number is a particularly dry-hump-heavy dance to the tender song "Amazed," a 1999 country-fried ballad once associated with weddings.
It was nice, for a moment, thinking that a dancer would first approach and tell you all the necessary details about himself. Then maybe, later, after the correct number of drinks, he'd come back and give you a little dance while complimenting you. Maybe he'd spank you a little, but only after he asked you if you liked to be spanked.
Instead, Billy skips a step and eagerly begins to push a $60 one-on-one dance. "I think we need ease into this," I say. I hadn't even had my first tequila martini (a bright-blue drink, maraschino cherry, and guaranteed 50-hour hangover the next day) or thrown my first dollar.
"There is no easing into this. You know why you're here," Billy says ominously.
Romeo the emcee interrupts the steady stream of R&B hits to start the show with a call-and-response:
Romeo: Can I get a "Hell, yeah!"?
The Ladies: Hell, yeah! 
Romeo: Can I get a "Fuck, yeah!"? 
The Ladies: Fuck, yeah! 
Romeo: Can I get a "I wanna see some fucking penis!"?
The Ladies: …
Right.
I'm here with seven women, and while we all agree the apple mimosas are passable, there's a vast difference in our preference in men. We all like sex and are genuinely as curious to see if the show could be sexy as we were about the omelet station. But what turns us on is determined by a unique blend of criteria, like where we land on the Kinsey Scale, how we felt about muscles, our individual tolerance for cheap cologne. Maybe one woman wanted to see a Harry Styles look-alike slide out of his high-wasted pants, or a make-out-heavy duet based on Call Me by Your Name cosplay. I'm driven wild by a scuzzy-sexy Lakeith Stanfield type smoking a joint in bed next to me. Delicate fingers, lip-biting (theirs not mine), curly hair, forearms, prolonged eye-contact, Sade; one woman's hot jock might be a Brazilian soccer player while the other might fantasize about Nadal's tennis balls. Give me a male sub willing to let me step on him. If one of those men had a face full of tats and did a striptease to his own SoundCloud demo, I would have emptied my bank account.
Did any of that really matter? Instead, we were offered a narrow menu of erotic stimuli: man-buns, huge bulges, a weathered cowboy with a hard hump and a heart of gold, every song in Chris Brown's catalogue, careers that kindergartners like (firefighters, cowboys, policemen), dark chocolate, white chocolate, caramel, Puerto Rican men, Dominican men, Rihanna (okay, they got that right), getting eaten out to the point of oblivion, the city of Atlanta, ancient pharaohs.
Before any woman in the audience could figure out what, if anything, they'd want from that lineup, "It's Raining Men" began to play. Dancers came out to give us $5 lap dances, a preview of what we'd get should we spend more money on the real thing. It was pandemonium. It was gluttony. It was hell broken loose. It lasted about three minutes. None of us will ever be the same.
Babyfaced Bryan, who leaned into his Teen Beat appeal, knocked over several glasses of Champagne while trying to mount me and apologized for the wasted Moët by pulling my legs open and slamming his pelvis into my butt. Billy the Kid hid my phone in his crotch, and I had to fish it out. Dallas from Atlanta bit my pregnant co-worker's neck while rubbing her bump. They must have read the same Cosmo article that said light choking was the new favorite sex move, because almost every neck in the room had a pair of hands around it at one point. Onstage, a woman had been pulled into the "hot seat" and a dancer pantomimed eating her ass through her white jeans.
At first, even in the chaos, the dancers seemed to understand that part of what takes this from merely "fun" to "Wait, this could be sort of hot" is the idea of simulating not just sex but intimacy. It felt like they had studied that scene from Magic Mike when the audience is meant to believe that Channing Tatum is not just a corny stripper in a sad costume but a preternaturally good one with the ability to connect to a woman on an emotional level. I tried this with one dancer, who made knowing eye contact before pretending to go down on me. I told him he reminded me of my high-school boyfriend, and he fled without collecting his $5. Perhaps I expected too much intimacy.
The next hour was monotonous. Ah, a new ab to touch. Wow, a new base note of Axe body spray to inhale. This chest is smooth. This one stubbly. I am flipped. Now I am flung. Then I am pounded. Afterward I am nuzzled. Now I am lightly choked. I'm on my feet, I'm on all fours, I'm upside down? Some women were recharged by the constant flow of men — like the one a table over from me, who sat alone in a booth getting lap dance after lap dance. I, however, was too gorged on ripped bodies and R&B and needed a break.
In the sea of chiseled bodies, I still just wanted to find a man who resembled anything close to my actual fantasies: Why didn't anyone have a dad-bod? Where was the man who looked like Joe Goldberg, the sociopathic book seller from You. Where was the "well-hung therapist" who just let me talk about my problems? I can't even remember the last time I'd been even remotely turned on by an ab. It felt so old-fashioned. So stuck in a dusty catalogue of what we've been socially conditioned to want — or seem like we want — rather than acknowledging the complicated nuances of desire. Sure, women might be more willing to authentically demonstrate their lust, but only when presented with something they'd authentically want to bone.
As I walked back to my safe space (the buffet), I considered maybe I was thinking about this all too hard when I noticed a woman, Sarah, her red hair spilling over the black leather couch while a dancer laid her down and mimed a sex move I'd never seen before for an entire song. She looked like a Baroque oil painting of ecstasy.
I approached her later at the bar to ask if she'd really been as into it as she seemed, how she ended up getting several lap dances in a row. "They just … come to you," she explained, as if the universe just somehow dropped a man in her lap and told him to gyrate.
Her response brought up a question about consent I'd been reluctant to ask anyone in this setting.
Sarah found all of the men incredibly beautiful and objected to my question. "When you walk in the door, you're consenting," she said. "I also feel like from the get-go every experience that I've had here, men sort of read your body language. If you're going with it, they'll give you more. They won't push you too hard."
She put down a drink ticket for her cocktail drink and returned to the churn.
Back at the table, while someone slithers up and down my body and never stops to ask me, "Yeah, do you like this, baby?," I wonder if I do. I think I should feel powerful, leaning back in a chair while a steady flow of men demonstrate all the different ways they want me. But of course, even when their job is to demonstrate interest, some of them really can't commit. I was left to wonder why the man motorboating me was also scanning the room for his next motorboat landing pad. Did it mean he wasn't attracted to me? Why isn't he making eye contact? Am I fat, do I smell, why is this the monologue in my head? Maybe I just need one man to understand how this could turn me on — a more bespoke fantasy, a curated thrill, some uniquely "me" horny bait. Which is how I end up with Mr. Incredible.
I am told, quite bluntly, that the promised dance-of-a-lifetime would be so good I'd come. Frankly, this sounded terrifying, so I brought a friend with me. As the hostess led us to the private room, I'd noticed a replica of the "red room of pain" from 50 Shades of Grey (and am informed by the staff that the room is off-limits to women, for now, because nobody could figure out how to calibrate the act for them. It is available to men). I sign a credit card authorizing 15 minutes of personal attention for an exorbitant amount of money and enter.
The emcee described him as "a man from the Dominican who is half-horse," but I'd chosen him despite the persistent soul patch, and despite the name borrowed from Pixar, because he'd remembered details from our pre-lap-dance conversation and whispered them back to me ("You're a journalist, mami?," he'd purred into my neck while gently prying my legs apart), which is more than I can say for most men I meet on dating apps. He gently pushes me and my friend onto a clean-looking (though probably not blacklight-test safe) brown leather love seat. To the familiar bleating horns of Jason Derulo's "Talk Dirty to Me," he begins to slow-wind his hips, grabs both our hands, puts them on his lower abs.
He gives us a reassuring smile.
"I give you my word this won't go too far."
It only took one chorus before it absolutely had.
"Relaaaaax, relaaaaaaaaaaax," Mr. Incredible instructs. One song ends, the nexts begins, and now Mr. Incredible is slapping my ass to the … Cops theme song.
He then tosses me to the ground and rhythmically pounds into me to the beat of the song's chorus, "Bad Boys / Bad Boys / Watcha gonna do / Watcha gonna do when they come for you." The sheer force of the humps pushes me across the room, with my head against the wall, thwacking the wood paneling over and over. "I'm worried my neck will snap," I cry out. As is my friend, who repeats the same thing, "Don't snap her neck!," and reaches down to cushion my head from the steady thunk, thunk, thunk. Would I survive ten more minutes?
When it was over, there was no place to go from there but out into the daylight. It was beyond time to go home. Three hours of "brunch" had left me coated in sin and baby oil. I wondered if the in-process Bible study at the storefront church across the street would accept me.
Outside on the sidewalk, a voice drawled behind me: "Do you want a ride home?"
I spun around to face Billy the Kid, smoking his cigarette, cowboy hat still on. I might have been delirious — I absolutely was delirious — but for the first time that day, it felt like I was finally being offered something I actually wanted. I didn't want to be casually choked anymore; I just wanted a way home. Maybe I'd written Billy off too quickly. Maybe he did understand. Maybe I should take the ride?
"I have a van," he offered. Now having fulfilled a woman's cowboy fantasy, he decided to see if I was into "likely suspect on Law & Order: SVU" cosplay. I took a cab.
A few days later, I decided to break the illusion and look up Mr. Incredible and his fellow dancers on Instagram. I wanted to see what they were like outside the club; if maybe I'd find them more attractive in the context of their lives or at least their self-composed thirst traps. On his account, Liam (Leo) could often be found lying in bed with his Calvin's pulled down, with lyrics from Jack Johnson's "Banana Pancakes" as a caption; a romantic. Shy Eugeno is a rebel, a supporter of the resistance — though I'm not sure which one. He posed in the shower with a parrot, an utterly confounding personality reveal, but it worked better than Geno the Fireman who would douse me with his "huge hose."
Inside Sapphire, it didn't matter if Geno owned a parrot. None if mattered, really. The show boiled those men down into a one-size-fits-all desire delivery system, but failed to remember that horniness is built on something that no fireman costume can capture and complicated in a way that no pharaoh's costume can explain. Even still, onstage at Sapphire, when Geno dropped one suspender of his fireman pants, I screamed "GENO," holding the O like an opera singer with a raw ferocity I did not expect.
Heterosexuality might be a curse.