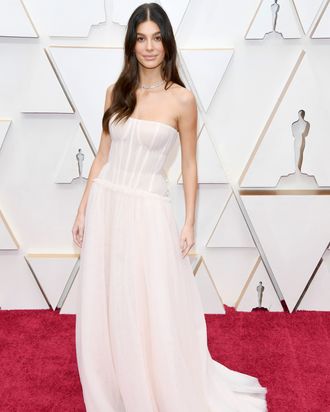 Camila Morrone
Photo: (C)Kevin Mazur/Getty Images
Impressed, amazed, inspired — those are a few words I could use to express how I feel upon learning that Camila Morrone, Leonardo DiCaprio's 22-year-old model girlfriend, wore an actual wedding dress to the Oscars alongside her 45-year-old nominee boyfriend.
In an interview with Instyle, Morrone's stylist, Micah Schifman, explained that he wanted the model's Oscars look to recall Princess Grace, which led them to a strapless dress featured in Carolina Herrera's bridal collection. "We reached out and said 'Hey, we love this gown … but we don't need it for a wedding," Schifman said, before detailing how they changed the color from white to blush pink, and requested more exposed boning. The result, in Schifman's words: a gown that's "a little more modern and not read super princess-y."
While I certainly don't dispute that Morrone's gown is classically elegant, but not too "princess-y," here's how I'd describe it: a wedding dress. Sure, perhaps Morrone just so happened to find herself mesmerized by a gown designed to be worn while one proclaims one's enduring love for one's partner, and is bound to them under the eyes of the law as a testament to that love. Or maybe she wanted to send a subtle message, i.e., that she looks really good in bridal wear.
Regardless of intent, it is definitely a bold move — and, honestly, a kind of cool one. Just like Emily Ratajkowski's famous billowing low-rise pants, Morrone's wedding dress is so astonishingly chaotic, I have no other option but to respect it.