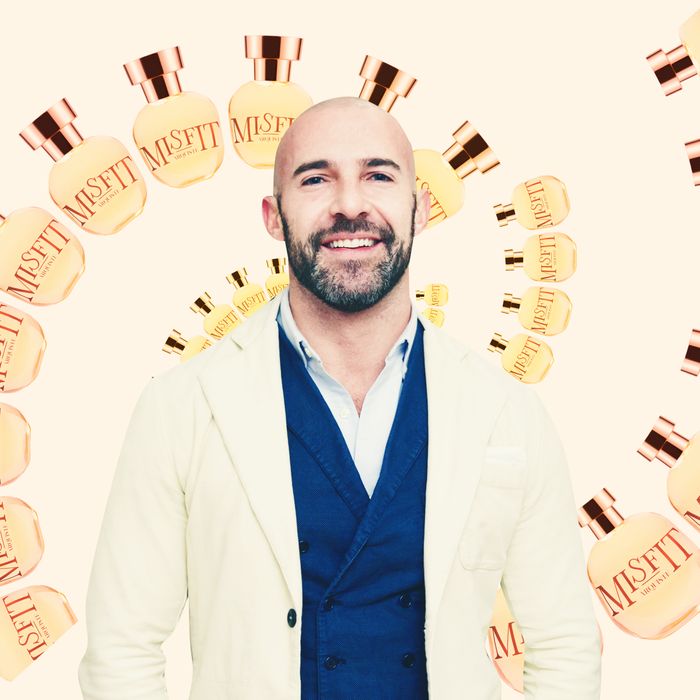 Carlos Huber.
Photo: Angela Pham
Scientific studies confirm that, of all the senses, smell offers the best recall. In Scent Memories, the Cut asks people about the scents they associate with different times in their lives.
Next up is Carlos Huber, fragrance developer and creator of niche fragrance line Arquiste, which has helped brands like Cire Trudon, the St. Regis, and J.Crew create bespoke signature scents. An architect by trade, Huber applies his speciality in historic preservation toward curating scents that transport wearers to different destinations and moments in time. Arquiste's latest time-traveling release is Misfit, a unisex scent that makes you rethink your preconceived notions about patchouli thanks to two essences of the herb blended with French lavender and musky amber. The Cut caught up with Huber to talk velvet, baby cologne, and Australian SPF.
My first scent memory is: Baby cologne. I'm originally from Mexico, and, as a kid, there was an orange-blossom cologne there that my family always used. It's a thing, especially in Europe and in Latin America; baby cologne is actually very popular. Everyone uses it. They're usually orange-blossom colognes, very musky. They comb your hair with it or dab you with a little bit after a bath. It's very faint and light but delicious.
Friendship smells like: Warm amber. I think about hugging a friend, and amber gives you that same warmth and comfort you feel in an embrace.
Heartbreak or loss smells like: Nothing. Emptiness. No smell. That's depressing.
Regret smells like: The one that got away. It smells like a family member you regret not calling more or seeing more often, or it smells like a specific location where you didn't invest in a project that you were scared of, or it smells like a certain person's perfume or cologne from a relationship that didn't end well.
Vacation smells like: Coconut-milk sunscreen. Specifically, Le Tan, which I love. It's Australian. I actually based one of the perfumes on the idea of vacation. We included an accord of that coconut-milk sunscreen. It's called Sydney Rock Pool, and it's my go-to fragrance for beach vacations because it kind of smells like what you smell like after being at the beach all day.
The worst smell is: As far as raw materials go, I don't hate any ingredients, but pure civet is the real deal. I have to close my eyes and be very careful just to get close to it, because I know undiluted it … stinks. It's insanely strong, and it really smells like poop. But that being said, I love using it in scents diluted because it adds a lot of sexiness. It's one of those dichotomies; in pure form, it's raw and horrible, but diluted it's actually very, very interesting.
But I cringe when you smell something rotten. Not vegetable rotten but animal rotten. That's very dark for me. My partner is a doctor and we were just talking about the smells of a hospital the other day, and he mentioned the smell of death. And I said, "What is that like for you?" And he said it smells like rotten meat. That instantly made me nauseous, and I think we can all identify with smelling something like that. With something dead, it smells wretched, but you can't really pinpoint it. It's slightly off and you can't identify it quickly as a singular thing, and that really screws with your mind. It's just no good, and it's a difficult thing to deal with.
Sunday morning smells like: Sipping coffee with some sort of milk involved.
Monday morning smells like: Two cups of black coffee. [Laughs] Back-to-back. It's not leisurely at all.
My home smells like: A lot of smells, but I always have a candle burning in any room that I'm in. The one I burn the most is called Art Deco Velvet. It's a vanilla, tobacco, amber scent. It smells like old velvet that has absorbed the tobacco, but it retains a sweetness to it. It's very powdery.
If I could have one smell on my hands forever, it would be: Orange blossom. It's interesting enough and sweet enough and beautiful enough, but it's not overwhelming and it won't tire one so much. I love gardenias, but if my hands smelled like gardenias my entire life, I'd get so sick of it.
I smell like: Whatever it is I'm working on, usually. It can range, but there's always elements of all the positive things we talked about; always a little bit of amber, a little bit of musk, and a little bit of orange blossom, of course. But right this instant? I smell like vetiver.
If you buy something through our links, New York may earn an affiliate commission.