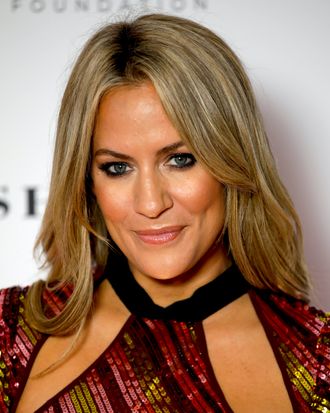 Caroline Flack.
Photo: John Phillips/Getty Images
Caroline Flack, a British television presenter, was reportedly found dead in her East London apartment on Saturday. The BBC reports that the cause of death was suicide.
"We can confirm that our Caroline passed away today, 15 February," reads a statement from her family, according to the Guardian. "We would ask that the press respect the privacy of the family at this difficult time and we would ask they make no attempt to contact us and/or photograph us."
Flack, 40, was perhaps most famous for her role hosting the reality-TV juggernaut Love Island, although she appeared on The X Factor and I'm a Celebrity, Get Me Out Of Here Now! and won Strictly Come Dancing in 2014. She stepped down from Love Island in December, following her arrest for the alleged assault of her boyfriend, 27-year-old Lewis Burton. Authorities say she hit him over the head with a lamp while he slept, and although a judge forbid Flack from contacting Burton before their trial began on March 4, he apparently attempted to get in touch with her on Friday. In his Instagram stories that day, he reportedly wrote that he was "tired of the lies and abuse aimed at" Flack, insisting that she "doesn't deserve any of this." Burton, the Guardian reports, has not been "supporting" the prosecution.
When she left the program last year, Flack described Love Island as her "world" and "the best show on telly."
"Everyone at Love Island and ITV are shocked and saddened by this desperately sad news," the channel said in a statement. "Caroline was a much-loved member of the Love Island team and our sincere thoughts and condolences are with her family and friends."
Responding to Flack's death on Instagram, Burton wrote that his "heart is broken."
"We had something so special," he continued. "I am so lost for words I am in so much pain I miss you so much I know you felt safe with me you always said I don't think about anything else when I am with you and I was not allowed to be there this time I kept asking and asking."
Meanwhile, a petition to the British government has circulated online, calling for an investigation into the tabloid press and its alleged "maltreatment of those in the public eye." Flack faced intense scrutiny, particularly from the Sun, which reportedly published pictures of her bloody bedroom after the alleged assault, and which has now removed an unflattering article about a Valentine's Day card skewering the presenter. The petition, which garnered over 60,000 signatures overnight, cites Prince Harry and Meghan Markle as an additional example of tabloid harassment, and asks for the creation of "Caroline's Law" to block overly intrusive tactics by the media.
This article has been updated.