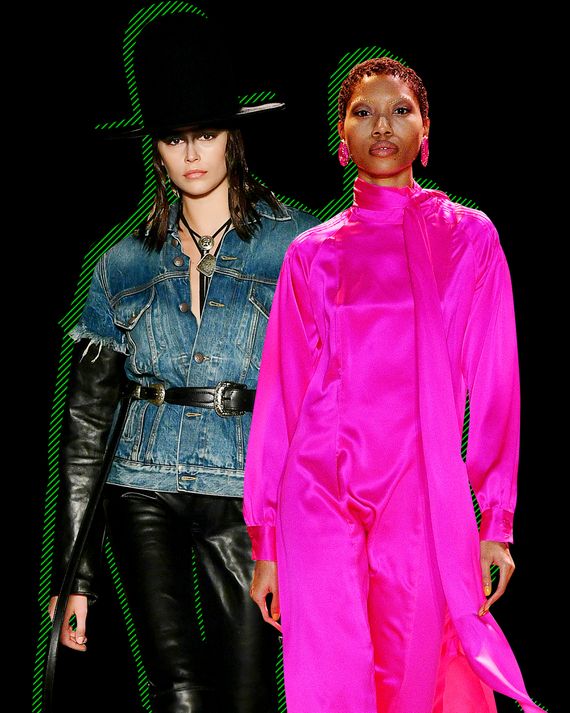 So far, the two most exciting collections for fall are by Chris Leba and the newbie Christopher John Rogers. Aesthetically, the two are opposites: Leba, who started R13 after a career in Ralph Lauren's studio, likes punk-laced streetwear; Rogers, the winner of last year's CFDA/Vogue Award, can't resist a ruffle. What they have in common is a gift for subverting French couture.
This maybe isn't so obvious in Leba's clothes, which also drew on traditions in masculine tailoring and were predominantly rendered in raw-edged denim, black leather, and military fabrics. But look at his subtly rounded silhouettes, his occasional Empire waistline, and the austere elegance of a dark-blue cotton double-breasted coat breaking open over matching cropped pants, and you can't help but see the imprint of classic couture.
Azzedine Alaïa was clearly a reference. The high-domed black hats added a touch of Parisian stagecraft, not to mention stature. And the stark, mostly black and white tones seemed intended to evoke couture's favorite medium of expression, the photograph.
The clothes made me think of Junya Watanabe, another punk-loving designer who often explores couture shapes and volumes. Leba didn't quite go to Watanabe's extremes, and just as well; it would be out of character for his brand. But it was a pleasure to see Leba move a bit away from his punk and rock themes, which were starting to look formulaic.
That is the extraordinary gift of the last century and a half of haute couture; its elegant forms allow you to rethink and resee everyday materials like denim and military camo. And if they move fashion away from the mind-numbing drill of streetwear, that's not a bad thing, too.
Rogers is pure oxygen. In terms of the big-bowwow dress numbers, he is the best thing to come along in American fashion in a while. And not because he aims to be in the mold of American legends like Bill Blass, Oscar de la Renta, or Mainbocher. God help him if he makes that fatal mistake and thinks for a minute there's a future in that kind of socialite business model.
No, what makes Rogers's work so interesting (and mature) is that it's loose in spirit and construction. His clothes are obviously well made, but no matter how dramatic the treatment — a swirl of drapery at the hips, a slap of frills at the breasts — the body is never playing second fiddle to the dress.
This used to be a notion that every good designer took for granted. Think of the designs of Alaïa, Madame Grès, early John Galliano, and, above all, Madeleine Vionnet. But, for reasons that everyone knows, there has been an emphasis in the last decade on other attention-getting stuff. All too often, the clothes are like weird objects, curious talking points. I'm thinking specifically here of the huge crinoline-puffed gowns that closed last season's Balenciaga show. Cool, yes. But sexual? So many young designers either seem afraid of sex or have granny ideas or spend too much time chasing a cheesy pop star. Not Rogers.
Another thing: He clearly knows the history of Paris couture, Hollywood costume, and Sunday church dressing in the South (he is from Louisiana), but he's not beholden to any idiom. He drapes with a light hand that feels fresh and appropriate for this time. A deep-purple gown, with a portion of the back cut out and a long streamer, was sensational. It spilled over the body.
He also gets that tailoring appeals to women again, but he confidently draws out the shoulder line. And he has a wonderful eye for color that works in concert, and not against, everything he does.
Rogers is still in his 20s, still apparently working out of his home in Bushwick. That's fine. He has lots of time to develop. The question, though, that hovers over his collections — this was his fourth — is how and where he can truly develop his enormous sensitivity, and for that there has only ever been one answer: Paris.