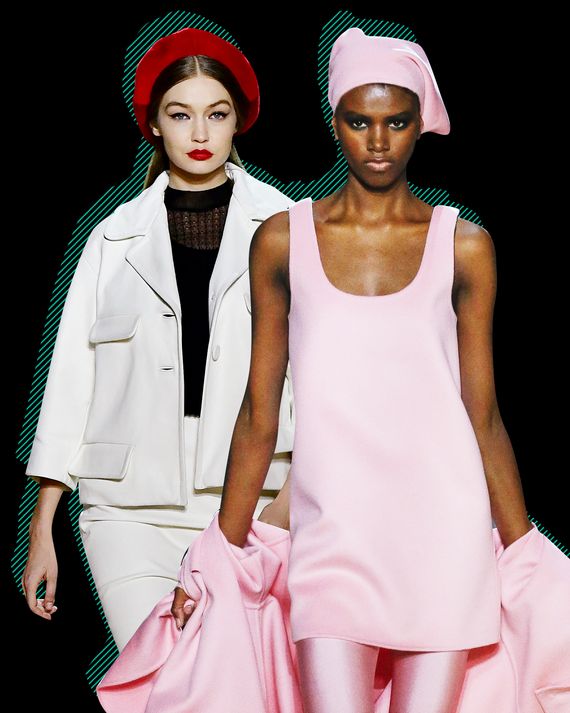 This article was featured in One Great Story, New York's reading recommendation newsletter. Sign up here to get it nightly.
The fading image of a disappearing New York, the memories of women in their immaculate suits walking down Fifth Avenue, the girls in the Village on Saturdays — these thoughts weigh heavily on Marc Jacobs, but they produce the opposite effect in his work. Rarely has a show felt so energized, modern, and light in spirit as did his last night.
At the Park Avenue Armory, the audience was seated at café tables on one end of the vast bare floor. Slowly, models and dancers emerged in twos and threes from the darkness. Actually, the first person out was a 60-ish woman with choppy blonde hair in a black tank top and tights. She was Karole Armitage, the dancer and choreographer who became a sensation in the '80s partly because of her punk-infused ballets, like Drastic-Classicism; partly because her female dancers were so shockingly sexual; and partly because of her collaborations with other artists. (She choreographed Madonna's "Vogue" video in 1990.)
Armitage paused in a spotlight, her body tense and twitchy, then bolted through the center of the crowd.
The room then filled with dancers and models, 143 in total and all wearing outfits from Jacobs's fall line — neat A-line dresses and coats in yellow, pink, pale blue, and taupe; cardigans and crisp car coats; a perfectly plain cream wool dress with three-quarter-length sleeves; a chic black wool blouson with a matching crewneck and slim leather skirts; a spree of glittery yet simply cut evening dresses. Many of the models wore kerchiefs or rakish seaman's caps or a kind of soft, crushed turban, and many of the dancers wore coats with heels or underpants and a bra top — though to be honest it was often hard to tell who was a model and who was a dancer. The dancers, both male and female, ran, leaped, and dragged themselves across the space, while the models moved seamlessly among them to "Orchestral Rehearsal," by composer Anton Batagov.
At the end, the models and dancers flooded into the audience area, dancing and twisting around the tables, and then disappeared into the wings of the Armory — to reassemble in a long finale line, with Jacobs breaking through abruptly to take his bow.
It was extraordinary. For one thing, the clothes clearly told the story of the kinds of women, of all ages, Jacobs remembers seeing (indeed we all remember seeing) in the late-20th century — the Upper East Side dames in their plain raincoats, and the girls in their pearls, crewnecks, and princess-line coats, everything impeccable. And that was the sense, Jacobs said backstage, that he wanted to put across. Yet there was nothing the least bit nostalgic about the clothes or the mood. Not only did it all feel alive, but Jacobs, with Armitage's considerable help, also broke through the limits of a "runway" show.
This has been something of a holy grail for creative designers — how to convey the energy and aliveness of fashion in a modern way. And not by simply hiring a performer, or ratcheting up the celebrity count, or spending millions on a theatrical set. Jacobs used a bare stage and, of course, the sweat and grace of 143 people.
What is truly remarkable is that Armitage and Jacobs, both part of the fabric of New York, met for the first time just last Thursday. Jacobs had wanted to find a way to continue the energy of his September show, which also was quite physical, and as he and his team kicked around various ideas, Armitage's name came up. Someone called her. She said yes. She put out word on her Instagram for additional dancers to work with those in her own company and began rehearsals over the weekend.
That sense of spontaneity shined through. I can't imagine how the big European houses will react, but Jacobs has certainly supplied an opening.