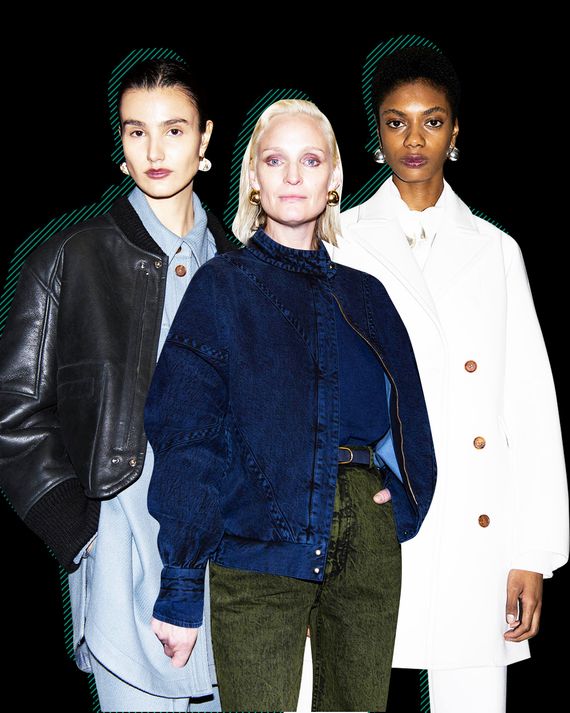 Photo: Anna Strickland/Courtesy of Rachel Comey
With fewer big names on the calendar, no amount of ballyhoo can lift New York Fashion Week from its slump (I fear it might be fatal), so I was thrilled when Rachel Comey grabbed a slot on Thursday night and at La Mercerie, the café at Roman and Williams Guild, no less. This all but guaranteed delicious food; low, flattering lighting; and a small crowd — in fact, about 50 guests were there, including Cindy Sherman, Debbie Harry, Molly Ringwald, Zadie Smith, Alex Auder, Justin Vivian Bond (who also performed), Ryan McGinley, and Marilyn Minter.
Not that long ago, Comey was doing runway shows like everyone else and, like many, was frustrated by the routine. So in 2013 she gave a dinner party instead, showing her collection between courses. It was the opening she needed. Since then, she has done things how and when she likes, and her business and reputation have soared as a result. At a time when overproduction is a big issue, her decision to show sporadically makes obvious sense. But even that formula can turn stale — as the late costume historian Anne Hollander said, fashion abhors nothing more than tedium — and Comey is fortunate that she usually has something new up her authentic sleeve.
This time, the format was based on a literary salon. The topic: the challenges everywhere to women's reproductive rights. At the mic, Casey Legler, a writer and former Olympic athlete who is vice-president of partnerships at the Guild, began by noting that her wife, Siri May, often wears Comey's clothes in her role as a rights advocate at the United Nations and other forums. "Rachel kind of took on this mythological status in our household," Legler said. That led to the idea of a salon.
"Everything will be woven in together," Legler, in a black pantsuit, told the crowd, meaning fashion show, speakers, and performance. She then broke into a lantern-size grin. "With that, we're just going to, like, fucking go!"
Bond, stepping up to the mic with their accompanist, Nath Ann Carrera, didn't miss a beat. Almost drawling, they said, "To weave into the story if only I could remember the story," and with that, she launched into "You're So Vain."
The striking thing about the clothes, which were presented in three "acts" interspersed with brief but effective speeches (most notably by Lourdes Rivera of the Center for Reproductive Rights), was the way they argued for elegant restraint. This was not an occasion for slogans but rather knowingness: expertise in the form of a long black halter dress over a white high-neck cotton blouse and confidence in a simple dark-brown leather funnel-neck top (a Comey classic) with matching wool pants in a chevron pattern, the model with big gold earrings and her blond hair swept back.
There was also, to my eye, a nice diversity of characters represented in the clothes and the casting, from the bookish (a chunky Nordic sweater in burgundy and cream), to the ultrafeminine (a frosty pink sweater and flirty skirt), to the theatrical (a fabulous choppy blonde shearling worn by the great Coco Mitchell).
"I like the idea of overlapping things," Comey said afterward, meaning ideas and activities, though perhaps clothes too. "Our heads are already spinning anyway, so we might as well enjoy it."