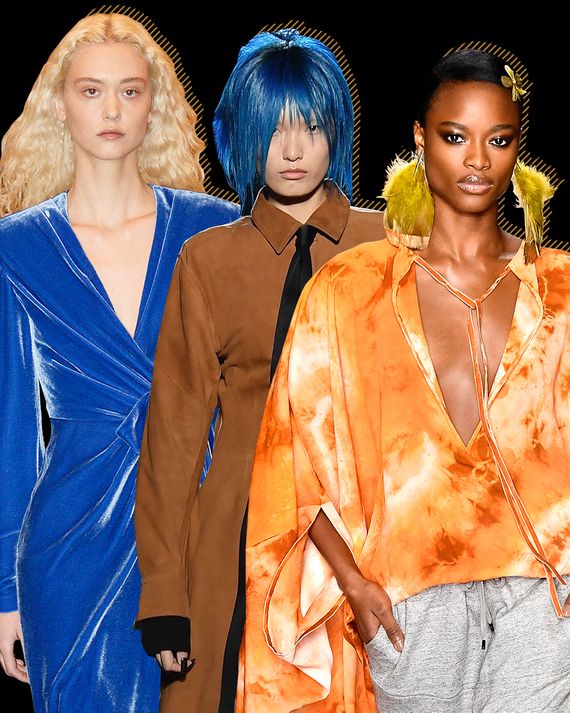 Yesterday, with the wind turning whitecaps in the harbor, I dropped by Delmonico's on Beaver Street. I had never been to the restaurant, whose name goes back to mid-19th-century Manhattan, though its location has kept changing with the tastes of the city's elite. Jane Siskin was showing her label Cinq à Sept there, and so I went, half-curious; and, of course, one look at the heavy molding, the paintings of ladies in flower-trimmed hats, and the luncheon plates of miniature lobster Newberg and Baked Alaska and I wanted to flee. No wonder so many women described their lives back then as suffocating.
Siskin's lodestar is actually the 1970s, eons from the Gilded Age, so the connection with Delmonico's was loopy. She had also stuffed her program notes with "iconic" references — Steven Meisel's 1992 shoot for Vogue called "Grunge and Glory," the venerable fashion chicks Marianne Faithfull and Françoise Hardy, even Annie Hall.
Designers have been blowing this kind of fairy dust on their shows for years while continuing to make the commercial, decently priced clothes they're known for. Siskin isn't remarkable in that respect. She has tons of experience in the so-called contemporary market, an area that has always been extremely competitive, and is now certain to face pressure because of the coronavirus and the disruptions to Chinese factories, where a lot of contemporary clothing is made. She also had many worthwhile looks in the show with or without the namedropping. In particular, these were her feminine pantsuits and a lovely long velvet shirtdress in Hockney-pool blue.
But there's an unrealness about the collections that isn't healthy for the industry in the long run. Marcus Wainwright kind of alluded to it at the end of his Rag & Bone show last night. He had a huge digital backdrop with vaguely dystopian imagery created by Limelight, and after the last of the 50 outfits had been shown — all more or less in the Rag & Bone vein of English tailoring and workwear spiced up with bits of punk — a message appeared on the screen that said, in effect, "Is any of this real?"
Of course, it was real, dudes. It was a poncho, a tweed blazer, a pair of patchwork jeans, and so on. The question maybe to ask is: Does it matter?
In sticking so closely to the kinds of looks he is known for, Wainwright was conveying certainty, a fixed point of view. Yet fashion is supposed to express the opposite sense — doubt and risk. There's nothing like getting up from a fashion show and thinking, Did I love that? Did I hate that? Think of the many Marc Jacobs shows that have induced that feeling. Or early Galliano or Margiela. Doubt: We've almost forgotten how much we crave it in fashion. And, yes, I do think it's possible for contemporary labels like Rag & Bone and Cinq à Sept to offer just a little bit of risk. Not only is it possible — it should be a requirement.
This thought came to me early this morning while looking at images of Tom Ford's show in L.A. I needed a pick-me-up! As I clicked through the punked sweatshirts, the patchwork denim, the fantastic tie-dye, the feathered earrings, and Ford's fresh, delirious takes on the punk-slashed evening dress, I recalled something that John Fairchild, the late editor extraordinaire of Women's Wear Daily, once told me. He was talking about the difference between Yves Saint Laurent and Ford. He said, in effect, "Yves is never sure of anything, while Tom is certain of everything."
That was 20 years ago. In a weird way, I think Ford at this stage of his career has more doubt than ever before, and as a result, his collections feel looser and more on the edge. That airy, orange tie-dyed parachute top is a good example. Where does it fit in the fashion scene at the moment or in Ford's aesthetic? Who cares.
Another thing that helps Ford is his sense of vision. Last season, at Givenchy, Clare Waight Keller did this whole number on boyfriend jeans, blazers, and cutoffs. But she didn't push it very far. Ford, though, blew out the proportions and tones, and he skillfully, knowingly, linked in other references, notably (I felt) Meisel's photos of some years ago for Italian Vogue of L.A. girls schlepping around in their jeans and sweats with huge lattes in hand. It was a big sweeping eye that Ford cast.
Also strong yesterday was Monse, by Laura Kim and Fernando Garcia. The fact that the clothes were punk-inspired — slashed knits, safety-pinned tartans, and sleek black dresses — didn't bother me. It's how you modify an idea that matters, and they did it easily, blending it organically into Monse's asymmetrical and playful aesthetic. The standout look was No. 35: a rangy coat made from recycled bits of fur, over a safety-pinned cardi, and pants in a patchwork of tweed and pinstripes. Super-chic and just a little bit new.