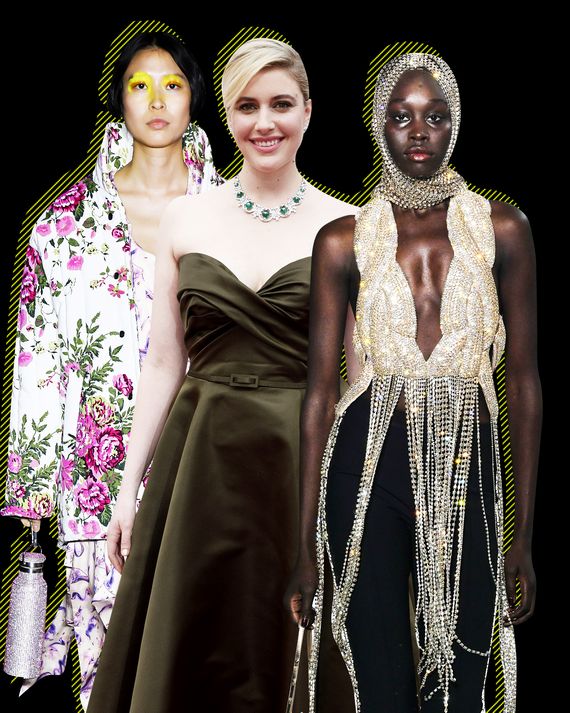 From left: Collina Strada, Greta Gerwig, Area.
Photo: Getty Images
The Oscars red carpet exposed the contradictions about female power and strength. A number of stars, including Steve Martin and Chris Rock, alluded to the fact that no female directors had been nominated. And Natalie Portman's Dior cape featured the names of prominent female directors, like Greta Gerwig (Little Women) and Lorene Scafaria (Hustlers), embroidered in gold.
Equality in jobs, pay, and recognition is certainly a contemporary issue, and women should be pissed off. Why, then, did so many stars wear gowns that conveyed the opposite message, that of ornamentation and submissiveness? I'm thinking, in particular, of Gerwig's green satin Dior number, a throwback to 1950s glamour; Saoirse Ronan's peplumed, big-skirted Gucci dress; Laura Dern's tasseled Armani; and Olivia Colman's Stella McCartney gown, its train seemingly a reference to her role in The Crown. 
Even Portman's outfit, for all its good intentions and quality, didn't really embrace the future. A friend, referring generally to the red-carpet parade, said it looked in the vein of Reynolds Woodcock, the English dressmaker in Phantom Thread. And, of course, one of things that its director, Paul Thomas Anderson, got absolutely right was that Woodcock's clothes were actually old-fashioned in spite of the couture trappings.
All the women looked beautiful in their own right — great hair and makeup. Gerwig's glowing skin! I realize that the awards season for them is daunting — fun but daunting. They have to rely on stylists for help. They need a lot of clothes, and at the same time they may not be all that knowledgeable about fashion or open to risk, like Billie Eilish with her customized Chanel.
Also, many independent labels don't have the resources to get their clothes noticed by stylists. Or the brand isn't "viral" enough. I've often thought, looking at some of Yohji Yamamoto's utterly simple long black dresses, Wow, wouldn't that be amazing at the Oscars? Or one of the magically weird dresses in some of Phoebe Philo's last Celine collections.
Well, the answer to that is: Dream on.
I do think, though, that the scene at the Oscars and what's happening at New York Fashion Week point up a serious lag between what women have achieved — in business, the arts, etc. — and how they are perceived by fashion people. There is, unquestionably, a need for a first-rate female designer who truly "gets" women and also, like a Philo or a Miuccia Prada, has a modern vision.
The last day or so on the runways has yielded very little.
By the time you strip away the "inspiration" for a collection or the sustainability message, you're often left with quite a small, familiar story. Inspired by the artist Francesca DiMattio, whose sculptures "imbue the decorative with strength and power," Tory Burch showed loose, flounced dresses and then pinched-sleeved, cropped jackets with slim pants tucked into high boots. Perfectly nice, but, again, the look seemed a throwback.
Sandy Liang had a lot of interesting pieces in her show, including a black leather apron dress and a soft black leather skirt with a vintage-looking white cotton blouse. But while her ideas have matured, I also felt that I was looking at two or three collections in one.
For the Area show, the designers Beckett Fogg and Piotrek Panszczyk experimented with historical fashion, like 18th-century panniers and Madame Grès's drapery, but what seemed most believable were the beaded and fringed tops that looked almost sculpted on the body, leaving lots of bare skin. The opening outfit, with tailored black pants, looked fabulous.
Despite a rambling, mind-numbing lecture on consumption at the start of Collina Strada last night, the collection, by Hillary Taymour, was really pretty great. Primarily made of deadstock fabrics, it included a spree of relaxed, crazy florals; faded denim; and fresh-looking hoodies and sweats in tie-dye.
It is indeed a confused and confusing time for fashion, with some designers casting wildly about for ideas and others genuinely committed to acting responsibly for the planet and yet limited by their imagination and funds. Meanwhile, the red carpet is full of ornamental women, forsaking the power they seek.