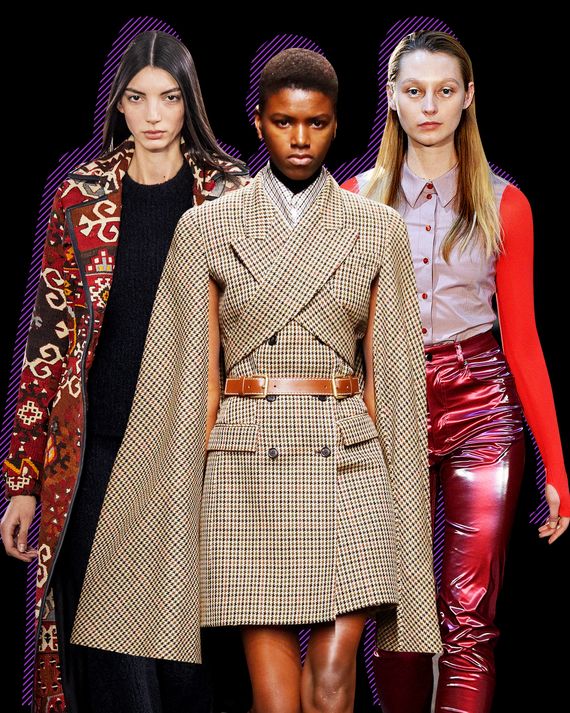 Left to right: Gabriela Hearst, Michael Kors Collection, Eckhaus Latta
Photo: Getty Images
The enigmatic country singer Orville Peck performed this morning at the Michael Kors show — a curious segue from last season's choral group and, before that, Barry Manilow. Well, maybe not so curious. Fashion loves an enigma only slightly more than it loves a trend, and Peck is both. He is known for wearing a mask — today's featured metallic fringe — and for a voice that made me wish I had spread more butter on my toast. He's Orbison, filtered through Bob and Johnny, with a swirl of Willie.
He's apparently damn fine-looking, too. We Googled his picture about the time the fourth model, Mica Argañaraz, glided out into the rustic wood runway in an austere black cape, with riding boots and a black turtleneck pulled up to her chin. Peck has said in interviews that he doesn't like to explain the reason for the elaborate cowboy mask, that he wants people to draw their own conclusions. Is it to heighten sexual tension? Play with gender? Is it because masks are just fun and creepy? Or is it a way to deflect unwanted attention because he's so damn fine-looking?
Of course, fashion has long loved anything that creates tension and ambiguity, especially in the areas of sexuality and beauty. Think of the early Gaultier and Mugler shows, which featured drag queens and riffs on bondage and Hollywood glamour; think of Miuccia Prada's hugely influential notions of "ugly beauty." Last fall, at Balenciaga, Demna Gvasalia did a whole show around the bland style of bureaucrats and other officials — bodyguards, politicians — who lurk in our mental spaces because of television. It had a very unsettling effect. And there have been attempts here in New York to question, in light of Me Too, assumptions about sexiness.
Kors is no provocateur. If there's a Helmut Newton fantasy burning behind his shades, it's no more dangerous than some leather straps closing a cape. But the power of suggestion is a funny thing. Put a dude in a mask on your stage, present some classics, throw in a riding boot and a pair of breeches or two — and your placid "town and country" collection concept suddenly gets a motor.
In addition to capes, which Kors also showed in spicy-orange cashmere and olive cotton twill, the collection was strong on conservative tailoring — wool suits with pleated skirts, paisley stock-tie blouses — that bore the influence of Hedi Slimane's Celine. There were also some fabulous, quite lush "bathrobe" coats in fake fur.
Someday, costume historians will look back on this era and find a wealth of thoroughly interesting and conflicting information about women. For now, though, the shows — which end tonight with Marc Jacobs — seem a mixture of good intentions and limited imagination; conservative dressing and Me Too angst.
There are even funny moments, like the XXXL olive-green army sweater– turned–maxi dress by the young designers at Vaquera. But, as the late playwright Wendy Wasserstein once said, "Funny is complicated." Vaquera's subversive gestures often feel disassociated from the whole effort, as if they alone are the goal.
I was touched by Catherine Holstein's desire, expressed in her Khaite show notes, to design sexy clothes after years of loathing the idea and concentrating on more covered-up, classic looks. But at this stage of the feminist revolution, shouldn't a reasonably talented woman be free to create what she wants, without having to define it? I applaud Holstein's shift, though I think her notion of sexiness needs further airing out. Or maybe more research. Cutout bras and animal-print pants are fairly conventional. So: right direction, more planning for the ride.
Despite the cloying femininity at Rodarte, with dresses that make me think of 1930s Hollywood costumes with silly stuff added, some of the final numbers in the show — Nos. 38 to 48, to be exact — were exceptional. I'm referring to a few shimmering, sheer black party dresses, followed by gowns whose big, swirly floral patterns looked drawn through the glass of a lava lamp. They were exquisite, and I have a feeling the European designers won't have anything as original for evening.
In the end, the collections I found most successful were those by Gabriela Hearst and Mike Eckhaus and Zoe Latta of Eckhaus Latta. The clothes were relatively subdued, like Hearst's brown cashmere corduroy pantsuit and her witty hand-knit ponchos, and each label stayed confidently in its own aesthetic lane (no small thing these days).
Hearst further developed her sustainable products, including simple, chic coats made from recut pieces of antique kilims. But, again, it was the straightforwardness of her clothes, with thoughtful details and the pops of color (those eccentric knits), that mattered.
"It definitely is a very different landscape that we're designing in," Latta said backstage. "Different than six months ago, and certainly different than when we started."
Nonetheless, the designers seemed sure-footed, bringing out acid-washed jeans with fringe and pants in a shiny mauve fabric (which they also used for a cool anorak with matching jeans). I liked a lovely micro-ribbed knit shift in turquoise that slithered over the body. Other styles that felt new were a pair of women's suits with short, flared skirts, and a cropped, dark wool blouson jacket, worn by an older model, with a slim skirt in a stiff, metallic pine-green material.
But whatever shifts Eckhaus and Latta made, they were subtle, and the vibe and cast of individuals they have cultivated remained true.