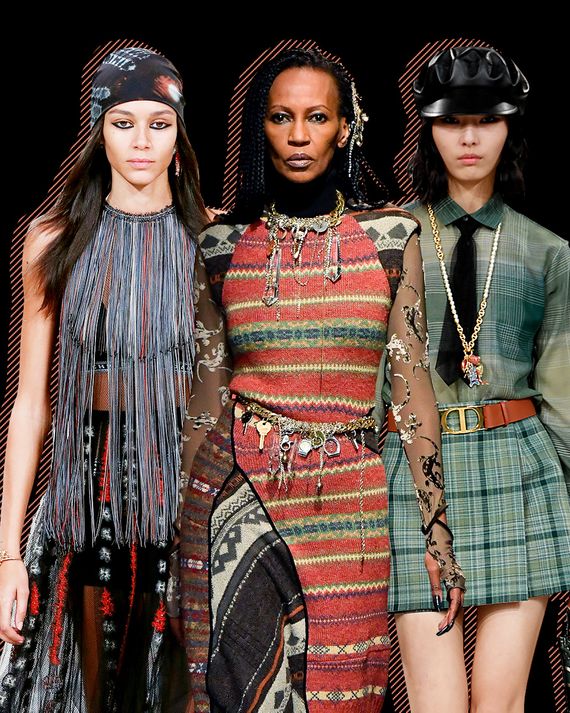 In one way or another, fashion is autobiography. Miuccia Prada's collections are really about Miuccia Prada, and in the mid-1990s, when she was on the rise, it was exhilarating to unpack her ideas about bourgeois respectability and sex, at least in part because Milan was dominated by Armani and Versace, whose take on those themes was fairly conventional. Recently, a new documentary about Martin Margiela established much closer ties between his enigmatic fashion and his modest Belgium upbringing than people had realized.
Today, at Dior, Maria Grazia Chiuri sent out a fall collection she characterized in her show notes as "self-portrait." She referred to her teenage years, to her mother's dressmaking clients, and to work by various Italian artists, including the abstract painter Carla Accardi and Paolo Scheggi, who in the '60s designed a studio for the fashion designer Germana Marucelli. If you Google these and other names that Chiuri mentioned — Mila Schon, Ugo Mulas — you get a vibrant portrait of Italy in a golden age of art and fashion.
But was the collection a self-portrait? I have no doubt that a feeling for that era, along with memories of her own teenage rebelliousness, informed some of Chiuri's choices. But she is also adept at imbuing her runway with meaning while firmly staying on brand message. She showed, for example, a number of sheer, wispy skirts with black combat boots and plain belted knit jackets on models wearing Dior silk scarves tied bohemian style on their heads. The rebelliousness looked pretty generic. But more to the point, Chiuri has made the girlish mid-calf skirt and masculine top a staple of her runway.
She also got graphic value from huge, illuminated feminist slogans suspended in the venue. These included "When Women Strike, the World Stops," "We are All Clitoridean Women," "Consent" (repeated several times, in blinking lights), and "Patriarchy = CO2." The entire square-shaped runway was covered with glued-down and varnished pages from the newspaper Le Monde, an idea taken from a 1949 photo of Henri Matisse working in a newsprint-tiled studio. The whole concept was a collaboration by Chiuri and an artist named Claire Fontaine.
The risk to both the artist and the house (and perhaps to the Arnault patriarchy that runs Dior) is that it can all seem shallow. Or maybe Chiuri and the bosses at Dior recognize that, in 2020, nobody is paying that close attention. It's a meme, a data point, a forgotten tomorrow. Oddly, the most interesting looks in the show didn't have anything to do with Italian art or feminism or Matisse. They had to do with Dior's story—from the Marc Bohan era in the '60s. Anyway, that's what I saw in a spree of boxy jackets and flared miniskirts, some in checks that had been turned sideways. They looked delightfully uncomplicated.
Lots of designers have mined historical fashion. Margiela did. So did Christian Dior. Marine Serre, who showed this morning, also does it in a way. But what strikes me about her work is that it's like an archaeological cross-section of everyday clothing from the last 30 or 40 years — jeans, preppy knits, leather car coats, fake fur. A good portion of her collection is made from old clothing, as well as linens and carpets, that she recuts.
There is obviously a sustainability message here, which Serre has championed from the start of her career, but at a time when many traditional mills and craft techniques are disappearing, her clothes also represent a kind of living archive. And there's nothing nostalgic about her aesthetic. She unsentimentally takes what she finds and transforms it into something new and assertive-looking.
I loved a body-skimming dress made from a length of thin carpet — it really looked more like jacquard — with a giddy trim of fringe and the shoulders and sleeves done in a new jersey print. She called her collection "Mind Mélange Motor," and mélange is the key word. Also strong were a series of reworked Fair Isle knits, as pullovers and curvy dresses, sometimes with pieces of her signature crescent-moon prints added as well. This time, she redid the print so that it appears almost runny and smoke-damaged.
Serre told me, "I'm someone who drapes, so working with a piece of carpet on the body makes sense." Ultimately, the motor in her subtly beautiful collection is what has driven fashion from the beginning of its history — how it deals with the human body. If you strip away the dystopian theatrics she sometimes creates in her shows, you can see that her focus is still sharply on the body.