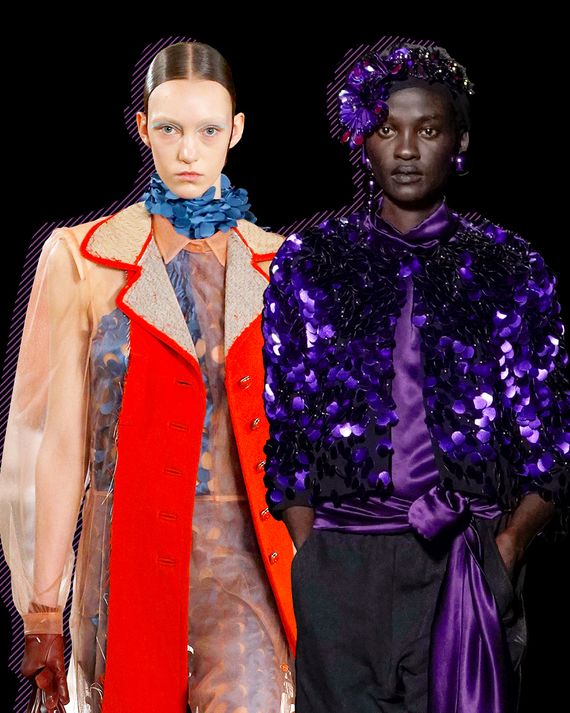 Listening to John Galliano's mannered voice, spiked with impish giggles, might inspire anyone to release her inner diva. He does a podcast each season for Maison Margiela — in lieu of interviews — and the latest is a dilly, partly for the breakdown of this marvelous collection.
"We continue our exploration of the bourgeois gesture," he begins, with excessive polish. "One thing that's been really thrilling is to have the courage, myself and the team, to explore charity-shop finds, just as a quick way to start exercising a concept or something where we can really feel quite free to play with these finds. It's a learning process — it's a process!"
This morning's show, at the Grand Palais, picked up the theme of his January haute couture collection, where he reworked existing materials and vintage ladylike classics. The word for the process — it's a process! — is upcyling. But anyone who's followed Galliano's career knows that he came of age in London fashion of the mid-'80s, when it was simply cool (and cheap and thrilling) to dissect and reuse the past. And his later collections, for his own label and Dior, played heavily on deconstruction.
His expertise shows. From the first outfit, a "coat" reduced to a pale-blue front panel with a cobalt-blue gathered sleeve and a snip of a collar over a skimmy dress in pistachio tulle, it was clear his main intention was to evoke an elegant gesture: the shrugged-off coat, or a coat worn nonchalantly over the shoulders. Later pieces in the show were more conventionally constructed, like a pair of gorgeous, oversize coats in deep red or green. But the "bourgeois" effect was the same, though without a deadly literalness.
A lot of designers in the past two or three seasons have revived familiar styles. Think of Marc Jacobs's sensational show in New York, with its trim black raincoats, minimalist pastel suits, and crew necks with slacks; think of Hedi Slimane's Celine.
But Galliano's method is inevitably more subversive. In the podcast, he noted that Martin Margiela had once done a collection called "Replica," drawing on tailored styles from, say, the 1930s, their labels passed into obscurity. Maison Margiela now plans to offer a limited-edition line called "Recicla," with vintage pieces recut and labeled according to their provenance. What is enticingly new about this collection is how Galliano and his team seemed to blend one style with the ghost of another. For example, a pair of wool jackets — looks No. 33 and No. 34 — seemed a blend of boy scout and sailor.
Equally beautiful for their sexy restraint were the dresses, in tulle and crêpe de Chine, the surface cut to mimic paillettes. (And because he didn't use sequins, they were much nicer for the environment, too.)
Dries Van Noten also had a terrific show today. Called "Nocturnal Glamour," and drawing from every smoky club from 1930s Hollywood to '80s Tokyo, the collection was an easy segue from Van Noten's fantastical collaboration last season with Christian Lacroix. The darker palette of purples, peacock blue, jungle green, and deep fuchsia seemed to spring from an eye shadow kit. And Van Noten liberally dressed them up with sequins (sometimes swirled with another tone like black or cast in a snake pattern), velvets, and feathers. The jungle prints were a nice crisscross of Hawaiian and, to my eye, Art Nouveau.
But Van Noten would not be himself without a grounding of masculine tailoring — and, actually, against all the club glamour, the oversize, muted-checked jackets, slim trousers, and vaguely grunge plaid shirts looked perfectly right.