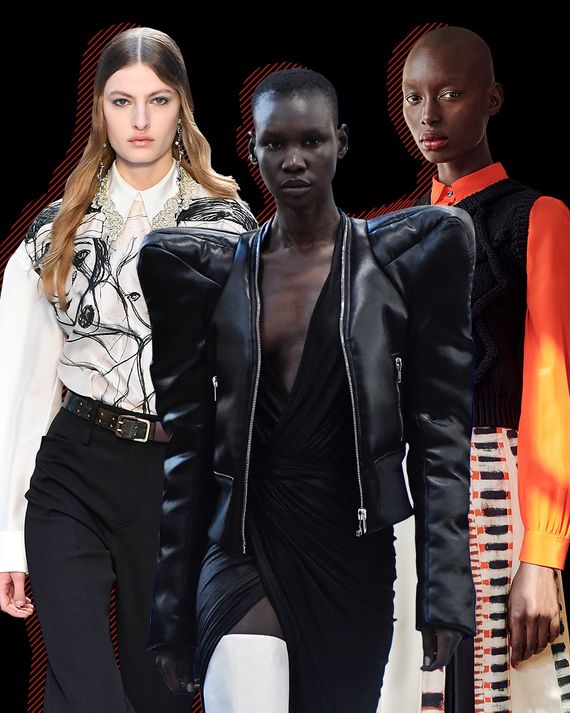 Photo: Getty Images/Courtesy of Alexandre Blanc
Fashion in the time of coronavirus is certainly an odd business. You go to a show and the designer's staff is offering medical masks at the door. Your first thought isn't, Oh, how considerate. This being Paris, your first thought is, Is this a prop? Remember when Marc Jacobs dressed all those supermodels as nurses at Louis Vuitton, à la Richard Prince? Your second thought is, Does it come in black?
The virus, which prompted LVMH last night to cancel its cocktail presentation of finalists for its annual design award, has cut down on air-kissing, which is a good thing. There's way too much kissing in fashion. Now the etiquette is to plant your body and throw a smooch, as if you are standing in Brooklyn and your recipient is in Queens, while bobbing your head like a chicken and going, Mm-wha, mm-wha. Dear!
No, it's a strange situation. Global stock markets are plummeting, yet people seem more concerned about their outfits for a show — which was not the reaction here when Lehman Brothers collapsed in the fall of 2008. On the other hand, the weird and wonderful fashion of Rick Owens, a doomer by nature, suddenly looks normal. He had a fabulous show last night, with long, clingy dresses slit to the thigh, coats and jackets with molded shoulders worthy of Star Wars, and a metallic-gray down cape whose channeled pattern could have been lifted from the Chrysler Building.
Stalking through the mist of fog machines, on the latest version of his platform boots, the models looked like glamorous cheetahs who had half devoured their prey. Those skimmy dresses, by the way, were as simple as T-shirts, with short trains sweeping the floor.
As it happens, a number of shows or presentations in the last day or so have been excellent — Chloé, Zanini, Patou — with their designers sounding pleased. "I'm having the time of my life," Marco Zanini said yesterday in the hotel suite where he is holding buyer and press appointments all week. Natacha Ramsay-Levi, when asked if her Chloé show — her sixth season since becoming creative director — represented a big leap forward, smiled and nodded. "This collection is very personal and intimate, and I felt the need to say, 'Okay, I love this house and I think we have so much to say.'"
At Patou, as Guillaume Henry walked editors through the studio overlooking the Seine, models stood about in A-line jackets with adorable wide-collar white shirts or sailor shirts, flirty skirts, and a winter version of his thick-soled espadrilles, now in black with fat pom-poms. Barmen served pale pink and rosé cocktails. "We don't do shows," Henry explained, "but we invite people to the backstage, and the goal of the backstage is 'Smile.' Fashion is friendly."
None of these statements, I felt, was a charm offensive waged against incredibly challenging circumstances. On the contrary, the designers — in particular Zanini and Ramsay-Levi — seemed to genuinely think they had done something good. And they had. This is Zanini's third season with his own brand, after years of working for others, and he continues to make modern classics of remarkable quality: the chicest three-piece suit in charcoal pin-striped wool from the English firm Fox Brothers; a generously cut, shawl-collar coat in the best Italian cashmere; and a smart-looking jacket in gray flannel that has a thin inner layer of down and a quilted linen lining. Dreamy details like these used to be standard stuff in garments, but they have gradually vanished, even among some of the top luxury labels.
Zanini's house model slipped on an impeccable black coat in subtle herringbone with a black velveteen collar. I might have guessed that his cuff buttons would actually work, and not be just for show.
He grinned. "Never have a button without a hole," he said.
Zanini likened a designer's role to that of a chef: "You start with good ingredients." His fabrics are not just of superior quality; they're also distinctive. I don't know of anyone this season using linen, but Zanini found a rich, weighty linen in rustic black-and-brown checks for a full-skirted shirtdress, and there were other checked linens for smock tops, which looked great with flannel trousers. He cuts a now-hard-to-find Italian-style trouser that tapers. Mixed in were roomy hand-knit pullovers and twinsets with nice details, including a version in natural black alpaca — easier on the environment and warmer than a conventional black dye.
Though he admits the business environment is challenging, he likes the freedom of not having to answer to a big brand. "I don't have to overdesign anything," he said. For the spring season, he doubled the number of sales outlets.
Ramsay-Levi, too, seemed confident. The femininity represented on the Chloé runway was the most expansive since she became creative director three years ago. It reflected the input of friends and artists, including Rita Ackermann, whose drawings appeared on dresses and shirts, and the great Marianne Faithfull, who lent her broken voice to the soundtrack by reading 19th-century English poems. And there were friends of various ages walking in the show.
But the biggest difference was in the clothes. Instead of aiming her designs at a cliquey bunch of fashion girls, as she has largely done, Ramsay-Levi widened the Chloé circle.
The thing is, Chloé is nothing more than a symbol of youthful French cool. In the early 2000s, Phoebe Philo defined it with a lanky, London edge; a successor, Clare Waight Keller, brought a sense of travel and music festivals, while offering more silhouettes.
But Me Too, and perhaps the political confrontations in the U.S. and Europe, has changed attitudes generally. To me, Ramsay-Levi both sharpened Chloé's identity — gone was the quirky tailoring that spoke only to insiders — and she seemed to consider a more mature, discerning woman, or group of women, for the clothes. That person is clearly a creative type: an artist, director, writer. As Ramsay-Levi said backstage, "It's about showing a community of creative spirits."
There were essentially two threads of thought: the urban uniform of well-cut pants with a good-looking blazer or leather jacket, and a low-key feminine story based on a fluted skirt (with a scarf wound through a few grommet holes in the waistband) and shirts with sweet collars. The latter also included some takes on the shirt dress, like the opener worn by Kaia Gerber, or a matching shirt and pleated skirt in four soft shades of paisley.
One of my favorite looks, on a small woman with dreads, consisted of a pair of black tweed Bermudas banded at the hem in blue silk, and worn with a boyish jacket in dark wine-red tweed and a jersey print top. For the first time in a Ramsay-Levi show, I could see an actual person inspiring her work — and that is the pleasure.
Also strong, though on a smaller scale, was Alexandre Blanc's collection. His hand-drawn, abstract prints — for shirtdresses, sweetheart tops worn with signature side-split skirts — are standout. He also makes a draped dress in a happy shade of red that spills over the body. A relatively new designer, his line is now carried by Blake in Chicago and Moda Operandi.