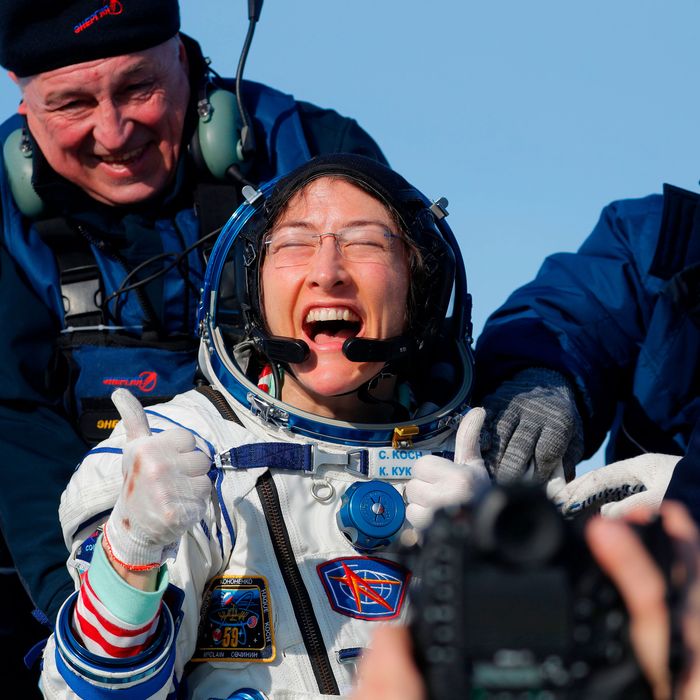 Thank you for your service, Christina Koch.
Photo: Sergei Ilnitsky/POOL/AFP via Getty Images
Imagine, if you will, being in space right at this very second. It is quiet, nothing is on fire, Iowa is hundreds of miles below you, and nobody is screaming about "Satanic wombs." Given everything, space seems like a pretty ideal place to be at the moment, but record-breaking astronaut Christina Koch had to come back sometime.
Koch landed in Kazakhstan early Thursday morning, along with Luca Parmitano of the European Space Agency and Alexander Skvortsov of Russia. NASA sources say she "definitely looks glad to be home." Magnanimous of her, really.
A lot has happened in the 328 days Koch has been in space: a global viral epidemic has broken out; broad swaths of the Australian landscape burned, killing over a billion animals and obliterating insect species we hadn't even discovered yet; President Donald Trump has been impeached but certainly not removed; we still don't definitively know who won the first caucus of the primary season, which happened three days ago. And those are just the big headlines of 2020 so far!
Meanwhile, in space, Koch was busy making milestones. She set the record for longest spaceflight by a woman. With basically the whole world watching, she corrected Trump when he said that her all-woman spacewalk — performed with Jessica Meir, to replace a downed power-control unit — marked "the first time for a woman outside of the [International] space station." The women noted that "there have been many other female spacewalkers before us. This is just the first time there have been two women outside at the same time." Another milestone, you see.
What's more, Koch's extra-long journey and all of the spacewalking she did up there (six spacewalks!) will give NASA crucial insight into what happens to women's bodies in zero gravity, Jezebel reports. That info seems especially useful when one remembers that NASA had to postpone that historic all-female spacewalk, because it didn't have enough (read: two) spacesuits that would fit women. Seems like they could use more data on non-male bodies, if you ask me.
On top of all that, Koch conducted cancer research experiments, studied space horticulture, and installed technology that "can print organ-like tissues in space," per CNN, plus machinery that will scan the Earth's carbon-dioxide emissions and absorption. Thank you for your service, Christina Koch, we do not deserve you.